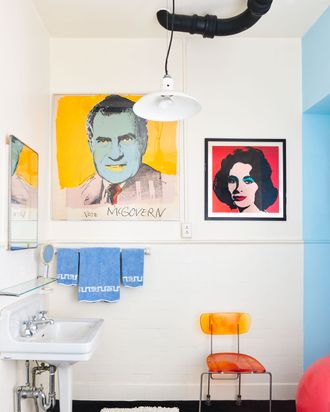 The bathroom here has two Warhol screenprints.
Photo: Annie Schlechter
There are infinite ways to peek inside the homes of creative people. Blogs, Pinterest, and magazines all take voyeuristic trips into the closets of the well-heeled or the offices of the hyperproductive. New York Behind Closed Doors is an impressive new compendium of such glimpses, compiled by two women with equally impressive access: writer Polly Devlin, a former features editor at Vogue, and photographer Annie Schlechter, who has shot for House Beautiful, Travel + Leisure, and New York. Published by Gibbs Smith, it's out this week.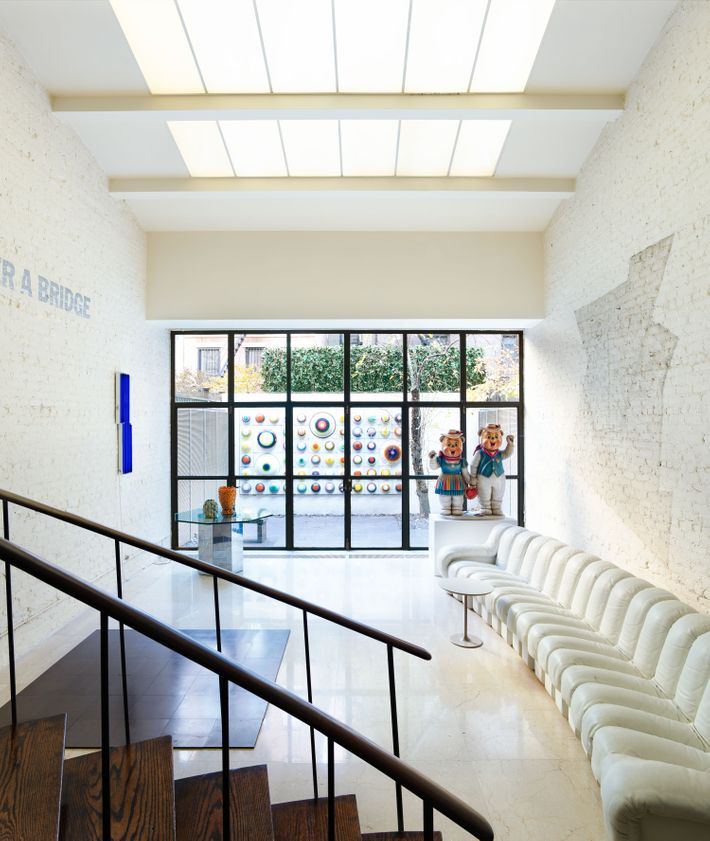 Of art collector Barbara Jakobson's townhouse, Devlin writes, "In the double-height living/garden room, Jeff Koons's Winter Bears stand sentinel against the view of an enamel paint-on-steel sculpture by Stefan Knapp. The ghost shadow of Frank Stella's relief Felsztyn III (1971) soars above the 1970s classic 'Non-Stop' Italian sofa, the DS-600 for the De Sede Company. On the wall opposite, an inscription by Lawrence Weiner and a blue fluorescent piece by Dan Flavin and, on the floor, Carl Andre's Copper-Copper Plain."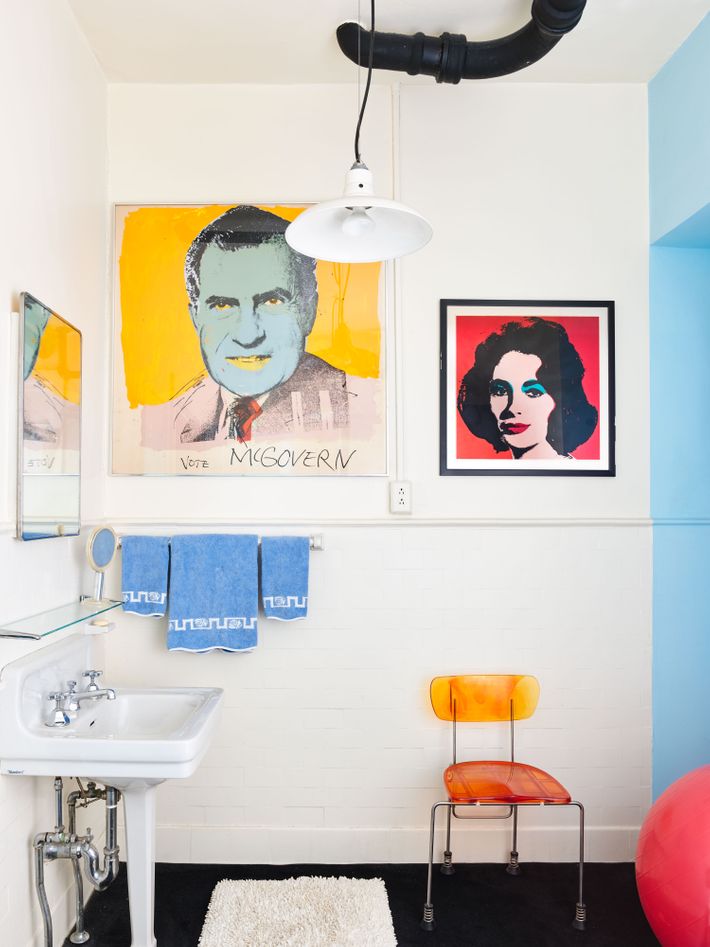 Art lives everywhere. "In the bathroom are two Warhol screenprints: Nixon, which is part of a large edition made in support of the McGovern campaign; and Liz, signed and dated 1965," Devlin writes.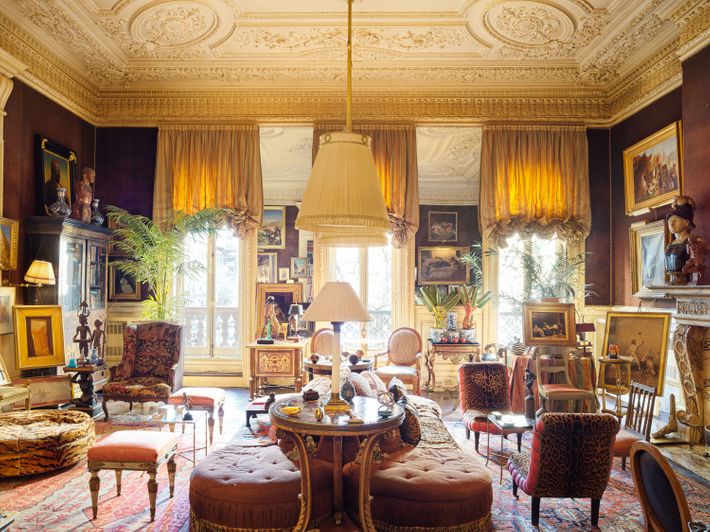 One of New York's most extraordinary apartments belonged to the late costume-jewelry designer Kenneth Jay Lane. "In the sumptuous salon, orientalist paintings glow against the chocolatey Herculon-covered walls," Devlin writes. "French windows shaded by ruched tambour blinds overlook Park Avenue."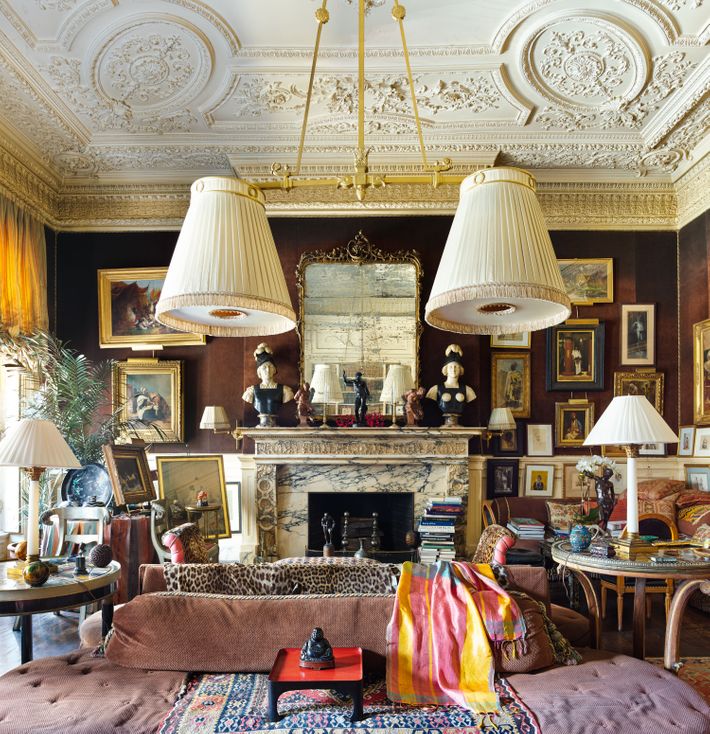 Another view of Lane's living room. "Two 17th-century marble busts of a male and a female warrior — regularly loaned to the Metropolitan Museum of Art — stand on the mantelpiece of the original Italian-marble fireplace," Devlin writes. "The ceiling with its fine plasterwork is also original to the house; hanging from it are signature lamps from the venerable firm of Denning & Fourcade."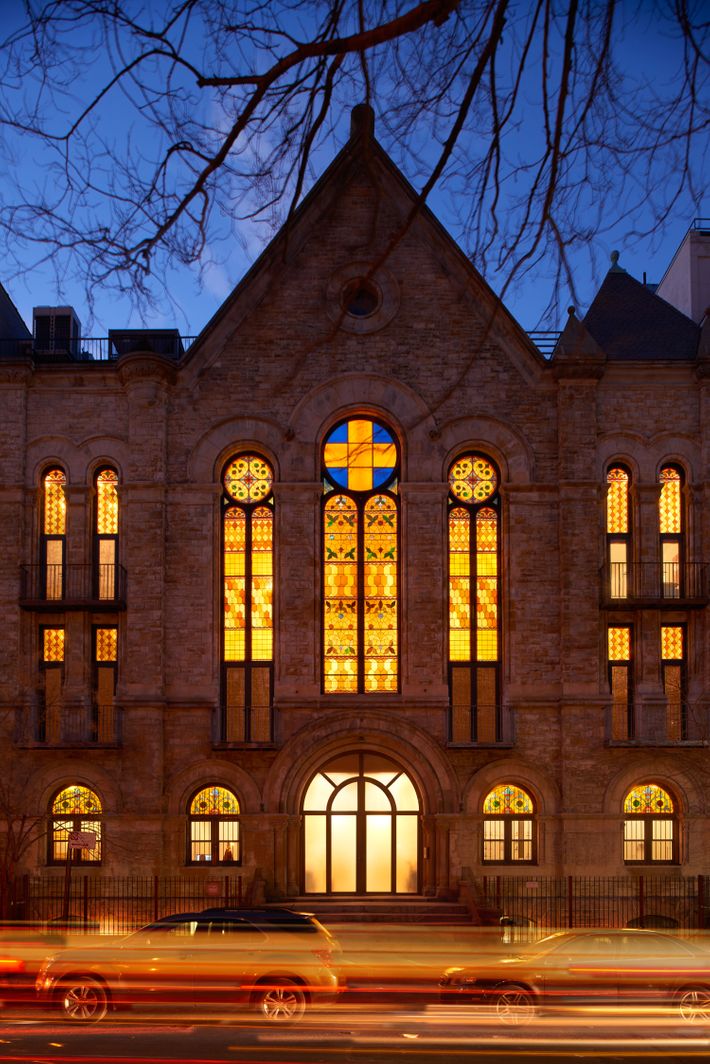 "The glowing nighttime façade of the former Harlem Mount Moriah Baptist Church, built in 1887 and designed by Henry Franklin Kilburn, now a home, studio, and exhibition space," Devlin writes. It belongs to the artist Ugo Rondinone.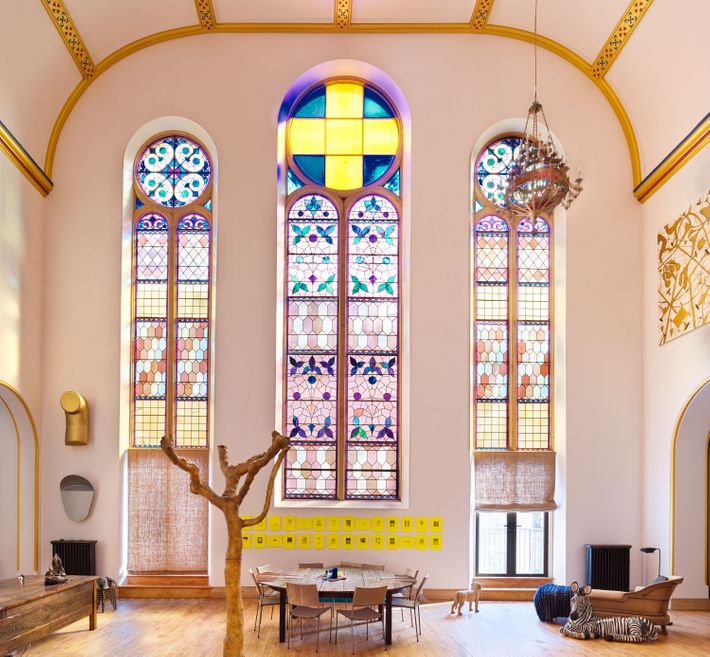 "Elegant Romanesque stained-glass windows illuminate the dining area and Ugo Rondinone's Bright Shiny Morning tree sculpture. On the wall to the left are two Head sculptures by Bruno Gironcoli, and underneath the central window are 28 etchings by Paul Thek. An Italian ceramic zebra lies by the chaise longue near a 20th-century anonymously carved wooden dog (a bit of a rescue one)."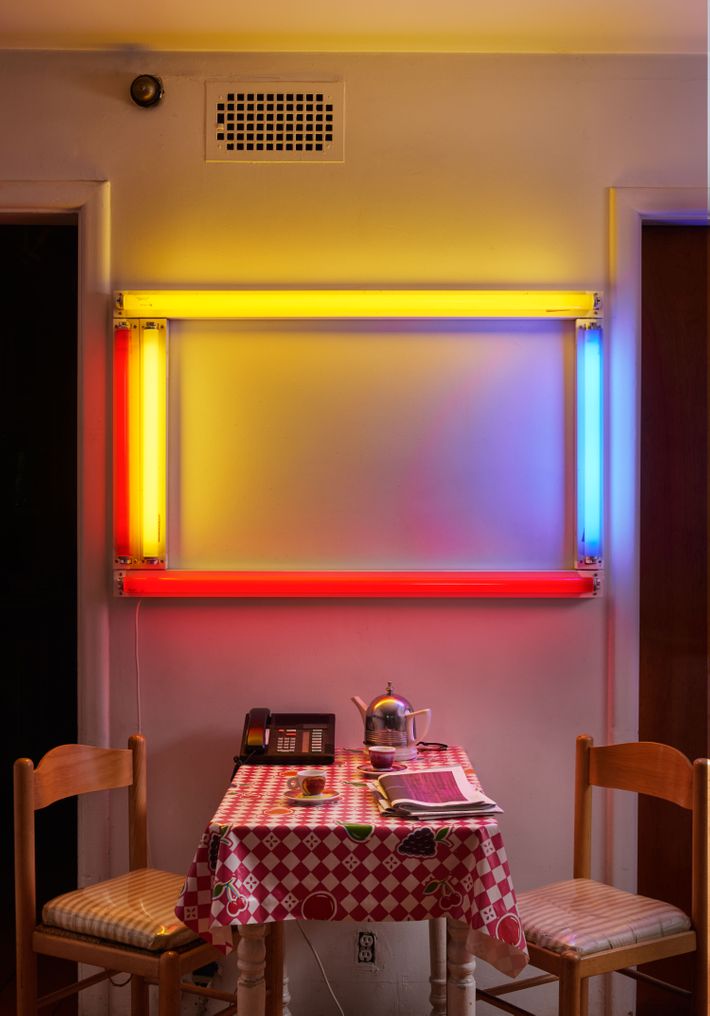 Writers Gini Alhadeff and Francesco Pellizzi are also collectors, and live in a brownstone packed with treasures. Here, in their kitchen, Dan Flavin's A Primary Picture (1964) hangs above the table, creating a surreal frame of light.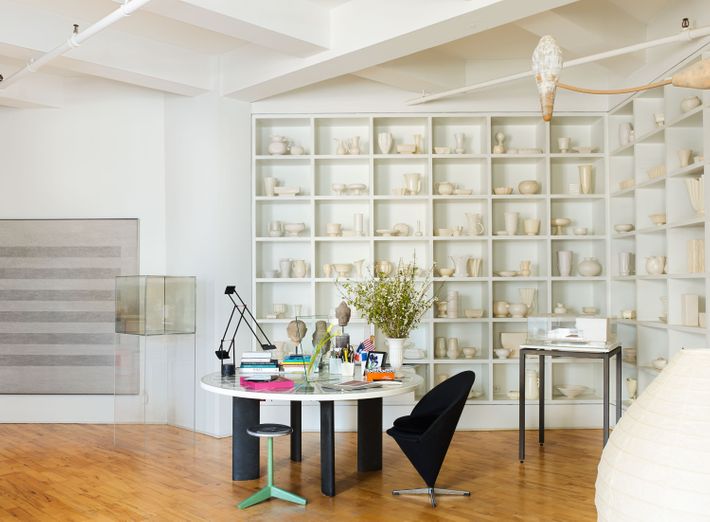 Robert Littman and Sully Bonnelly's enormous loft space is filled with incredible art, and in New York Behind Closed Doors you are privy to page after page of enticing art and design. Here in the office space, Devlin writes, "an Agnes Martin painting and a collection of white pottery flower vases provide a cool backdrop to a Piero Fornasetti table, a Jean Prouvé stool, Verner Panton's iconic chair, and (at left) a Larry Bell cube and (right) a Plexiglas box sculpture by Robert Graham."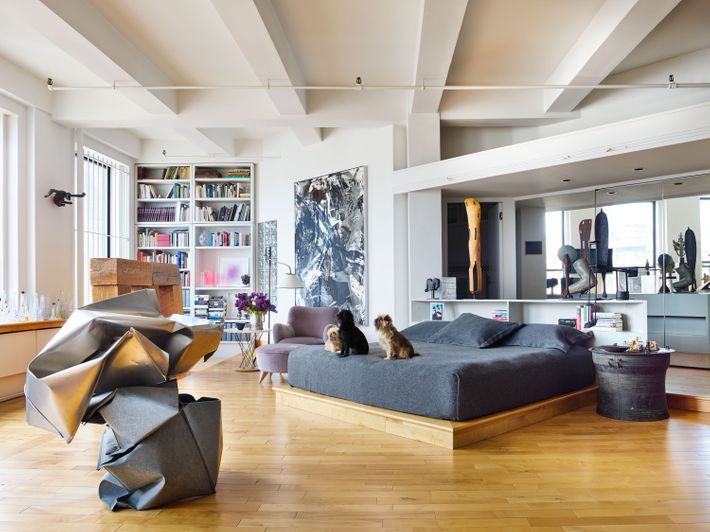 There are extraordinary art pieces everywhere you look in Robert Littman and Sully Bonnelly's home. Here, in their bedroom, a John Chamberlain crumpled-metal sheet sculpture rests on the floor; behind it by the window is a wooden piece by Carl Andre, and on the wall to the left is a figure by Daisy Youngblood. The large abstract painting is by Cheyney Thompson, and on the shelf above the bed is one of the iconic leg splints Charles and Ray Eames designed around the time of World War II. A David Hockney iPad drawing is on the shelf below.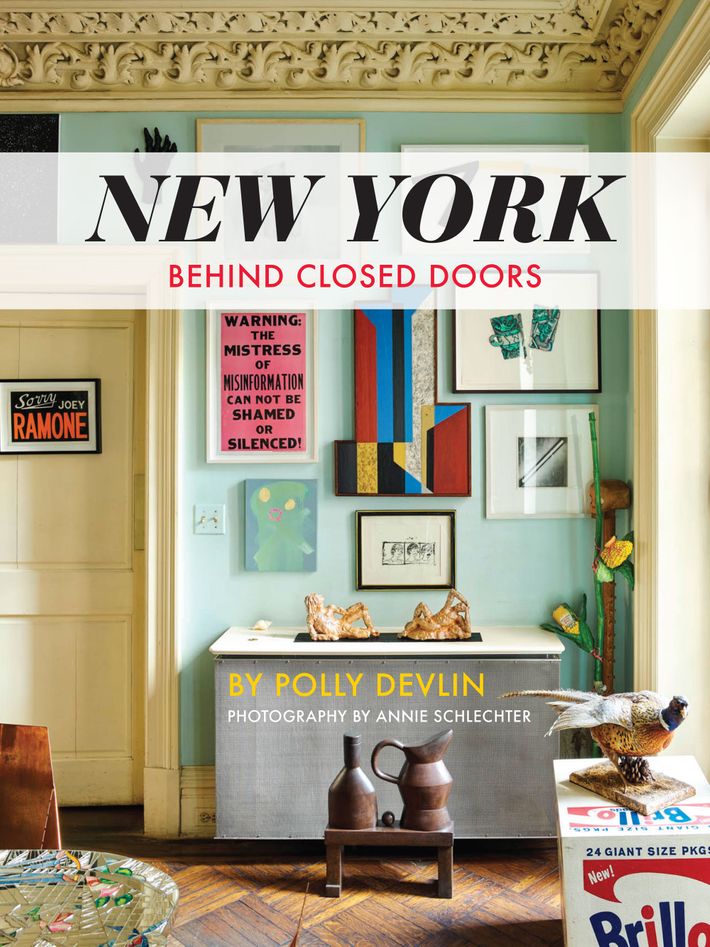 The cover of New York Behind Closed Doors, featuring a photo by Annie Schlechter.