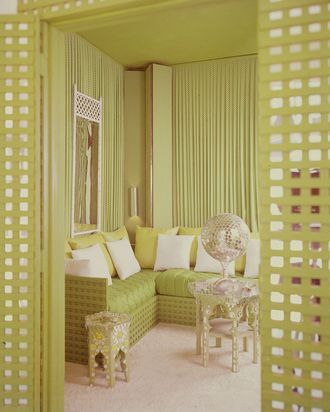 The painted lattice motif takes off in this room.
Photo: Courtesy of Dean Rhys Morgan
Jeremiah Goodman, an artist who painted dreamy, impressionistic watercolors of some of the grandest rooms in the world, died last week in New York at the age of 94. His oeuvre stretches back some 70 years and includes paintings of rooms that belonged to icons like Bruce Weber, Diana Vreeland, and Bob Hope. In 2007, Goodman's friend and curator Dean Rhys Morgan drummed up late-career interest in the artist with the publication of a monograph, Jeremiah A Romantic Vision (out from Powerhouse Books), and retrospectives in Los Angeles and London. Morgan is now working on a second book of paintings and photographs of Goodman's life and work for Powerhouse.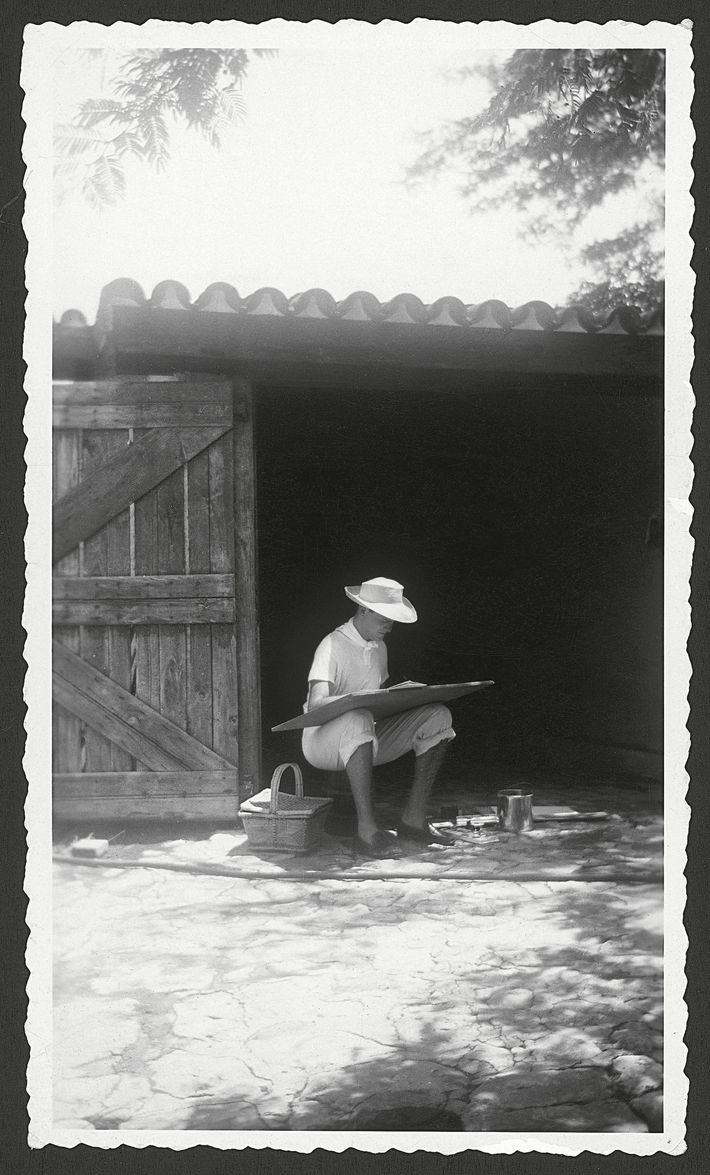 "I never thought of Jeremiah as ninety-four," says Dean Rhys Morgan. "I just thought of him as going on forever." Morgan, who is currently posted up in Los Angeles working on a book on the Hollywood designer Adrian (out next year from Rizzoli), visited with Goodman in New York, the day before he died peacefully in his sleep. The artist lived a fabulous life, traveling everywhere; his talent won him entrée into the grandest houses imaginable. He painted the inner sanctums of everyone from the Duchess of Windsor to Bruce Weber, Diana Vreeland, and Cecil Beaton. Here, a photograph of the artist painting in Haiti in the 1950's.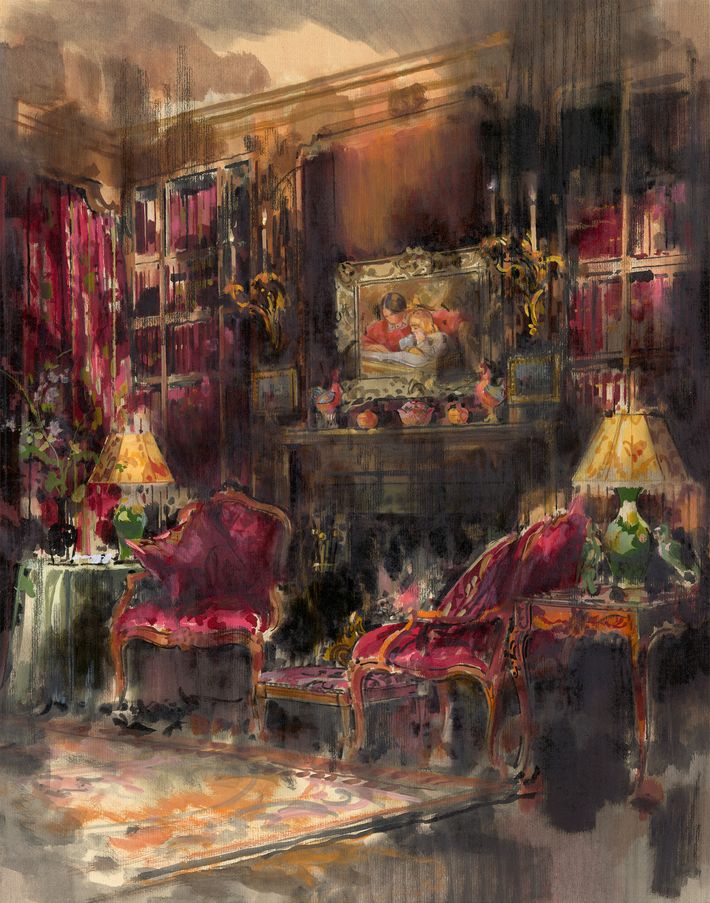 Goodman's early dreams of becoming a set designer were quickly dashed after a stint in Hollywood, so he turned his talent to painting and illustration. The actor Sir John Gielgud encouraged Goodman to try room portraiture, and one introduction eventually led to another. His talent for evoking the spirit of a room was the defining magic of his work, and he seemed to intuit the spot where someone would gravitate to once they entered that room. "When he went into a room he always considered what time of the day the room was really designed for, and he would start from there," Morgan says. Here, a rendering of Greta Garbo's New York living room.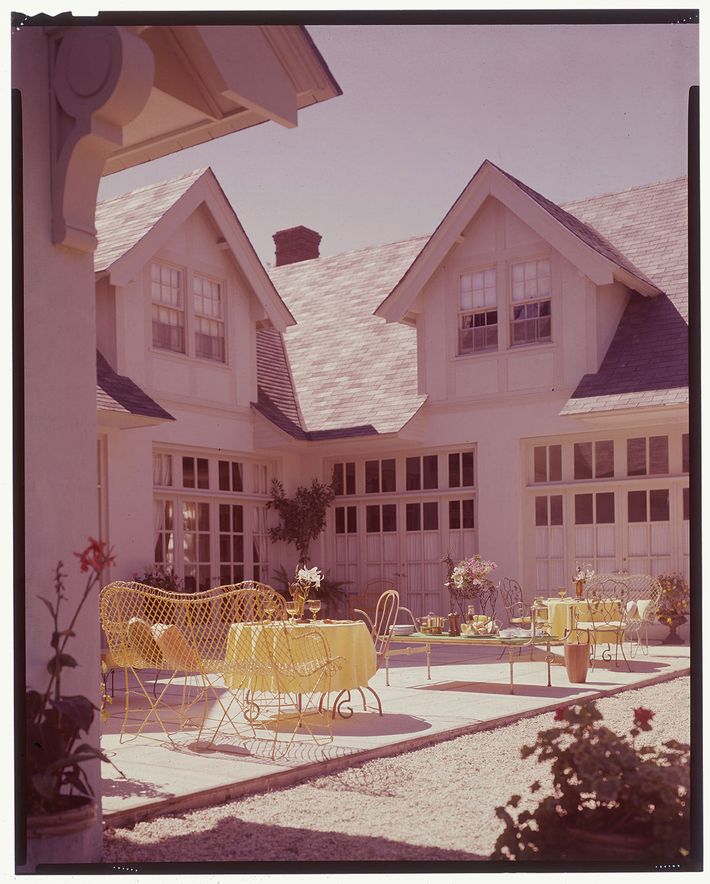 One of the great joys of Goodman's life was his house in East Hampton. Around 1957 he purchased the rundown carriage house that had been built in 1917 for the J Harper Poor family. He paid $18,000 for the fixer-upper and tranformed it into a welcoming place for his theater- and art-world friends, who included Edward Albee and Louise Nevelson. "He gave the most wonderful parties there," Morgan says. "I have a page of his guest book with a drawing and message from Roger Vadim saying, 'When in New York visit Jerry Goodman.' " Goodman sold the house in 1988 and it is now part of the Baker Guesthouse.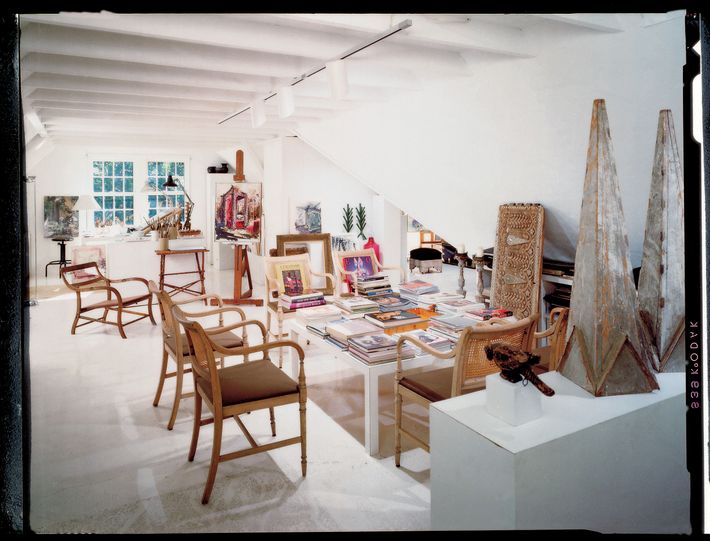 Goodman redesigned the carriage house to include a studio space, seen here. He created the illustrations for Lord & Taylor ads for over 30 years, and worked with decorators such as Billy Baldwin and architect Lee Mindel, who developed a close working relationship with Goodman towards the end of his life.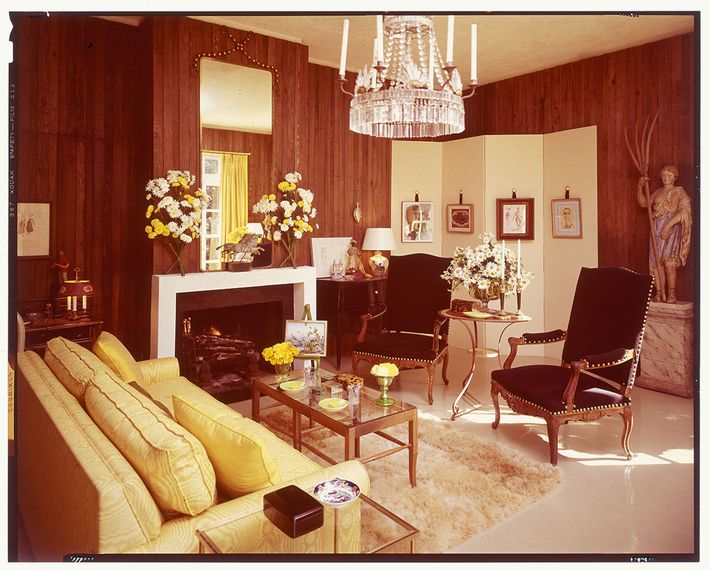 Goodman had an eye for theatricality, seen here in the living room in East Hampton. The wood wall paneling was repurposed from the renovation of the carriage house; Goodman added a crystal chandelier overhead. He landscaped the property so as to be able to cut branches and field flowers for arrangements.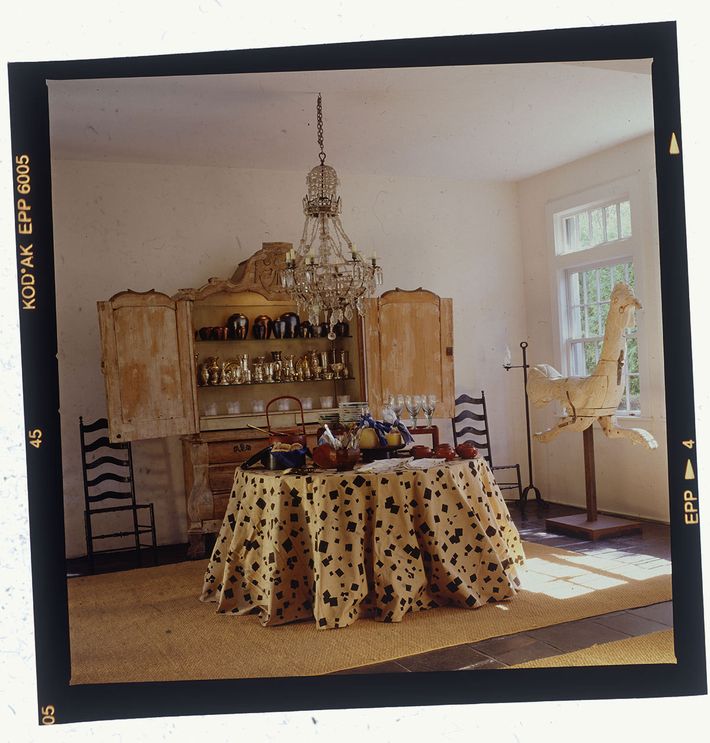 Goodman favored an open, airy feeling in his redesign of the carriage house, preferring to create vignettes, not rooms, in different areas to use for dining, living, and painting. Here, the confetti tablecloth is Goodman's own design.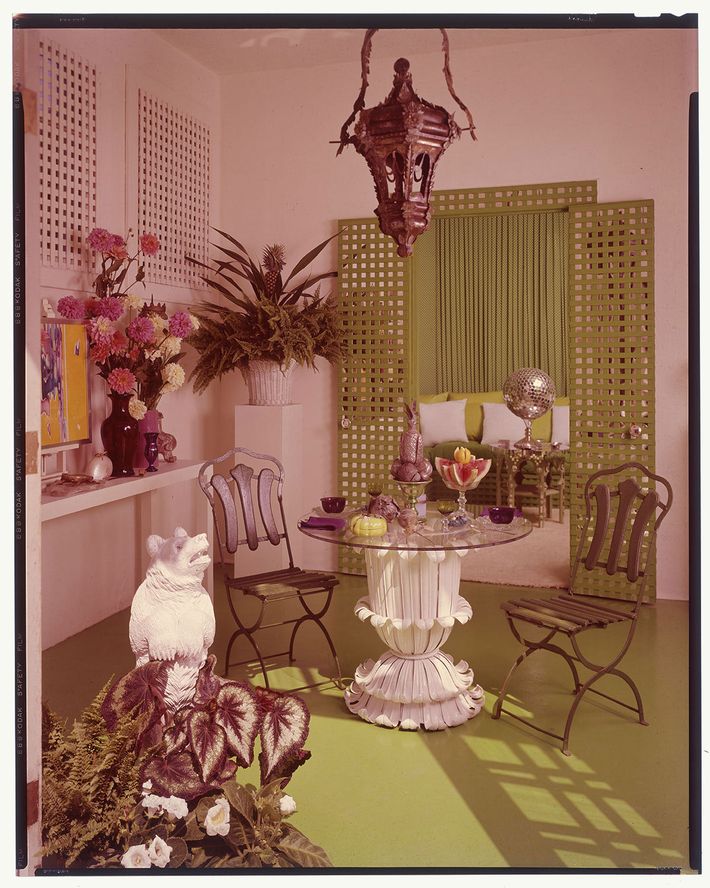 This corner of a room opens onto the pool area and has a Tony Duquette-esque sensibility, thanks to the way Goodman used latticework indoors and then painted it chartreuse. The indoor-outdoor feel extends to the metal lawn chairs used indoors, and to the antique Italian lantern — made from a metal table base painted white — that hung over the table. Goodman's fantasy arrangements combined fruits and greens, such as the pineapple topping the ferns in the corner.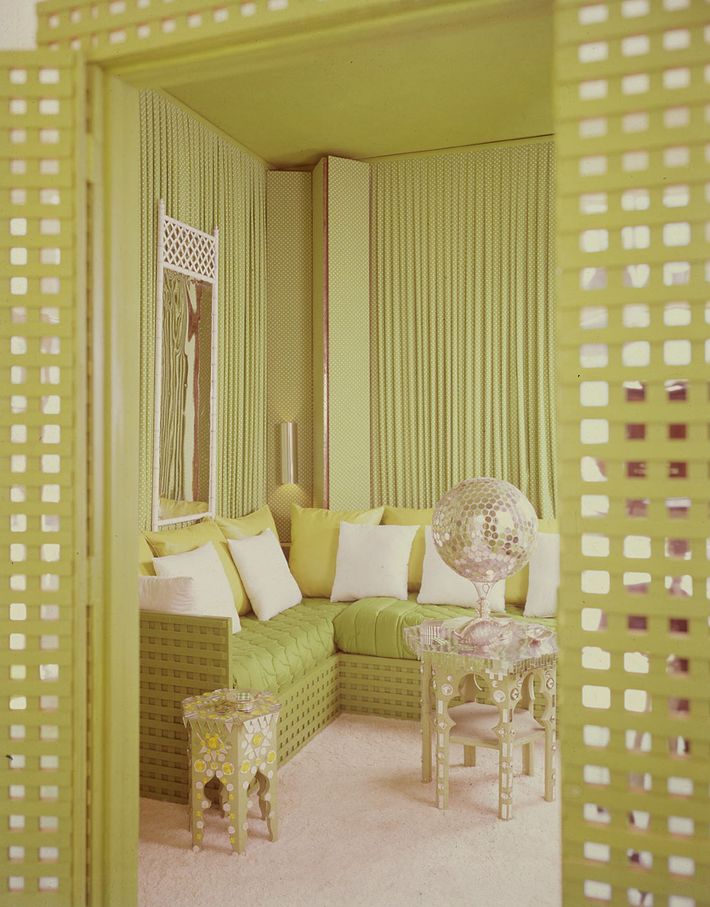 The painted lattice motif takes off in this room with lattice banquets covered in quilted cotton fabric cushions. The Indian tables are painted and the tops mirrored for — what else? — a disco ball centerpiece. The screen in the corner is covered in the same polka dot fabric as the curtains.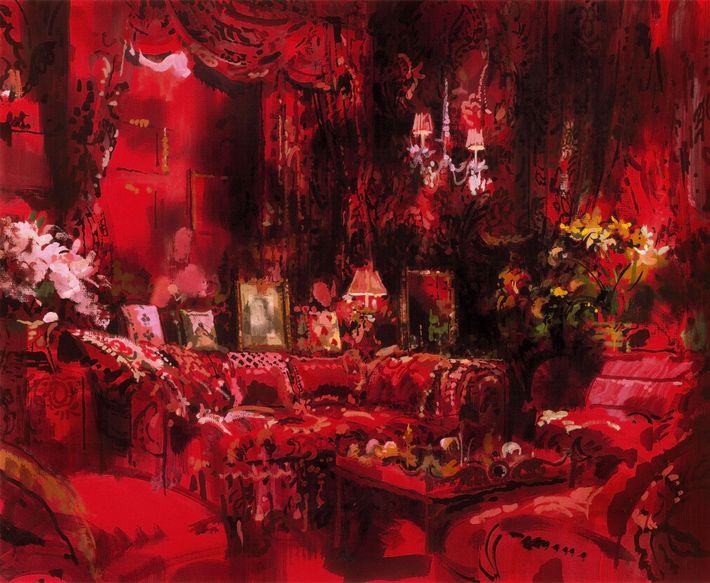 Goodman's ability to capture the essence of a room's personality is perfectly expressed in his rendering of Diana Vreeland's Park Avenue living room. Vreeland asked interior designer Billy Baldwin to create "a garden in hell" for her, and he did just that. Goodman painted the intense cozy closeness — the kind that made you forget the world outside — of that room. Admirers can order a print of his work here.