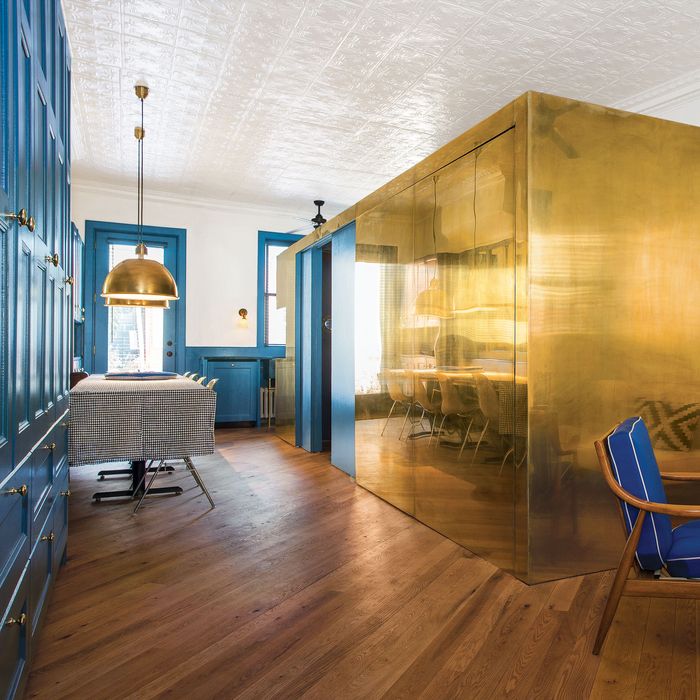 The tin ceiling that started it all. The unlacquered brass will mellow and patinate over time. The kitchen is located on the far end of the box. The shower, with the brass door slid open. When the shower is open, the bedroom is closed. The aluminum coffee table is the "Martini," from
West Elm
, and the sofa is from
B&B Italia
.
Photo: Cameron Blaylock
"Marc gets excited about real estate; I get excited about architecture and design," says Jonathan Massey, who this summer became the dean of the University of Michigan's Taubman College of Architecture and Urban Planning. Six years ago, Massey and his husband, Marc Norman, an urban planner, and professor at Taubman, went looking for a pied-à-terre in Brooklyn that had some outdoor space.
The building Norman found, on Grand Street in Williamsburg, had two apartments upstairs and a 450-square-foot studio that had once been a storefront. (A World War II–era tax photo show​s it as a haberdashery.​ That was before the BQE turned a bustling ​​street into an almost–dead end.) After working on an upstairs apartment, they planned to gut the ground-floor space to make an apartment for themselves.
Early in the process, they found an intact tin ceiling hiding above the Sheetrock. The​ intricate stampings released something unexpected in them: a desire for period detail. As an architectural historian,​ ​Massey ​has written about ornament — his 2009 book, Crystal and Arabesque, is about the transition from historicist to modernist design​ in the first half of the 20th century​. "There's a hunger to connect with traditions other than modernism," says Massey, 48, who ten​t​atively labels that​ ​​urge​ neo-postmodernism.
But they did not forgo the crisp edges of mid-century, either. Massey hired Zach Seibold, a former student with a construct​ion background, to build a box that would contain the couple's bed and bathroom. "It was a way to maintain an open plan but still have a closed bedroom," says Norman, 50, who explains that he can't sleep unless he has "a space that's comp​l​etely dark." The couple covered the plywood box in sheets of marine brass, for a vaguely retro, vaguely nautical effect.​ "I was tired of chrome and stainless steel," says Massey. Almost a piece of furniture in the room, it's flanked by a ten-foot-long table, made from a pair of solid-wood doors, and a church pew donated by a friend, which reminds the couple of the banquettes in ​some of their favorite restaurants. A soapstone backsplash and brass bathroom fittings add to the can't-quite-place-the-period look.​
Massey and Norman ​have found that living on the ground floor is a great way to get to know the neighbors. When they married three years ago, they celebrated with a block party outside. They're not selling the building, though they'll be spending most of their time in Michigan for the foreseeable future. The​ light-tight brass box will be there when they're back in town.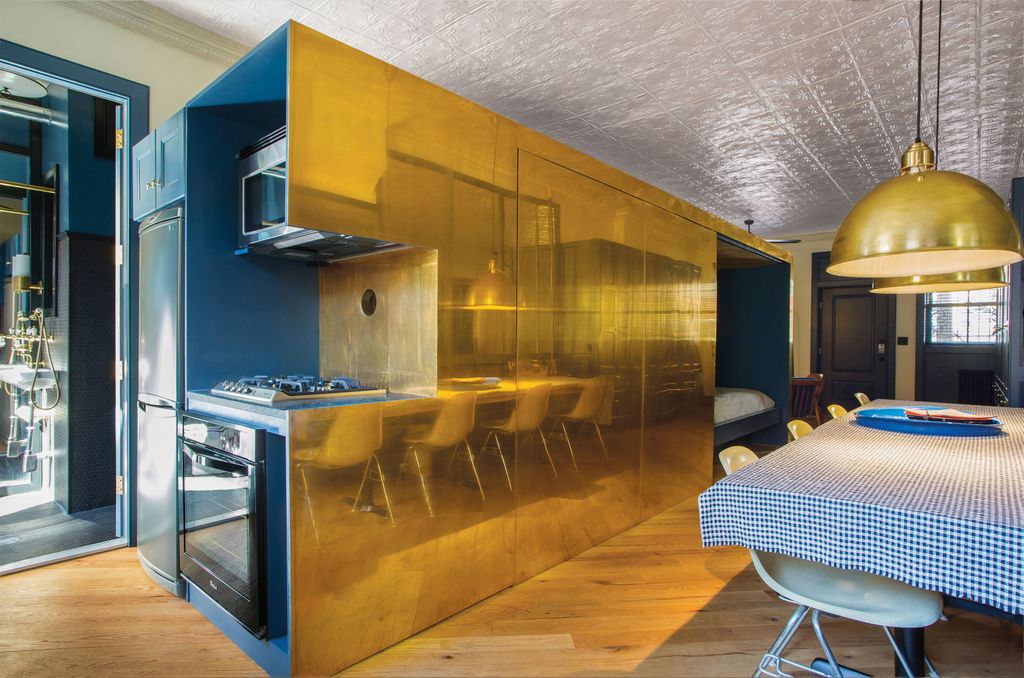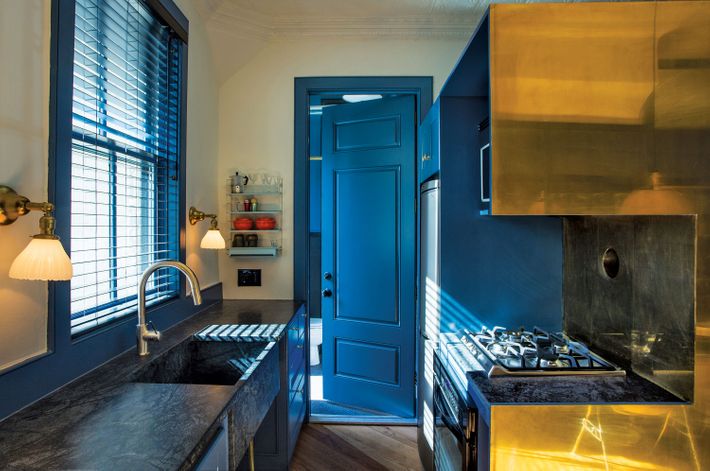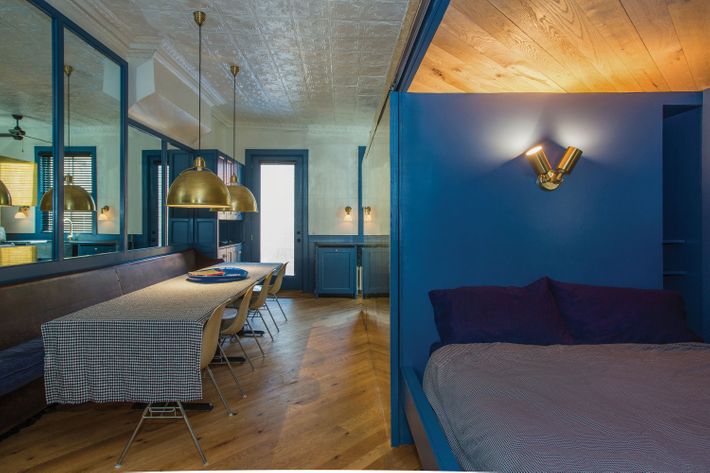 *This article appears in the Fall/Winter 2018 issue of New York Design Hunting.