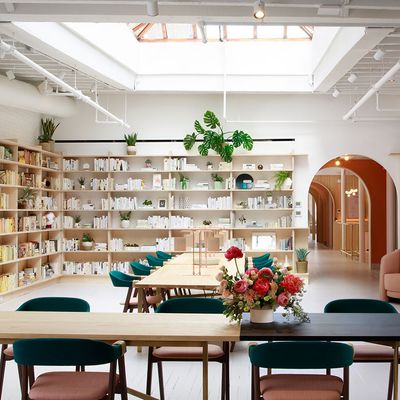 "I was in awe of its bones," de Rege says of the Soho loft location.
Photo: Tory Williams for The Wing
The Wing, Audrey Gelman's "coven" for notable and professional women who like to network, opened its second location last Monday. Housed in a manufacturing warehouse built in 1980, the Soho outpost is three times the size of the inaugural location on East 20th Street. The Wing's operators have filled the cavernous space with a new library of books written by women, a café and bar serving drinks mixed by women, and arrangements of jewel-toned sofas and chairs, chosen by a woman.
Chiara de Rege, said woman, designed the millennial pink–funhouse interiors for The Wing's first location. For the Soho outpost, "I felt like we have to do something more elevated," she says. "The first location, I find it quite cozy, these subtle pastel colors. With the new site, the high ceilings, and those skylights? I just felt like this is an epic space."
De Rege took a handful of design cues from Italy, both by visiting the annual Salone del Mobile fair in Milan and by looking at work from contemporaries like Dimore Studio in Milan. She made good on some of the details seen in the paper rendering of The Wing released in July, like the deep green and red seating. Other pieces, like vintage and vintage-inspired chandeliers from 1stdibs, and custom wallpaper from Joana Avillez and Payton Turner, can be seen in full now.
Some design choices carried over from the first location, too: "The first time around we were loving terrazzo, and the second time around we were still loving terrazzo," de Rege says. "So we committed to it in the bathroom."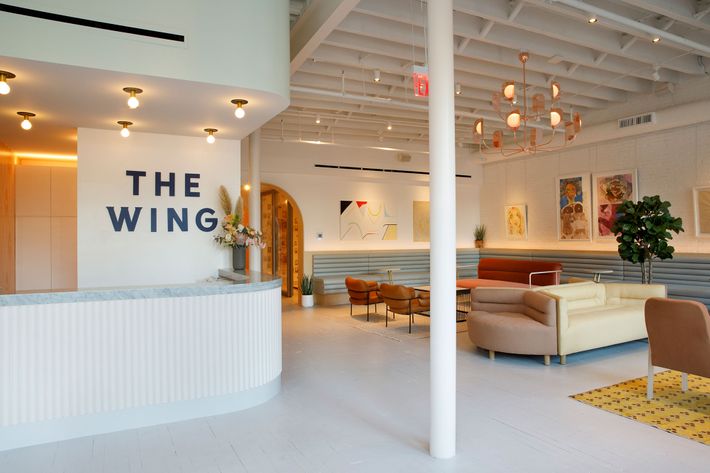 The entrance to The Wing's new Soho outpost. The sectional sofas were designed by interior designer Chiara de Rege and custom made in Los Angeles. The art on the walls is curated by Wing member Lolita Cros and will rotate.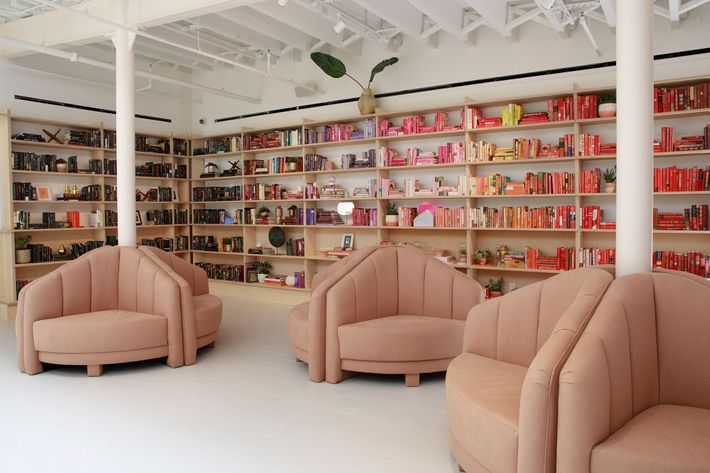 Seating is de Rege's design and made in L.A.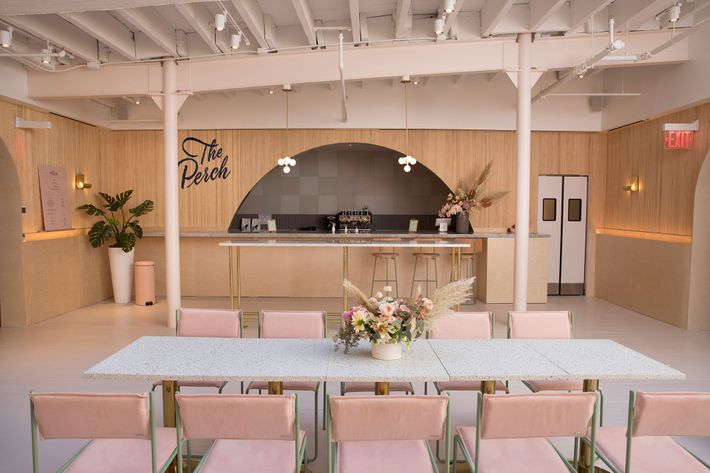 The café's walls are covered in quarter-rounds (round piece of wood), which de Rege calls "an inexpensive way of adding depth to the walls."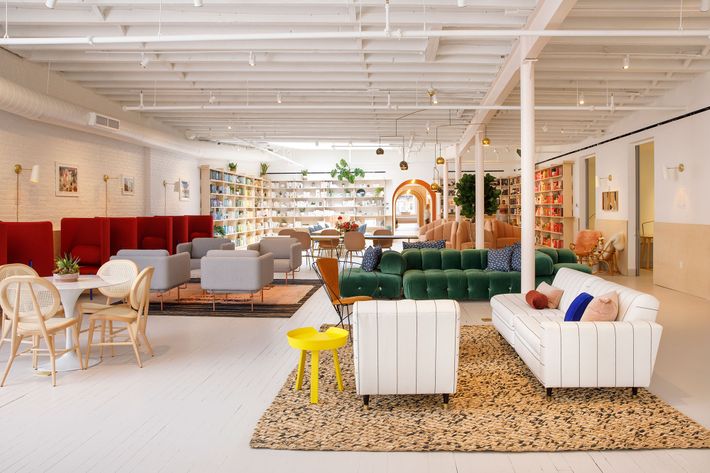 The "poetic mobile" chandelier hanging in the lounge is vintage, found on 1stdibs. The green sofa is custom, and modular. Hooks attach the different sectionals, and allow for it to break apart for crowded events.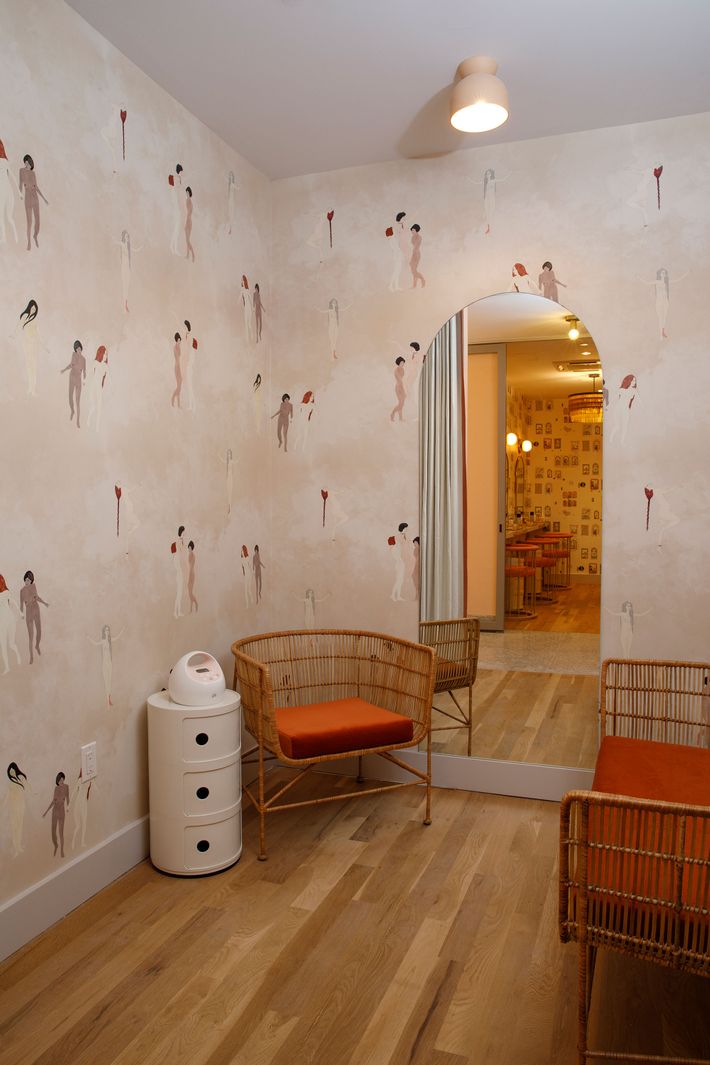 Joana Avillez's wallpaper design.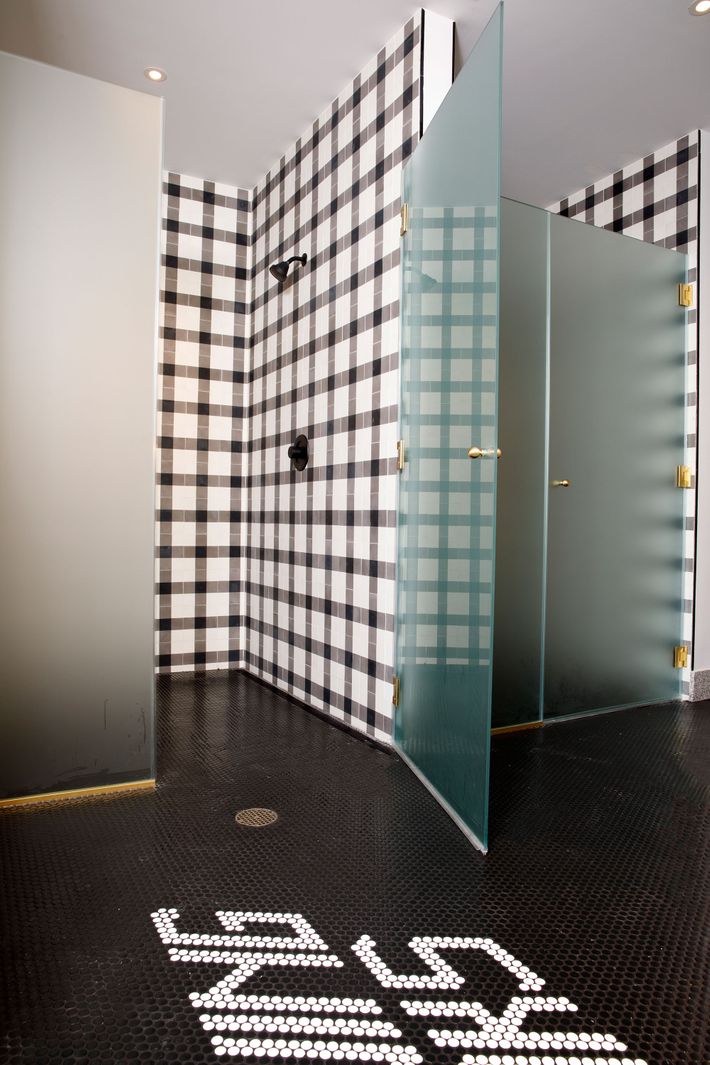 The bathroom tiles are from Los Angeles company Clé.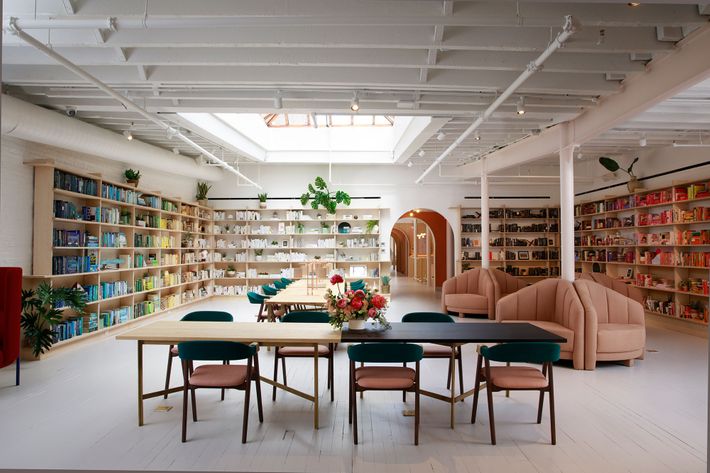 "I was in awe of its bones," de Rege says of the Soho loft location.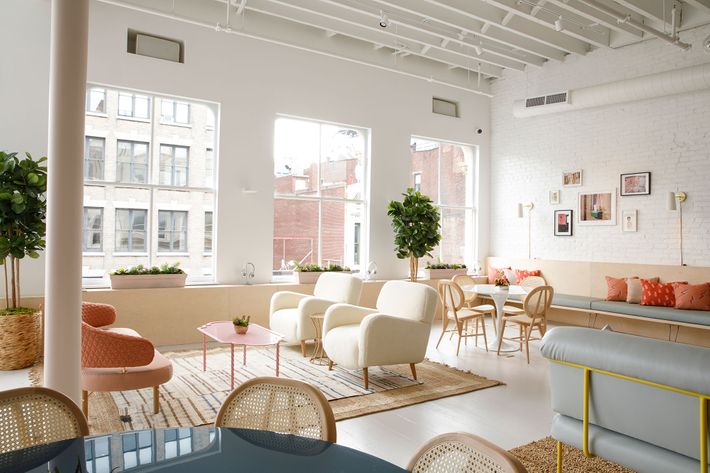 Many of the lighting pieces and sconces are from Atelier de Troupe and Lindsay Edelman. Patterned pillows are by Kate Loudon Shand.