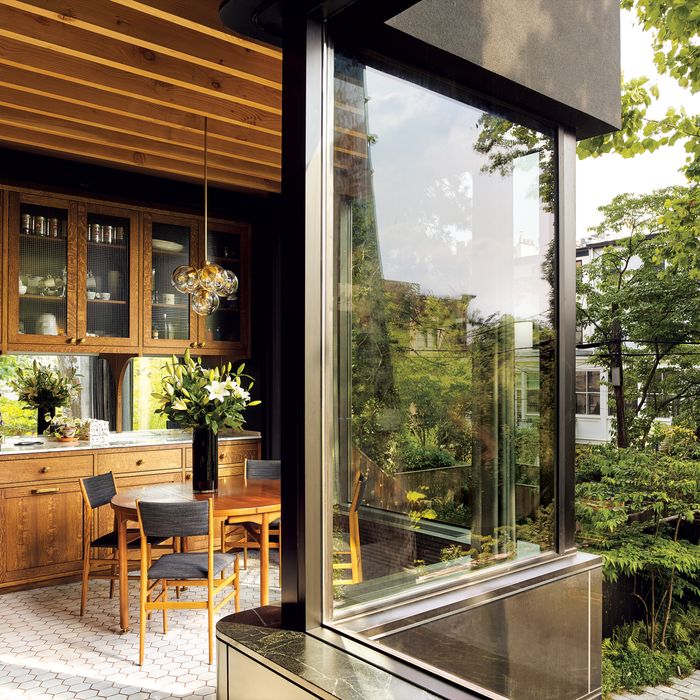 The Breakfast Nook
: The cantilevered kitchen features a Jens Risom breakfast table from
1stdibs
and chairs by
Gio Ponti from Wright
. The pendant light is by Jason Miller for Roll & Hill at
the Future Perfect
, and the
zellige
floor tiles are by
Clé Tile
.
Photo: Annie Schlechter
Wide, quiet street; south-facing garden; just enough period detail to give it character: Each element featured prominently on designer and collector Olivia Song's townhouse-search checklist, but the towering cluster of old London plane trees posed a challenge for her team of architects. So in came a cantilevered kitchen that wouldn't disturb the root base of one of the nearby trees — an effort to protect the six-story giants and some of the disparate plantings thriving outside. "We have different species of dogwood, Japanese maples, and winterberry — all of which don't really go together if you were to create a new garden," Song says. "But to me they were like living, ongoing creatures." Ultimately, one of the three plane trees had to go because it was leaning too close to the house, but the backyard, with its elegantly lush feel, has remained very much the centerpiece of the home.
Inside, meanwhile, Song and her husband, financier Scott Rofey, wanted a place where everyone, including their two small boys and the occasional visiting in-laws, could come together but then spread out into separate areas when downtime was needed.
Song had spent enough time in friends' Brooklyn homes to know she didn't want the classic seven-and-a-half-foot garden-level ceiling height. "I wanted this big lofty space — basically the antithesis of a townhouse," she says. "That's where we came up with the idea of the cutout." Song worked closely with Greg Heasley and Shawn Watts of Leroy Street Studio, whose design/build practice kept the charm of the parlor's original staircase while removing part of the floor to create a double-height garden-level family room.
But at the end of the day, it was Rofey who drove the kitchen design in terms of color and how much space he needed. "He loves to cook," Song says. "We don't go out that much, because what he cooks is better than anything at a restaurant. He even makes bagels, with the sesame topping, the whole thing."