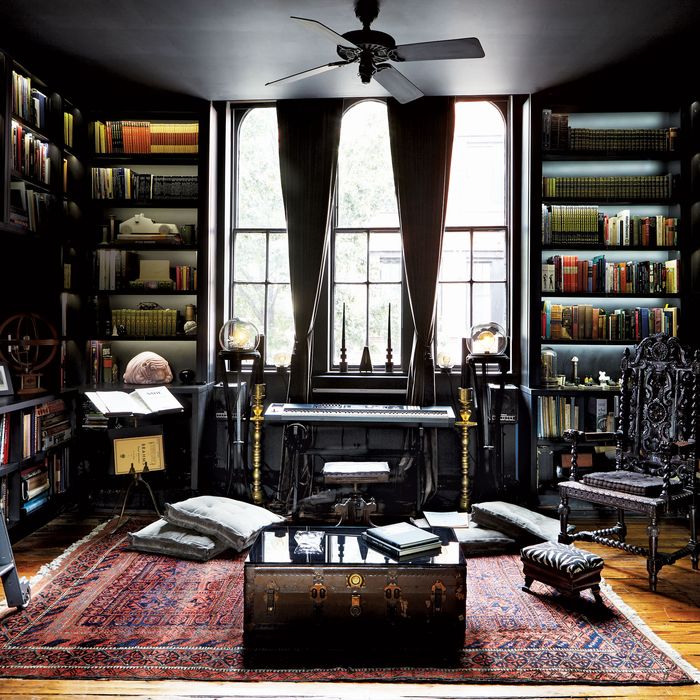 The living-room library.
Photo: Joshua McHugh
Yes, the books on the occult occupy a large portion of our shelves," says set designer Erica Hohf of the library within the mid-19th-century firehouse she shares with her husband, artist and designer Julian LaVerdiere. It's here, nestled among the casework shelves, where their all-white leucistic boa, Phanes (who's currently only inches long but should ultimately be six feet), will also soon hole up. "She'll have her own custom Wardian-style case with live plants," says LaVerdiere.
The firehouse's original occupant, the pro-Union independent fire company Empire Engine No. 19, sent some members to serve in the Civil War (LaVerdiere and Hohf have adopted the name for their film- and commercial-design company). More than a century later, in 1984, LaVerdiere's mother purchased the place, and her son spent his high-school years there before returning to take it over in 2014. One of his first moves was to paint much of the interior space black, which added a surprising coziness to the open plan of the kitchen, dining/work space, and library. But before anything could get under way, lots of serious structural work had to be done, including reinforcing the roof outside the kitchen and the interiors with steel. Brooklyn-based studio Dameron Architecture helped bring the couple's ideas to life. The couple took out loans in order to bring the building up to code and lure a ground-floor tenant. It paid off: Stumptown Coffee Roasters moved in, allowing them to maximize the opportunities of inheriting this historic building.
This included the dream addition of a rooftop garden — accessed by a wall of kitchen windows containing a French door — that features an archery range, reflecting pool, and Japanese ofuro soaking tub. "It was one of those things that we always really wanted," Hohf says. "It is traditionally used more for therapy and reflection, not partying, like an American hot tub."
In the living-room library, above, the bookshelves were designed by owners Erica Hohf and Julian LaVerdiere and built by Bart Hutton, who worked on the casework for the recent "Heavenly Bodies" exhibition at the Met. "The only thing you focus on [in the all-black environment] are the illuminated book spines," says LaVerdiere. "It does have a jewel-box effect," Hohf adds. "Especially at night."
*A version of this article appears in the November 12, 2018, issue of New York Magazine. Subscribe Now!