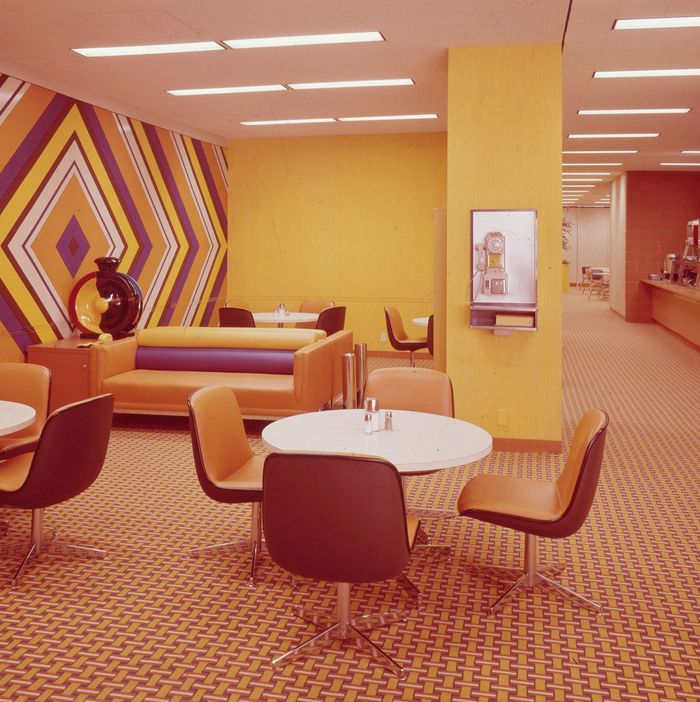 The Johnson Publishing Company cafeteria. Photo: Photograph by Alexandre Georges from Arthur Elrod by Adele Cygelman, reprinted by permission of Gibbs Smith.
This article was originally published in April 2019, when the Museum of Food and Drink announced their intention of reassembling Ebony's test kitchen.
When John H. Johnson first launched Negro Digest in 1942, he had a hard time finding anyone in Chicago who would give a black man a loan. Yet in the years that followed, Johnson built a publishing empire that grew to include magazines like Ebony and Jet, which shaped coverage of African-American life and culture for decades.
In 1945, Johnson founded Ebony with the goal of reaching black readers who were looking for glamour and pizzazz — and also, as he wrote in his book, Succeeding Against the Odds, giving readers "relief from the day-to-day combat with racism." Reflecting on the influence of the magazine years later, Johnson wrote, "We needed a medium to make Blacks believe in themselves, in their skin color, in their noses, in their lips, so they could hang on and fight another day … we needed a new medium — bright, sparkling, readable — that would let Black Americans know that they were part of a great heritage."
That same sensibility of glamour and pride and pizzazz could be seen throughout the Johnson Publishing Company offices. In the early 1970s, Johnson commissioned architect John W. Moutoussamy — who studied with Mies van der Rohe at the Illinois Institute of technology — to build the company offices in Chicago. Moutoussamy designed an austere, geometrically rigorous 11-story building made of concrete, marble, and glass — the first building designed by an African-American architect for the first black-owned company in downtown Chicago. Johnson's wife, Eunice, who was his right-hand and the fashion director at Ebony, oversaw the design of the interiors, which were done by Arthur Elrod and William Raiser, California designers whose work epitomized the bold color and pattern-saturated aesthetic of the '70s. They lavished the offices with different designs for each floor and magazine, including custom furniture and African art.
The Johnson Publishing Corporation declared bankruptcy in April 2019, marking the end of an era. The archive was then purchased by the Ford Foundation, the J. Paul Getty Trust, the John D. and Catherine T. MacArthur Foundation, and the Andrew W. Mellon Foundation with the intent that the photographs will be donated to the Smithsonian's National Museum of African American History, and Culture and the Getty Research Institute. Though the building exterior won landmark status earlier last year, the office's interiors were dismantled when the building sold in 2010. The monograph Arthur Elrod: Desert Modern Design, by Adèle Cygelman, includes photos of the offices in its former glory — and New York's Museum of Food and Drink hosted a fund-raising drive to reassemble Ebony's psychedelic test kitchen. We spoke with Johnson's daughter, Linda Johnson Rice, about her parents' design sensibility and the legacy of Johnson Publishing.
"It was my mother who found Arthur Elrod," Rice says, explaining that Eunice saw an interior designed by Elrod and Raiser in a magazine. The two designers had established a thriving practice in L.A. and Palm Springs, and Eunice flew out to discuss designs for the Johnsons' new apartment on Chicago's North Lake Shore Drive, where they had purchased two adjoining units.
In a 1972 Architectural Digest feature, Eunice said that she told Raiser and Elrod that she wanted the apartment "to complement our two complexions in tones of browns and beige. We felt this type of setting would be comfortable and flattering." To that end, the apartment featured rich walnut travertine walls in the living room, a custom zebrawood coffee table, herringbone walnut parquet floors and earth-toned Edward Fields carpets, as well as a sprinkling of zebra- and leopard-print fabrics. The art included sculptures by Marino Marini and Pablo Picasso, a Marc Chagall painting, and pieces collected from their global travels.
"I grew up in that building," Rice, now 61, says of the Johnson Publishing offices, describing the days after school when she had the run of the offices. Rice started working at the corporation in 1980, and succeeded her father as CEO in 2003 (Johnson died in 2005).
"It was a beautiful environment to walk into," Rice says. Visitors entered through the lobby, which had 22-foot ceilings and paneling from Mozambique. "On the wall there was this fantastic custom-designed sculpture by Richard Hunt, a bronze piece hanging from the wall. Everything was custom made: the carpet by Edward Fields, the curvilinear sofas covered in faux leather. It had a very lush, '70s sort of feel, which was reflective of who we were as African Americans. There was a warmth to it."
Every floor of the building had a different palette and aesthetic, with each office designed to reflect the sensibility of the magazine. "The floor for Jet magazine was all leopard print: wall-to-wall leopard print carpet," Rice says. "It was a weekly news magazine. It was racy — it was all the news that had happened to African Americans within a week across the country."
Reflecting on her father's legacy, Rice says she believes he helped black Americans recognize their success and influence, as well as their buying power. "He was an entrepreneur, and I think he really was the springboard for many of our African-American business," Rice says. "He was a genius on every level."