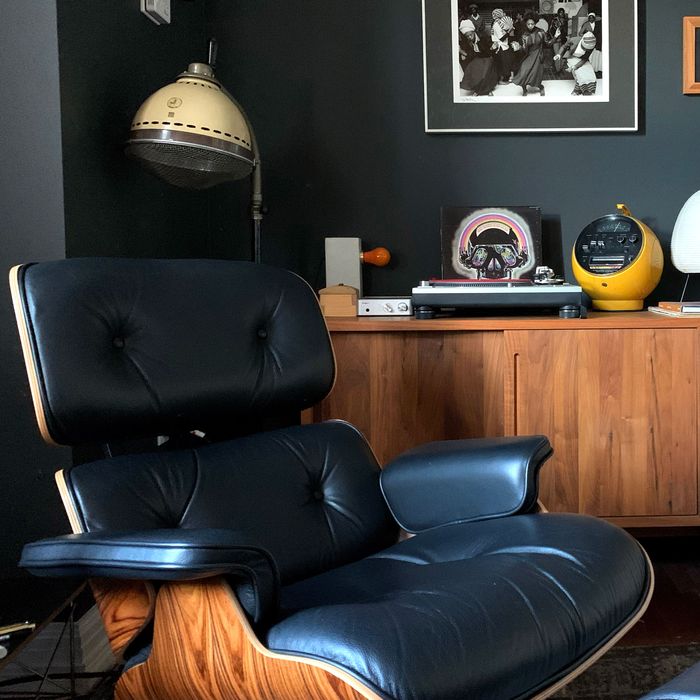 This story was originally published by Curbed before it joined New York Magazine. You can visit the Curbed archive at archive.curbed.com to read all stories published before October 2020.
When New York issued its stay-at-home order, comedian Wyatt Cenac — onetime Daily Show correspondent and the host of Problem Areas on HBO for two years — decided it was a good time to organize his music collection, which is extensive, mostly jazz, and entirely vinyl. The collection is the product of a yearslong habit: When he travels, he usually dips into a local vinyl emporium to buy something. He estimates his collection of jazz albums is in the high hundreds, probably not more than a thousand, but it may get there soon.
"Because I'm at home and I have a lot of downtime, I find myself looking online on Discogs and buying records that I maybe don't need to be buying," Cenac says. After searching for Skull Session, a 1975 album from the jazz composer Oliver Nelson, he finally found a copy from a dealer in Japan. "I feel like it's the sign of a problem going across international waters to have a record shipped to me. It's sort of like: The shipping costs about as much as the record, so why don't I buy five more records? So that's where it gets dangerous."
Now you can listen to Cenac's music — and hear him worry aloud about having bought too much music — from the comfort of your home via Instagram. "Some of it is stuff I was seeking out, some just had weird covers, and some I bought because a record store clerk made me feel dumb for buying that Boz Scaggs record," he wrote in the announcement for Happy Hour Record Club, a twice-weekly Instagram Live listening party he hosts from the high-rise Brooklyn apartment he shares with his girlfriend.
Cenac pulls out a record from his collection, pours a glass of whiskey, and plays the album all the way through while discussing the music and current events with folks who join — a ritual he has maintained even as reopening has (tentatively) begun. He broadcasts from what might be a Tokyo jazz bar, complete with swanky furniture, black-and-white photographs, and retro collectibles. He gave us a tour.
On finding his style:
Things that catch my eye are maybe more midcentury modern or Scandinavian. I have an Eames chair: I told myself if Problem Areas was picked up for a second season, my reward to myself would be finally splurging for one.
I've moved around a lot. At a certain point, I realized I should learn to make my apartments feel like my own spaces, so then I kind of got into figuring out what that meant. I painted the bathroom in my last place to make it look like you are inside of an Anthora coffee cup. The "We're Happy to Serve You" logo is backwards, so when you wash your hands and look in the mirror, you're able to read it. The apartment I live in now is next door to that one and I ran into the person who lives there now. She hated the mural so much. I guess this is a long way of saying to a certain degree I think about design, but perhaps my taste is not for everybody.
On being at home during the pandemic:
Living in New York, outside space is such a premium. I live in a tall building and so to open a window means to just kind of allow pigeons in. I found myself very envious of friends who live places where they could just kind of like open a back door and go be in a yard or a pool or those types of things.
My home is an escape. On the one hand, I'm very proud and happy that I have a space where I feel safe and I feel like I can escape, but I'm also aware that so many people don't have that. Part of Problem Areas was trying to spotlight those things in a way so that maybe we could shift the conversation to talking about why this type of systemic racism and systemic inequality exists, actually do something to try to combat it, and to try to balance the scales better. Not everybody needs an Eames chair, but everyone should have a chair and a space that they can go be comfortable in and do whatever that is, whether it's read or rock an infant to sleep or just, you know, just have a space to escape to.
I was really fortunate that, for two years, I got to make that show. It was something that was important to me. It also afforded me the ability to buy the things that make my home feel like a home. Not everybody gets that opportunity because in the world in which we live, we have not prioritized taking care of one another over taking care of ourselves as individuals.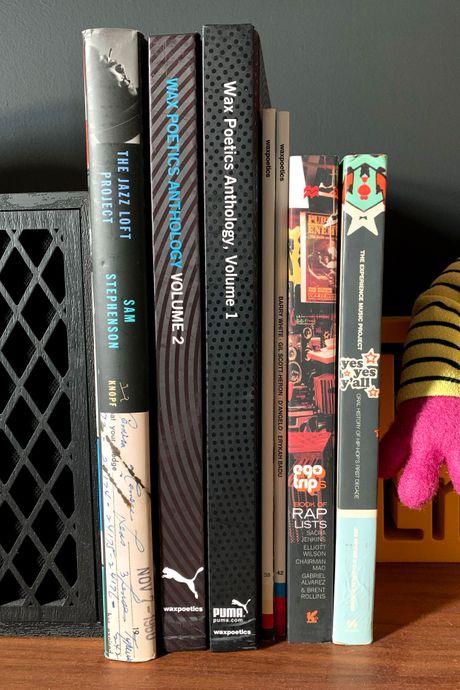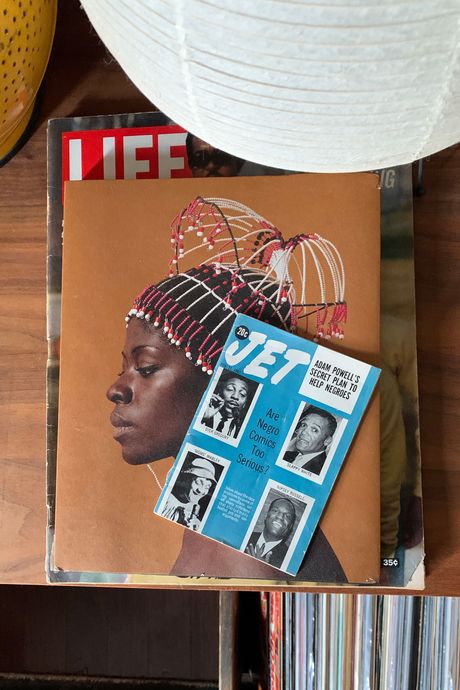 On the listening room that holds the record collection:
When I moved into my apartment, I thought I would use this space as a guest room, but I rarely have people over. Having a record collection and books that have become unwieldy, the room has turned into a space where we can read or listen to music. I guess, in a strange way, with Happy Hour Record Club, it's become kind of like a guest room. I feel less bad about never inviting people over.
On the sound system:
When I lived in L.A., I had this crappy set of turntables that I left behind. When I moved to New York, I was like: Oh, I would love to get some Technics. So I got these Technics 1200 turntables and a mixer and would kind of goof around in my apartment and DJ. At some point, I was like: I don't know why I am doing this. I can just set them up to listen to records, which is what I have been doing for the most part. My friend Donwill is a DJ and and so, when I want to scratch that itch, I'll just show up to his gigs and when he goes to the bathroom I'll just take over for ten minutes. And when everyone is yelling at my mistakes, he'll fix them.
What's on repeat:
I play Karma, a record by Pharoah Sanders, and Hugh Masekela a lot. For my birthday, my girlfriend got me Texas Sun, by Khruangbin and Leon Bridges, and Plantasia, which also wind up getting a lot of play. In the room where the record player is, I have three plants. The Monstera seems to have done well — I don't know if it's the record or if it's just a plant that's like, "I'm here to live." [Editor's note: The 1976 synth album is supposed to help plants grow.]
On his prized puppet:
I have a framed Sesame Street record on the wall of My Name Is Roosevelt Franklin and that muppet is a recreation of Roosevelt Franklin. A puppet builder named James Wojtal and I were working on a project and he came to my apartment and saw that I had this framed record. And so then, just as a nice gift, he made me a recreation of Roosevelt Franklin.
This character was created by Matt Robinson, who was a Black writer for Sesame Street. He voiced it as well. The whole thing with Roosevelt Franklin was that he was a kid in an inner-city school who, despite the lack of resources his school had, was trying to teach his classmates the things their textbooks weren't covering. Unfortunately, what happened is some parents and the Children's Television Workshop [the entity that produced Sesame Street] felt the character sent a bad message since he spoke in slang and he was eventually phased out.
There's a part of me that always appreciates him as a character because it felt like, oh, here's this kind of unsung character in Sesame Street history that was trying to do something right. The character was trying to talk about issues that the school wasn't paying close attention to, but which impacted him and his classmates. Maybe that was, in some way, part of an ethos of the show that was in my subconscious when I was thinking of Problem Areas.
On knockoffs:
The paper lantern light is an Akari knockoff I got on Amazon. There's a part of me that feels bad about buying it. I remember talking to a salesperson at the DWR Outlet who said that the same people who are making the DWR version are also making the knockoff version and that's a weird, weird economy.
On the artwork:
I have a photo by Chris Steele-Perkins of some women dancing in a disco in Wolverhampton. Once you have a job for a minute, you're like, "Let me be a little sophisticated here. Get an Eames chair, get a nice photograph." And so that's what that photograph is.
On the things he took home from set:
Maggie Ruder, the production designer for Problem Areas, and I talked about the things I liked when she was making the set. I remember sending her a photo of Project Cybersyn, which is this Chilean operations room, and saying, "I would love to listen to a record in here."
HBO paid for us to get some furniture for the show and when they canceled it, I said "fuck it," and took some things home with me, including this yellow eight-track player. I also got a knockoff Finn Juhl credenza from the set.
On ordinary furniture made more meaningful through repair:
Everything is sitting on top of my old TV stand, which I got from Room & Board like ten years ago. It's moved with me to multiple apartments. One day, I tried moving it and one the legs — which are like these weird slats — just folded under and the whole thing collapsed. My friend Don and I went to a hardware store to get some brackets and fixed it. It holds a special place since he and I repaired it. Hopefully it's now built for another ten years.