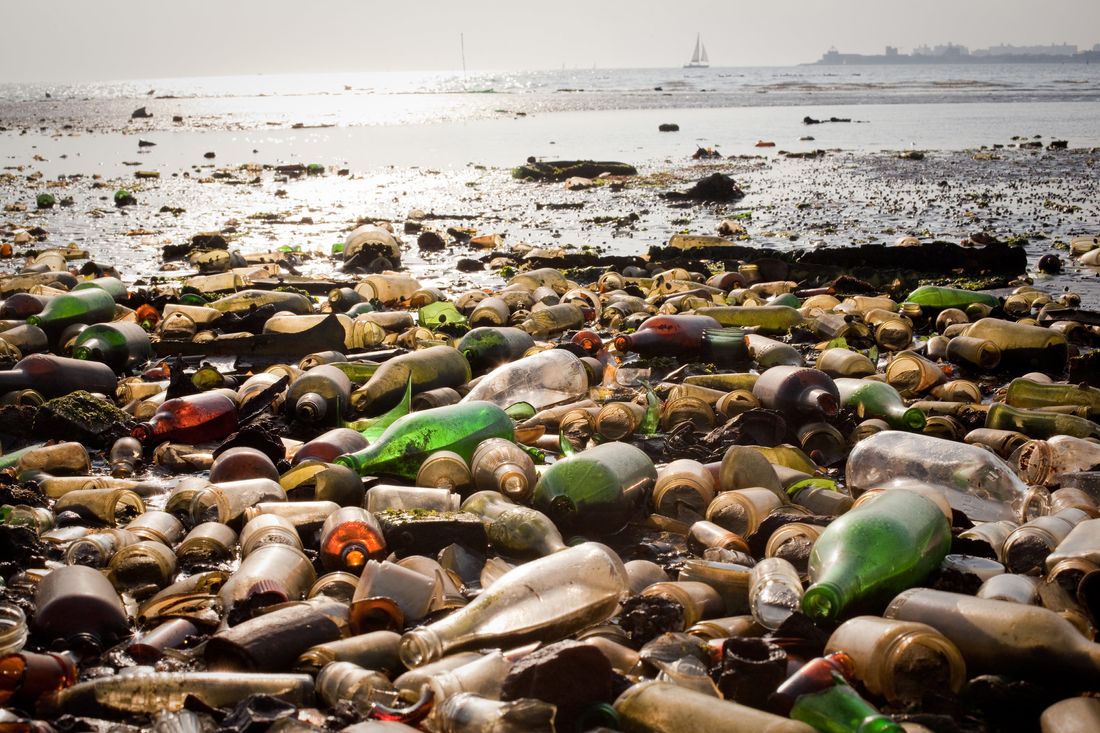 Glass bottles blanket the beach at Dead Horse Bay in Brooklyn.
Photo: Beth Perkins/Getty Images
This story was originally published by Curbed before it joined New York Magazine. You can visit the Curbed archive at archive.curbed.com to read all stories published before October 2020.
"It's pretty devastating," said Vanessa Dudley of the radiation recently discovered at Dead Horse Bay, a cove in southeastern Brooklyn that was once, many years ago, home to a landfill. For decades, the bay and its surrounding area have been burping up intriguing early-20th-century detritus onto the beach. Dudley, an administrator at Weill Cornell Medicine, is one of many treasure hunters and artists who regularly visited the beach to pick through mud-flecked glass bottles, ceramic shards, and rusted bits of metal. "You can see the lives of people through these objects. It's like their memory lives on through them."
But earlier this month, the three footpaths that snake from Flatbush Avenue through thick brush to the beach were marked with canary-yellow signs warning: "Danger Area Closed. Potential Hazardous Material." Authorities had closed the southern half of the bay (near Floyd Bennett Field) following the discovery of radioactive material on the beach and near one of the paths. The radiation was first noticed during an environmental survey in 2019, when the National Park Service (which manages the bay as part of the Gateway National Recreation Area) discovered 31 locations along the shore and nearby trails with excessive levels of gamma radiation. At two of those sites, the culprits turned out to be old deck markers — small, glowing disks that were once used on Navy ships — that were leaking radium-226. These were recently removed, and the possibility of a more extensive cleanup is now being considered.
Among the thousands of items strewn across the beach at Dead Horse Bay, vintage marine artifacts are some of the rarest and most prized by scavengers like Dudley. Embossed perfume bottles, rusted dog tags, disembodied arms from porcelain figurines — these are the kinds of objects the 39-year-old plucks from the beach and brings back to her home in West Brighton, Staten Island, where she arranges them into shadow boxes that hang in her living room and office. Some of those items date back 70 years or more, but the legacy of trash-dumping in Dead Horse Bay is older still.
Dead Horse Bay earned its grim name back in the 1850s. At the time, carcasses of dead horses and other animals were used to manufacture glue, fertilizer, and other products on neighboring Barren Island, and animal remains would periodically end up in the bay and neighboring waterways. In 1926, after many of the factories had moved elsewhere, Barren Island was connected via landfill to the mainland. In the 1950s, Robert Moses further expanded the area's land mass by building landfills. Moses flooded the area with the city's garbage — much of which was likely the rubble of other neighborhoods Moses himself destroyed as he reshaped New York — and then covered it with a layer of topsoil. Erosion has since released much of that debris, which collects at the bay's eastern shore, providing New Yorkers with an eclectic compendium of 20th-century trash. But in light of new knowledge about the radiation there, exploring that garbage — and discovering the clues it holds about the city's history — comes at a risk.
Daphne Yun, a spokesperson for the National Park Service, stresses that anyone who visits the closed beach could be subject to fines or arrest. The agency is also "planning to erect a physical barrier" on the trails to the bay.
Dudley has purchased a Geiger counter to wave over the objects in her collection to test their radioactivity (all clear), and wonders what will become of Dead Horse Bay if the contamination should necessitate a large-scale cleanup. Although that possibility is likely years off, a big cleanup could mean the removal of at least some of the antique garbage that makes the cove such a popular spot for scavengers.
Under federal law, it's technically illegal to remove anything from Dead Horse Bay, which is protected parkland. But the law has done little to curb the community of history buffs and treasure hunters who flock to the beach to hunt for unusual artifacts — many of which end up in online shops and personal collections, or are otherwise sold to metal scrappers for modest sums.
Desi Scheck and her husband Jonathan drive from Flushing to load up sacks with surprisingly intact ceramic pitchers, small milk-glass bottles, and architectural salvage from bulldozed buildings. Some of the things wind up decorating their garden. Others make it onto Scheck's Etsy shop, like this brick with the word "BUCK" on it. Bayside–native Merrill Kazanjian runs a YouTube channel, Metal Detecting NYC, where he has posted dozens of videos documenting his discoveries on the beach, including one of his all-time-favorite finds: a three-cent coin minted by the U.S. in the mid-1800s. "That place pulls people in like a magnet," says Kazanjian. "It's the closest you can come to time travel."
Miriam Sicherman, an elementary-school teacher and the author of Brooklyn's Barren Island: A Forgotten History, believes that at least some of the items at Dead Horse Bay should be preserved for public viewing and scholarly research. In such a setting, these seemingly mundane items could serve as windows into the lives of the city's former residents. "People can connect to the past through these physical objects in a much more direct, visceral way than just by reading about what kinds of beverages people drank in the 1950s," says Sicherman. "It's a unique resource."
When a cleanup finally does happen, the National Park Service has said that it plans to provide "early and meaningful communication with affected community members." Yun also notes that, if deemed necessary, the National Park Service will take steps to preserve "potential archaeological resources." Many scavengers have suspended their visits to the beach owing to concerns about radiation, but some are skeptical of a cleanup and doubt that the massive undertaking required to remediate even part of a 178-acre bay will ever come to fruition.
Die-hard digger Adele Daly, 66, who has been visiting Dead Horse Bay since she was 14, when she first visited with her father, continues to schlep out to the beach, sifting through the muck for her "drop-the-mic finds." Daly shrugs off concerns about radiation, and the possibility of a cleanup stealing away her hunting ground doesn't worry her. "C'mon, give me a break. It's not gonna happen," she says. "It's a big job. It's gonna take my lifetime and then some. I've seen the government say things and then years later, what happens? It just fades away almost like a memory."