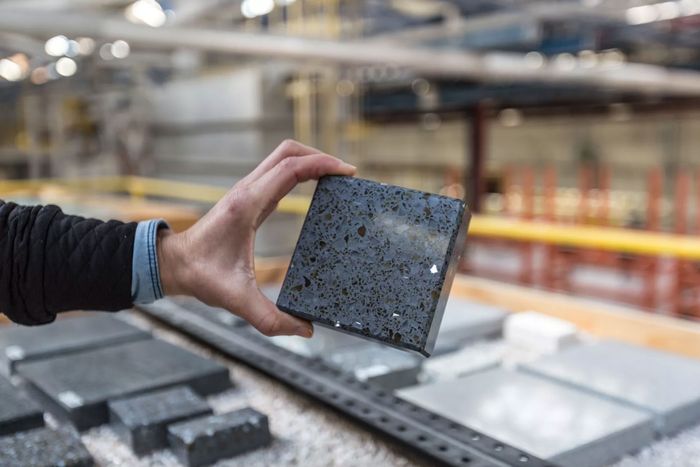 "Yep it's a company that believes in second chances. See where I'm going with this?" Weiner
wrote
.
Photo: Max Touhey
Anthony Weiner is now the CEO of a Brooklyn kitchen-countertop company. Yes, that Anthony Weiner — former New York congressman, flamed-out mayoral candidate, and registered sex offender who served 18 months in prison for sexting a 15-year-old girl. (Also the source of Her E-mails™ and therefore perhaps the proximate reason the world is disintegrating.) And now he's chief of IceStone, a company based in the Brooklyn Navy Yard that's known for sparkly countertops that incorporate colorful chips of glass. Recycled glass. "Yep it's a company that believes in second chances. See where I'm going with this?" Weiner wrote on his LinkedIn. The tabloids, predictably, made a meal of the news: "Anthony Weiner piecing together shattered life as CEO of a broken-glass factory," the Post headlined its story.
Stating the obvious: The former Carlos Danger — his nom de sext — is a horndog creep. But we at Curbed have a separate question. Are his countertops any good?
IceStone slabs are composites of glass chips, Portland cement, and nontoxic pigments. (You can peek inside the factory and see how the countertops are made here.) Although Portland cement is one of the most carbon-intensive materials on the planet, the rest of IceStone's countertop-manufacturing process has significant environmental cred: it uses recycled water for its steam-powered kilns, electric forklifts, and natural light on the factory floor. It currently recycles 90 percent of its refuse, and is aiming for zero-waste operation. This has all helped the countertops earn a Silver rating from Cradle to Cradle, an organization that ranks green building products.
The company's labor practices, too, seem better than most: Much of IceStone's workforce is made up of Tibetan refugees. The company also draws employees from the area around the Navy Yard and has a job-training program for people who are reentering after incarceration. This has all led to a B corp certification, which designates businesses that are notably good to their workers, environment, customers, and community. The company has never really been that successful as a money-making endeavor, which is why owner Dal Lamanga — previously the founder of Tweezerman — hired Weiner to run the company, hoping that the former congressman could revive the business. It's a move that has the potential to backfire, given that fed-up consumers boycott brands when they dislike the political stances and personal practices of who runs them. Think of Goya, Goodyear, and Chick-fil-A, among others.
How about aesthetics? Depends on your taste for sparkle. But in the right setting, the product actually looks great — as this midtown kitchen featured in Design Hunting shows. It's a manly countertop, apparently: One of Weiner's most public and testosterone-y moves at the company so far has been an email blast advertising a prototype for a Mets–themed colorway, and a recent press release advertised how good the surfaces could look in "mancaves."
Perhaps significantly, IceStone is not indestructible. It can indeed be chipped or discolored. But, if you make a real mess of things, a professional rehabber can buff those stains right out, making it look new. And the brand says an improved version of the product has made it more durable. Metaphor much?