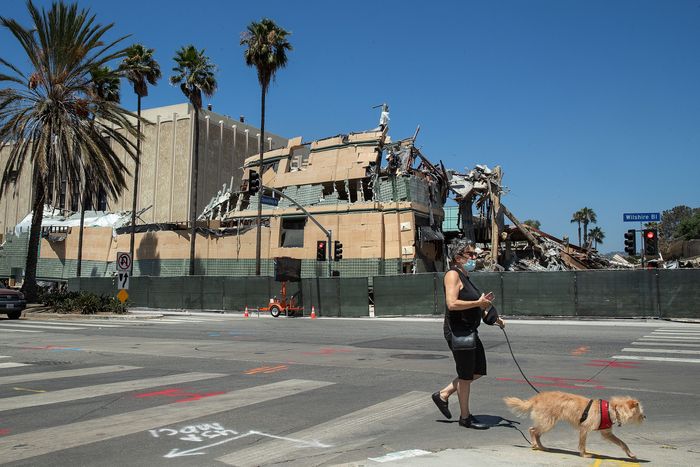 LACMA started demolition during the pandemic before announcing key details about its new building.
Photo: Mel Melcon/Los Angeles Times via Getty Images
This story was originally published by Curbed before it joined New York Magazine. You can visit the Curbed archive at archive.curbed.com to read all stories published before October 2020.
It was more emotionally wrenching to watch than I thought it would be. The way the exterior wall flopped over, as if a piece of cardboard was being folded, the glass bricks popping like hundreds of light bulbs, sublimating in a puff of white smoke. Building demolitions are rarely associated with grace or deftness, but there was something about the way that this one felt particularly careless, almost nonchalant.
Of course, I wasn't there to see the fall of the Los Angeles County Museum of Art in person. Unless you lived in the neighborhood and just happened to be out walking the dog, you, like me, saw it through a social-mediated stream of photos and videos. LACMA, which has been closed to the public since L.A. County's stay-at-home order was issued in March, never alerted the public that demolition was about to begin. You'd think, after the museum made such a big deal about moving a rock through the streets of L.A., that it might have commissioned a local artist to immolate the place (The Los Angeles County Museum on Fire, for real). Perhaps the news was soft-pedaled out of concern, to prevent people from gathering during the pandemic. But more likely, as with everything about the museum's troubled expansion, it was yet another way to keep the public in the dark.
Since 2013, when LACMA first announced that its new campus would be designed by Swiss architect Peter Zumthor, support of the project has been mixed at best. Almost immediately, Zumthor — who was handpicked by the museum's director, Michael Govan, without any public input — put forth what became known as his "inkblot" plans, which he then had to reconsider as the museum had neglected to consult with scientists about the sensitive excavation sites at the La Brea Tar Pits next door. When Zumthor took yet another stab, the design was vastly different — now beige, concrete, road-straddling — but it again lacked key details, like the design of the galleries, which were a lot smaller square-footage wise than the existing structures. Finally, almost seven years in, the museum has released those gallery plans, something you might argue is the most important element of a new museum. Yet they still carry more questions than answers. Through it all, we've been expected to trust the museum to do the right thing, even when we are given less and less information about those doings. Which has Angelenos asking: Why isn't our publicly funded museum more accountable to the public?
Under Govan, LACMA has expanded its footprint, acquiring popular pieces like Chris Burden's Urban Light — an instant landmark turned Instagram staple — and created programs that make the institution more accessible, like free membership for all L.A. County kids (they can bring a parent along for free). But his biggest moves, like the two Renzo Piano–designed buildings that have gone up during his directorship, one of which was basically just to show off billionaire Eli Broad's own art collection, have undercut what otherwise might complement a fine public vision.
The first problem facing this ambitious expansion is money. In part because the new building has undergone so many revisions that some longtime donors have withdrawn their support, LACMA is plowing headfirst into this construction project without enough promised funds to complete it. Brad Pitt's endorsement of the project at a 2019 county-supervisor meeting left elected officials so starry-eyed they unanimously approved $117 million, plus a $300 million bond that the museum could pay back over time. But that's barely half of what it will cost — the museum now puts the budget at $750 million — and private funding is still short in a terrible financial year. With the economic fallout from the pandemic, the county implementing its own austerity measures, and the uncertainty around whether tourists will ever return to L.A. in large numbers, you would think that would trigger, at the very least, a dramatic reassessment of an art institution's physical needs.
This is not to say that L.A. doesn't deserve grand plans. But the current iteration of Zumthor's concept, which is an overtly stereotypical take on a freeway overpass, was already a clichéd, outdated idea for L.A. a decade before the ground-breaking. Zumthor, who has never designed a major building in the U.S., clearly has some fantasy-fueled Euro vision that seems to have been air-dropped from afar into this very American, majority-Latino city. Right next door, the Natural History Museum of Los Angeles (also a county museum) has conducted an entire public competition and selected a winner to redesign its La Brea Tar Pits site in the time it has taken for Zumthor to submit one revised plan. Govan seems more concerned with appeasing the art world's three C's — capitalism, corporations, and celebrities — than he is about building a museum that serves the people of L.A. County.
And what ever happened to the Metro station that LACMA should have built as part of its expansion? The Wilshire/Fairfax station of the new Purple line extension, which is scheduled to open in 2024, was supposed to have a LACMA-funded entrance opening directly onto its campus, eliminating the need for thousands of people each day to cross a wide and dangerous road. LACMA has so far weaseled its way out of building it. And the renderings still don't manage to show the pedestrian connections across Wilshire, or how everyone will get up to the galleries (which are all on the second floor), or how the site will incorporate shade. The way that people are not only coming to the museum, but also attempting to navigate past it, continues to be an afterthought for anyone not in a car.
When the construction fences went up, L.A. was not necessarily mourning the loss of the museum's actual buildings. They were, admittedly, flawed places for displaying art; we already knew they were on the way out; and parts of them had been closed for almost two years. What hurts is this moment in particular, seeing those same social-media feeds also showing photos of people in other cities gleefully returning to their beloved museums. It's not just that we didn't get to say good-bye — it's that we don't know what we'll have when we eventually return. If LACMA doesn't find the money, the gaping hole of uncertainty might remain a massive concrete-colored eyesore on one of L.A.'s busiest corridors for years.
Now that the glass-brick shards of the 1986 Hardy Holzman Pfeiffer wing have been trucked away, it's down to the final structure, the skeletal remains of the original 1965 William Pereira–designed complex, which are being picked apart right now, looking a bit like the mammoth carcasses from the tar pits next door. Reports from earlier this summer noted that elements of the building would be stored and featured at a park somewhere in the city, but that does not seem to have happened, and LACMA did not respond to a request for details. Throughout this process, there's been a feeling that each decision has already been made and there's nothing the residents of L.A. County could suggest to change it — and maybe that was LACMA's plan all along.