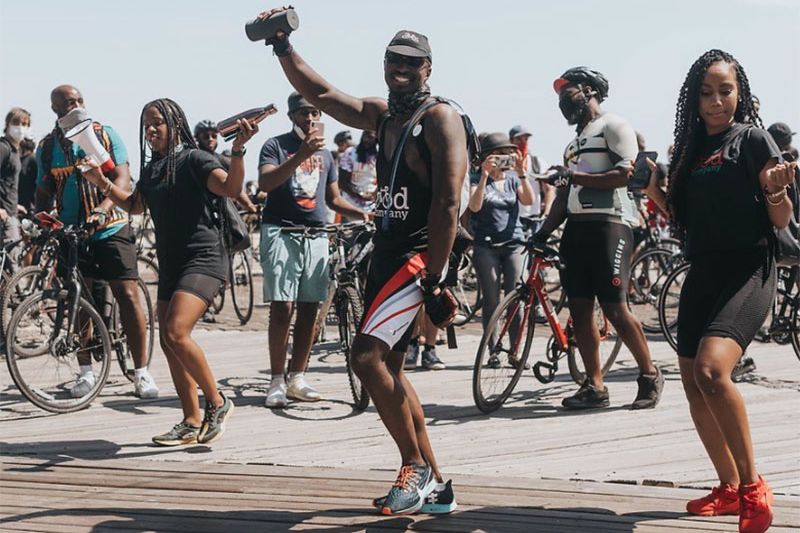 Andrew Bennett (center) and the Good Company Bike Club rode to Coney Island to celebrate Juneteenth.
Photo: Steven Jackson
This story was originally published by Curbed before it joined New York Magazine. You can visit the Curbed archive at archive.curbed.com to read all stories published before October 2020.
Andrew Bennett, founder of the Good Company Bike Club, has one guiding rule for the group: "As long as you have good energy, you're welcome to ride," he says. Since late May, when he founded the biking group, he's led dozens of rides throughout the city: to Roosevelt Island, to Coney Island, to Brooklyn Bridge Park, and to see the many Kobe Bryant murals that have popped up in the wake of his death. In early August, Bennett hosted one called "We Bike Too," which spoke to the club's mission to shine a light on the fact that biking, while more and more popular in the city, has a deservedly uninclusive reputation, all while working up a sweat, exploring different parts of town, and having a good time.
The ride began at the Brooklyn Museum, where some folks arrived on Citi Bikes, some came fully suited up in spandex, some were on single speeds, and some on regular old road bikes. A young girl, probably about 10 years old, had magenta streamers on her handlebars. By 11 a.m., the group gathered on the museum's concrete steps had swelled to at least a few hundred people.
Before the group set off on the 6.5-mile journey to Shirley Chisholm State Park in East New York, Bennett, a 33-year-old Brownsville native who seems to smile with his entire body, addressed the crowd, which was mostly Black men and women. "Cycling should not be reserved for any particular race, social class, or gender," he said earnestly, speaking through a microphone from the top of the steps. "If you Google cyclist, you won't find pictures of people like me or y'all."
He then reminded the group about safe riding practices — you have to wear a helmet, nobody's barreling through stoplights, and the club even passed out free bike lights — and told everyone about the route, which was designed to increase awareness about the lack of bike lanes, Citi Bike stations, well-kept asphalt in many parts of the city. Parts of the city that are nearly all underserved communities of color.
Such contrasts are nothing new for cycling, which has been embroiled in culture wars since bikes were first introduced to the city almost 200 years ago—it was originally a toy of the rich, but later became a tool of mobility for women and associated with liberation. Meanwhile, outside of leisure, bikes were lifelines for the working class and still are today. More recently, bikers and car drivers seem to be eternally at odds over who the streets are for. But in the time of the pandemic, biking around the car-emptied streets was one of the great revelations for many two-wheeled New Yorkers.
Citi Bike has been especially popular during these past few months, but its docking stations are still concentrated in the wealthier (and whiter) parts of the city, and Lyft, its operator, has been slow to expand the network. (Staten Island doesn't even have a bike-share program.) Bicycling infrastructure, like protected bike lanes, is also similarly unequally distributed and not expanding very quickly. The city is slated to add a mere 30 miles of protected bike lanes in 2020, which won't keep up with the fact that cyclist fatalities and injuries are rising as more people bike. (Slowing down expansion further are community boards, which have often opposed bike lanes, citing concerns about parking and traffic.) But with many parts of Brooklyn and Queens without enough subway stations or efficient bus routes (the legacy of a historically racialized urban-planning policy), a more widespread bike infrastructure could help make the city more accessible to all.
Shari Brown, an early member of Good Company and a friend of Bennett's since high school, says they stand for improving conditions for cyclists of color in the city but cautions that this is as much a socializing movement as it is a social movement. "We want to celebrate and remind everyone that we are still all in this together and it's not just always a fight. Sometimes it's just, Let's hang out."
Biking has always been part of Bennett's life, when it was the thing all of his friends were doing — and even when it wasn't.
"I remember growing up in Brooklyn and getting on your bike with your friend on the back and your little brother on the handlebars in the front," says Bennett, a self-described extrovert who works as the associate director of mentoring at Guttman Community College (which is part of CUNY.) "In college, and even postcollege, people would kind of make fun of me, like, 'Oh, you bike? You can't afford a car?' Like, first of all, I have a car. I like to bike, though. Why spend money on gas when I can ride a bike, have fun doing it, and get some exercise? It was kind of taboo in a sense."
Around 2015, Bennett started to ride a lot more, and he's been organizing the occasional group ride since 2017. During the beginning of the pandemic, he and a friend would go out riding together. "My intention was never to start a bike club; my intention was to get some exercise," says Bennett.
Once the weather got nice, they decided to get a group together. On May 24, Bennett sent out a mass text to his friends and posted to his Instagram Stories that he was going on a ride and if folks wanted to join, they should. Seventeen people showed up on a ride that went from the Brooklyn Museum to the North 5th pier in Williamsburg. It grew from there.
"It was like, 'Yo, you should just start a club,'" Bennett says. So he did.
It was likely because of the pandemic that the group found such early success: Lots of people in the city, like Bennett, needed to find new ways to exercise and new social activities (and, like the protests happening around the same time, an outlet for anxieties). After being cooped up in their apartments, beset with bad news from the internet and TV, people wanted to feel free on their streets.
By June 5, Good Company launched an Instagram page. To help, Bennett invited Brown, an experience manager at Essence, to become Good Company's director of marketing. When the club began to plan larger rides, Brown invited one of her friends, Milly Louis — who met Bennett on a group ride from Prospect Park to Bush Terminal — to become the chief operations officer. And Marv Marcel, a creative project manager at Mount Sinai who was introduced to the group when a friend invited him to join the Bush Terminal ride, became the club's chief creative officer when the need for branding and better flyers became clear.
"This is definitely the most organic thing I have been a part of. It just flowed," Bennett says.
In late June, Good Company became an LLC, a structure that Bennett says will help the club create the kind of social, political, and community change it wants to see. ("Representation matters, and I wanted to create an official space for Black and brown cyclists," Bennett says.) The plan is to keep growing Good Company's community and eventually create memberships and expand to more cities. What should make the club successful after the pandemic — if such a time is imaginable at this moment — is that it's bringing together a lot of people who've always enjoyed biking but haven't found a club that spoke to them, because such a club hasn't existed before.
"If you wanted to ride around by yourself, you'd go out by yourself," Bennett says of keeping a social atmosphere in the club.
The rides Good Company hosts are rooted in expressing joy and finding something new and exciting to do in a city where, even as reopening steadily progresses, the options for social activities are limited. "Just getting lost in your city is kind of fun because you're usually on autopilot, where we take the same routes to the same destinations every day," says Bennett, "There are so many streets and so many neighborhoods you haven't been to. And cycling is the best way to get lost in this experience."
The rides usually start at the Brooklyn Museum and wind up at destinations like Central Park, Roosevelt Island, Hudson Yards, and Bush Terminal Park. (Bennett likes to end rides, when possible, by the waterfront.) Good Company plans routes for all experience levels — from easy "one-wheel" rides up to more difficult "four-wheel" rides for more experienced bikers — and usually announces the schedule a week ahead. The club also tries to patronize Black-owned businesses on each of the routes — 333 Lounge, a Caribbean-inspired bar and restaurant on Flatbush Avenue is its most frequented spot — or at least lets the riders know where they can go afterward.
Most of the rides are a lot smaller than the one to Chisholm Park — about 80 people on average, according to the club's estimates — but can become even larger. At least 1,500 people joined a Juneteenth-celebration ride to Coney Island. Or they can be more intimate. There are a few regulars who show up to every ride — the cadence has been one larger weekend ride per month and two or three smaller rides during the week — and there are also new people each time.
"Every time I show up, seeing new faces, like when I ride up Eastern Parkway and see that group, it always kind of gives me a new rush of energy," Bennett says.
As the We Bike Too ride snaked through the tree-lined streets of Prospect Heights and Crown Heights, people played the Jackson 5 from speakers clipped to their backpacks and complimented one another's bikes and gear. Bennett periodically held the group so that we all stayed together, sometimes climbing up on lampposts to get a better view of how far everyone stretched out. Some of the more experienced bikers in the group set up fences in front of cross-traffic to keep the group together and moving. (An NYPD escort also helped to clear traffic ahead.)
These days, against the backdrop of demonstrations in New York, groups of bikers on the streets are automatically connected to protests. There's a longer history of this association, too, with groups like Critical Mass. This was evident as we made our way east through Crown Heights and past the Kingsborough Houses, where a woman from a third-story window called out "Keep it up! Keep it up!" While a couple people had hitched posters to their bikes, saying things like "One Less Car" and "Black Lives Matter," the ride wasn't like the dozens of activist rides that have taken to the city's streets lately, both in intent and in practice. There were no chants, no air of revolt, just people enjoying a sunny afternoon. But if cars honked their horns in a display of solidarity, others raised their fists back.
And while Good Company is not a march on wheels, it's inevitably viewed as that by some. "We did a ride one night, and we're in a predominantly white neighborhood in Brooklyn," Bennett says. "At every red light, someone asked, 'You guys protesting?' It's, like, just because you're a large group of people of color doesn't mean you're protesting. We could be together in solidarity without it being something, you know? I saw people looking out their windows, like ready to call the cops. It's like, Relax. We're just passing through, having a good time exploring Brooklyn."
And being together in solidarity can be tremendously powerful, even radical, especially at this moment of increased social upheaval.
On Juneteenth, the club hosted a freedom ride to Coney Island. The group took a rest break when it reached the boardwalk and blasted "Before I Let Go" while doing the electric slide. The feedback Good Company received after the ride showed how sorely something like it was needed in the Black community.
"People were really hurt and scared and there was so much negativity at the time," says Louis. "People were messaging people who knew Shari and me: 'Please let them know that I needed this.' 'Please let them know that I needed to see us being happy and being celebrated.' For me, that means a lot."
The Juneteenth ride was part of a rally organized by Brooklyn borough president Eric Adams. Adams joined the group for part of the route. (He was also a co-host of the We Bike Too ride, but due to a conflict, he wasn't able to join that one in the end.) To Adams, diverse social clubs like Good Company are a missing link in the fight for more equitable and inclusive cycling for communities of color in the city — especially when cycling culture is associated with gentrification and displacement.
"The goal is to engage in real conversations and talk about how do we come together and make our roads safe? How do we come together and do various initiatives around biking?" Adams says. "That is why if you had a group like this come in and speak to a community board, it's far different than having a white male come in and say 'This is why [you need a bike lane]' in a condescending manner, talking down to long-term residents of a community. That's just not gonna go over well."
When the We Bike Too ride to Chisholm Park crossed Eastern Parkway to Pitkin Avenue, one of Brownsville's main thoroughfares, there was an almost immediate difference in the road: While there were faded sharrows on the road, the street was filled with potholes and the pavement was often cracked and uneven — not the safest conditions for cyclists. The ride continued down Mother Gaston Boulevard before hanging a left on Linden Boulevard — a six-lane street with an access road in each direction and no bike lanes to speak of. In these situations, and even on busy narrower streets, riders take to the sidewalks. The NYPD has been disproportionately ticketing Black and Hispanic riders for trying to protect their lives on dangerous roads.
Even with the NYPD escort and experienced cyclists trying to hold back traffic for the group, some drivers still dangerously turned into oncoming bikers during the ride.
But there were also warmer memories on the road. We passed by the Brownsville Recreation Center, where Bennett attended swim lessons, football practice, and played basketball as a child. He and Brown used to walk past it on their way home after school every day. Leading the group past this space was one of Bennett's highlights from the ride. We also passed a block on which Bennett remembers seeing his first robbery.
"The possibility of being able to evoke change in that community means the world to me," he says.
As we approached the end point of Chisholm Park, which just opened last year, the streets became smoother and freshly painted bike lanes came into view. Bennett led the group — which was smaller now — along a path that hugged the shoreline of Jamaica Bay. By the end, I was tired but felt accomplished, a sentiment that I assumed others shared. While bikes were strewn on the ground and everyone was drenched in sweat, smiles as big as Bennett's abounded.
"Most people, when you tell them in advance how far we will ride, will opt out," Bennett says. "They think they cannot bike 15, 20, or 60 miles. It sounds impossible. However, once you get on your bike and are surrounded by people encouraging you and riding alongside you … your likelihood of reaching your destination increases. I'm proud to say we only lost a few riders, mainly due to flat tires. It was also beautiful to introduce riders to a whole new side of Brooklyn! Most people have never been to Shirley Chisholm State Park, and now the memory will be attached to Good Co Bike Club."
Flat tires aside, in a time like the one we're living through, biking is a way to both be with friends, meet new ones, and escape together. "People have given us feedback, like in DMs and texts, that biking has been very therapeutic for them," Bennett says. "And, you know, with COVID, racial tension in America and in New York, and job insecurity, people are dealing with a lot of stress. So when people come and are able to just be around good company — no pun intended — it's therapeutic to be there and just unplug."