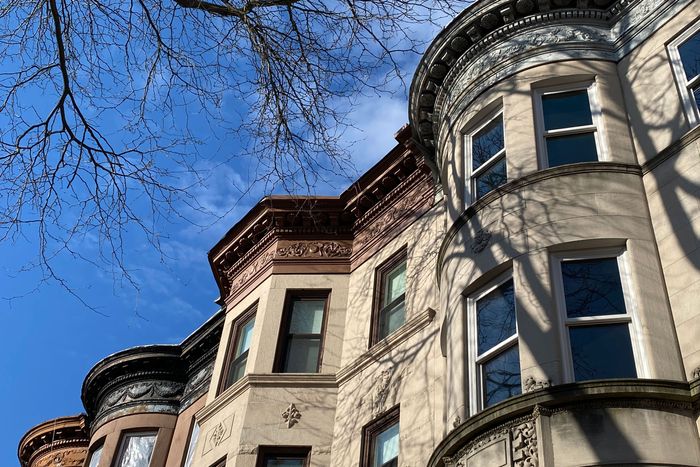 Photo: Leslie Pankowski/Getty Images
This story was originally published by Curbed before it joined New York Magazine. You can visit the Curbed archive at archive.curbed.com to read all stories published before October 2020.
It was just a few brief sentences, but they sent reporters and housing lawyers into a frenzy: On a Monday call with journalists, three days before a state ban on evictions was set to expire, Governor Andrew Cuomo announced plans to extend residential eviction protections through January 1. The measure, he pledged, would provide "fundamental stability" in the lives of New York renters and ensure "nobody is going to be evicted." Few details were shared, but some news outlets jumped on the announcement with headlines declaring a state ban on evictions through the end of the year. The details laid out in a Tuesday executive order, however, show that it's far from the comprehensive pause on evictions the governor suggested was on the way.
"It doesn't stop evictions. It doesn't stop cases from moving forward. It doesn't stop landlords from filing cases. It doesn't stop evictions for holdover proceedings. It's not what the governor is saying it is; it is not an eviction moratorium," said Jason Wu, a housing attorney and a trustee for the Association of Legal Aid Attorneys.
Rather than extending the statewide pause on residential and commercial evictions that is set to expire on October 1, the order temporarily broadens the scope of legislation known as the Tenant Safe Harbor Act. That bill allows renters suffering financial hardship during the pandemic to use that as a legal defense against being booted from their homes. Under this new order, that defense will now be available to those faced with eviction for nonpayment of rent before March 7, including many of the more than 14,000 New Yorkers who have pending eviction warrants issued before the pandemic. If the court finds that they qualify, those tenants cannot be evicted until after January 1.
It sounds okay, but it's really inadequate to the giant looming crisis. The bill, expanded or not, still puts the onus on tenants to prove their eligibility to a judge, and that will be a daunting task for gig workers and undocumented immigrants. The Tenant Safe Harbor Act itself also leaves out people whose landlords want them out for reasons other than nonpayment, such as overstaying or allegedly violating a lease (these are referred to as holdover cases). Cuomo's new order also doesn't address the more than 8,000 cases filed since the pandemic began; those proceedings are currently paused and are unlikely to be resolved before the new year. In New York City alone, there are 200,000 pending eviction cases that predate COVID-19.
Some landlord attorneys initially interpreted the governor's directive as putting an expiration date on the Tenant Safe Harbor Act, which was written to remain in effect until Cuomo lifts the current state of emergency. But Jack Sterne, a spokesperson for the Cuomo administration, rejected that reading, telling Curbed, "That is not true." Housing lawyers and tenant advocates, for their part, were quick to slam the directive as adding more confusion to an already deeply complex situation.
Judith Goldiner, attorney-in-charge of the Civil Law Reform Unit at the Legal Aid Society, sees Cuomo's new order as weaker than the federal eviction moratorium, which suspends evictions through the year for qualifying tenants. "In many ways, what the federal government did is better than what the governor did, and that's pretty shocking when you think about it," said Goldiner, who stresses how difficult it will be for renters without lawyers to navigate the situation in court. "If tenants have no good way of showing what they need to, or they don't have a sympathetic judge, then they're going to get evicted. We're going to see that eviction machine grind into operation."
This latest half-measure from Cuomo comes after New York State reported 1,000 new COVID-19 cases in a day for the first time since early June, including a sharp rise in Brooklyn and Queens. With more eviction cases moving forward in housing court, New Yorkers could still find themselves evicted and at risk of having to head to a shelter or crowd into the home of relatives or friends. (The federal eviction moratorium offers protection, but qualifying comes with several benchmarks and risks for renters, like disclosing sensitive financial details to landlords that lawyers say tenants must weigh carefully.)
Even if tenants successfully argue their cases under the Tenant Safe Harbor Act, their rent debt won't simply vanish. A judge can issue what's known as a money judgment so a property owner can recuperate unpaid rent. And if a renter can't pay, wages can be garnished, liens can be put against their personal property, and credit ratings can be ravaged. "This order is still full of loopholes and full of issues that will remain unclear until they are litigated," said Patrick Tyrrell, a staff attorney with Mobilization for Justice. "There's a lot of gray area."
In August, the state's Office of Court Administration drew a line in the sand that it would not take new steps to pause evictions without intervention from the governor or State Legislature. (A spokesperson said the court is reviewing the order and may soon issue guidance on how eviction cases will be handled in housing court.) Between that and the unexpected federal eviction moratorium, the pressure was on Cuomo to take action. But if someone — the state or the Feds — doesn't actually pony up and help New Yorkers pay their landlords, then tens of thousands of New Yorkers will find themselves with more than half a year's rent to make up and few ways of doing that.
Landlords have maintained their own frustration with the muddied court process. But if there's one thing advocates on both sides agree on, it's that Cuomo's latest measure is a long way from being a comprehensive solution. "Long-term and strategically, it will only serve to further compound the problems faced by both tenants and landlords, since tenants will ultimately have to address the large arrears balances built up … and landlords will be further hard-pressed to maintain services and financial obligations to their lenders," said Nativ Winiarsky, a partner at Kucker Marino Winiarsky & Bittens, LLP, who often represents landlords. "This will reach a breaking point, and I don't think anyone is going to like what that looks like."