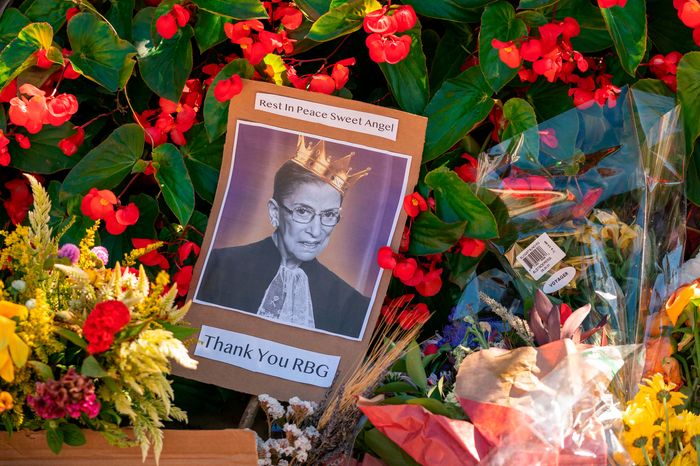 Photo: Alex Edelman/AFP via Getty Images
This story was originally published by Curbed before it joined New York Magazine. You can visit the Curbed archive at archive.curbed.com to read all stories published before October 2020.
The morning after Justice Ruth Bader Ginsburg's death, bouquets of roses and sunflowers, signs and notes expressing grief and gratitude, votive candles, and even action figures surrounded the Supreme Court building in Washington, D.C., Meanwhile, in New York, vigils convened at the lower Manhattan courthouse and shrines appeared at Columbia University (Ginsburg's alma mater) and the Flatbush high school she attended. And Governor Cuomo — known instigator of the grand gesture — announced plans to build a monument to her in Brooklyn, her birthplace.
"[S]he was a monumental figure of equality, and we can all agree she deserves a monument in her honor," Governor Cuomo said in a statement tweeted out at 11 a.m. on Saturday. "Her legacy will live on in the progress she created for our society, and this statue will serve as a physical reminder of her many contributions to the America we know today and as an inspiration for those who will continue to build on her immense body of work for generations to come."
Creating public monuments — good ones, anyway — is hard. And there are plenty of ways that this process — as with any public process — could go awry and produce something boring, or obvious or, worse yet, meaningless. And RBG deserves something that goes right.
First of all, why does it have to be a "statue?"
Cuomo's announcement specifies a "statue" time and again, which is the most traditional solution. "When we say monument, 'statue' is of course kind of a place that many minds go," says Paul Farber, the artistic director of Monument Lab, a public-art and history studio. "But to make legacy, to shape vision, and to bring forward history doesn't always fit in a statue." What if it instead is a monumental tribute to an idea? Think of Four Freedoms Park, the Roosevelt Island memorial to Franklin D. Roosevelt.
Giving artists the freedom to think beyond monumental likeness, in other words. "It's important to have a discussion of empowering the artist and not just dictating what they can or can't do, but involving them in the discussion from the beginning of what the potential of a new commission could be," says Cecilia Alemani, chief curator of the High Line's public-art program — which has been home to a number of works which arguably have experimented with the monumental from — and the artistic director of the (pandemic-delayed) next Venice Biennale. "You need to motivate artists to create the most amazing artwork. You have to make them excited. Make them feel supported and that they are making something contemporary and not obsolete."
Part of the conversation about making something inspirational is also about what good public art actually is. In a world where everyone's an armchair critic, you'll get a lot of different perspectives. To Alemani, it's about something that engages society.
"Even if it's abstract, it raises questions that are thought provoking," she says. "At the High Line, we do believe that a public monument generates a piazza, a place for people to come together and talk about issues. Public art isn't a beautifying tool. It's a tool of thought. Maybe not everyone is going to like it, but it will create an encounter and be exciting and affecting and push people a bit or else it's another bronze statue of a pedestal you pay a lot of money for but no one cares about."
It's important to note, however, that one public work of art dedicated to Ginsburg doesn't preclude another, nonfigurative idea. After all, there isn't just one memorial to FDR or MLK; why stop at one for RBG? "If a commission would study how best to honor her versus study how a sculptor is going to sculpt a likeness of her, that might be preferable," says Paul Goldberger, the architecture critic of Vanity Fair. "One of the things that made her so remarkable was how she was the opposite of someone who achieves something and pulls up the ladder behind them. She cared hugely about helping those behind her. I could imagine a foundation that would be created to award scholarships in her name. That would become closer to her ideas than a statue."
Why does the governor get to decide?
Memorials "are most effective when they're organic processes in which communities come to legislative bodies and say, 'We want to remember,'" says Mabel Wilson, a historian and architect who worked on the Memorial to Enslaved Laborers at UVA. She also served on the Mayoral Advisory Commission on City Art, Monuments, and Markers, which convened in 2017 to assess the city's public art, and on She Built NYC, an advisory board commissioning public art to honor important women.
Also her legacy might be much broader, and appealing to different people and in different ways, than whatever it is that Cuomo and his immediate advisors think is worth memorializing. "The Governor saying it's important to remember might not be enough, or may not open it up to the people who are genuinely invested in her memory at all levels," Wilson says. "Without having an effective say in what that might mean and what that legacy might mean to future generations, [his actions] come off as politics."
Cuomo has already made a public comment that he's eyeing Brooklyn Bridge Park for its location. The irony is that this type of top-down decision-making — and the governor clearly relishes his fiat power — is arguably exactly what Ginsburg fought against in her legislative career. "It was such a patriarchal move, and it was so political," Wilson says. "It simply reinforces these same systems of power that Ginsburg was mindful of. He might not be aware of it because he's not keen on his position as a male and as a white male."
Let's have a transparent process instead.
When a work of public art is commissioned, it can happen any number of ways — an open competition, a jury, a commission that advises on what artists and teams should be engaged to create the monument — and it's often very specific to the type of work that's at hand. It typically often involves a group of experts cooking up a plan and some sort of public input. Regardless of what the actual process is, people who've been through this mill say that getting everyone on the same page about the dull details of procedure turns out to matter.
"You have to be clear on what the rules are," Alemani says. "You have to be explicit and transparent on the chain of command and decision making … And the person making the final decision should have some guiding principles. What are the main values you want to embrace?" When this doesn't happen, it can create conflicts and misguided expectations.
In San Francisco, a monument to Maya Angelou by artist Lava Thomas was first accepted by the arts commission, then rejected after the city supervisor who sponsored the project said it wasn't "figurative" enough — the sculpture was a book with a large portrait of Angelou on it — which played out as a breach of public trust.
When the rules of engagement weren't clearly defined in figuring out who should sculpt the replacement for a J. Marion Sims statue, similar frustrations between the public and an arts commission happened. The Percent for Art program chose Simone Leigh, a New York–based artist from Chicago, while community members overwhelmingly wanted something from Vinnie Bagwell, a sculptor from Yonkers who is now based in the Bronx. Members of the public who weighed in said they felt betrayed and that the process felt rigged.
"This is where details matter," Farber says. "The question for me, is what is the role of the commission? As we know, the majority of art commissions and committees have not reflected the fullest diversity of people and perspectives … My hope is that a commission is able to open up a process that welcomes complexity. That the commission is empowered to explore processes."
Experimental processes are sometimes what's necessary given the content of a project. When UVA initiated the process for the Memorial to Enslaved Laborers, it knew that a top-down approach wouldn't work. It started from a place of collective listening. "UVA knew it wanted to progress the history, but they didn't know where [the memorial] would be, what it would be, and there was no [pre-determined] budget," Wilson says. "We were hired as a design team to work with them, the university's community, and the Charlottesville community to figure it out."
But being open to the public doesn't mean you ignore curators and other people with expertise.
This is crucial to avoiding such problems as the statue of suffragists Sojourner Truth, Susan B. Anthony, and Elizabeth Cady Stanton in Central Park. The statue was supposed to be a corrective to the lack of women represented in the green space, but the historical inaccuracy (these women would never have worked together; Stanton and Anthony only fought for white women) rankled scholars.
So you need experts, too. "You really do need people of good judgment who are not partisan about mostly everything, except quality," says Barbaralee Diamonstein-Spielvogel, New York City's first director of cultural affairs and former chair of the Landmarks Preservation Commission. "They need experience and very good taste."
Which is, of course a very subjective notion. "99 percent of all public sculptures are bad," says Jerry Saltz, New York Magazine's art critic. "The reason is the bureaucracies that pick them usually involve developers, real-estate guys, lifelong politicians and advisors, and architects. It usually ends up as a kind of generic thing. Many of our monuments to famous people are fine memorials to them, but they are not good art. They are generic figurative sculptures. One way to avoid this is to, first of all, get a group of women together. I think you do not want the governor and another batch of male-whatever-politicians big-fucking-footing this thing around. [They should] just shut up and listen. Because to me, the monument to Ginsburg is not only a monument to Ginsburg; it is a monument to one of the greatest liberation movements in this country, which of course is feminism."
Marion Weiss, principal of the architecture firm Weiss Manfredi, won a national competition to design the Women's Memorial in Arlington, Virginia. In her experience, the right people at the table also includes bureaucracy — a sticky part of any public artwork or project.
"Make sure the correct dreamers are at the table, but also people who can speak authoritatively about the process," Weiss says, noting that this should include senior-level arts curators, legal experts, and public advocates. "It took two years to get approval from nine agencies to build the Women's Memorial. The planning agency wanted to talk about design while the cultural affairs and arts agency wanted to talk about planning."
It's also about getting people together who are interested in doing something that will be memorable. Experts do actually know what they are doing: "The art field is a field of professionals; they are not amateurs," Alemani says. "A curator is a job and they get trained, just like an engineer gets trained to build a bridge." Let them do those jobs.
Farber suggests that any commission include people who have been affected by Ginsburg's rulings. "A commission will inevitably have the so-called experts in fields in public art, history, and civics," he says. "But for this, the goal should be to hear from people who are personally impacted by the way history and memory lives in the everyday so that we don't separate the project of memorializing from the everyday understandings of time."
And don't be in a rush.The speed of making good public art and the speed of politicians' actions are quite different. Things in New York move slowly — case in point: the Second Avenue subway took 100 years — which might actually lead to a more meaningful statue for Ginsburg.
"It's very difficult to shape powerful and meaningful sites of memory without time passing," Farber says. "How is it possible to honor the memory of someone who you're still mourning and maintain the critical distance to really get it right and take a step back and understand that persons' contributions, that life's work, and understand who else is connected to that story?"
To Farber, what's important about creating a monument to Ginsburg is connecting who she is to the overall systems that she fought, which is her lasting legacy. "There are statues and there are statutes. There are symbols and systems. We are facing timely and pivotal calls to action, and statues take time," he says. "And so again, this is to me a lot about the rhythms of time. How do you deal with mourning now and turn that into a response to systemic injustice that Justice Ginsburg fought for in her career? And how do you also take a step back and think about the larger question about legacy and understanding the historical imprint of the figure?"
The same is true for public reception for whatever is commissioned. The knee-jerk reaction isn't always right. The Vietnam Veterans Memorial is one of the country's most beloved sites of remembrance today. But when it was first announced, the public hated it. (Notably, Frederick Hart's statues were added to make it more palatable.)
What would RBG want?
Understanding Ginsburg's taste in art might offer some clues on where to go. "Even though she was particularly known for her love of classical music and opera, she also had an enormous respect and fondness for 20th-century abstract art," Goldberger says. (Ginsburg hung paintings by Mark Rothko, Josef Albers, and Max Weber in her chambers, which were on loan from the Smithsonian.) That has to be kept in mind when someone thinks of any monument to her."
And think about what we actually need from this project."I think that part of the purpose of this public manifestation is to heal, to inform, and to inspire," Diamonstein-Spielvogel says. "You do want to end on a note of optimism and significant contribution."
To Alemani, it's about thinking of the future. "How do you make something meaningful for people who come after us? I ask that question for when I commission public art," she says. "Who is this statue for? And what do these people want to see commemorated in their community and their streets 100 years from now?"