Every year, I wonder, after coming back from the Milan Furniture Fair, if New York is going to pull out all the stops and celebrate design the way the Italians do. Maybe that's not fair; for starters, New York and Milan are so different to navigate, not to mention that our Gilded Age palaces are all but gone, so there's no enjoying a modern intervention in a old grande dame of a space. But we've got our own blend of raw beauty within the changing architectural landscape, and neighborhoods in the city really came alive over the past week with events, openings, talks, and celebrations, illustrating that there is nothing like great design for a jolt of inspiration and joy.
Things kicked off with a welcome event in Times Square with the principles of NYCxDESIGN where New York Magazine was one of the proud sponsors. Harry Allen constructed a pavilion centerpiece that looked like a big white sleeping turtle, where you could enjoy a bit of shopping and fun design installations. Joe Doucet installed some great structures to relax or pose in. And Magis rolled out great design pieces including a very sweet puppy installation, designed by Studio Eero Aarnio.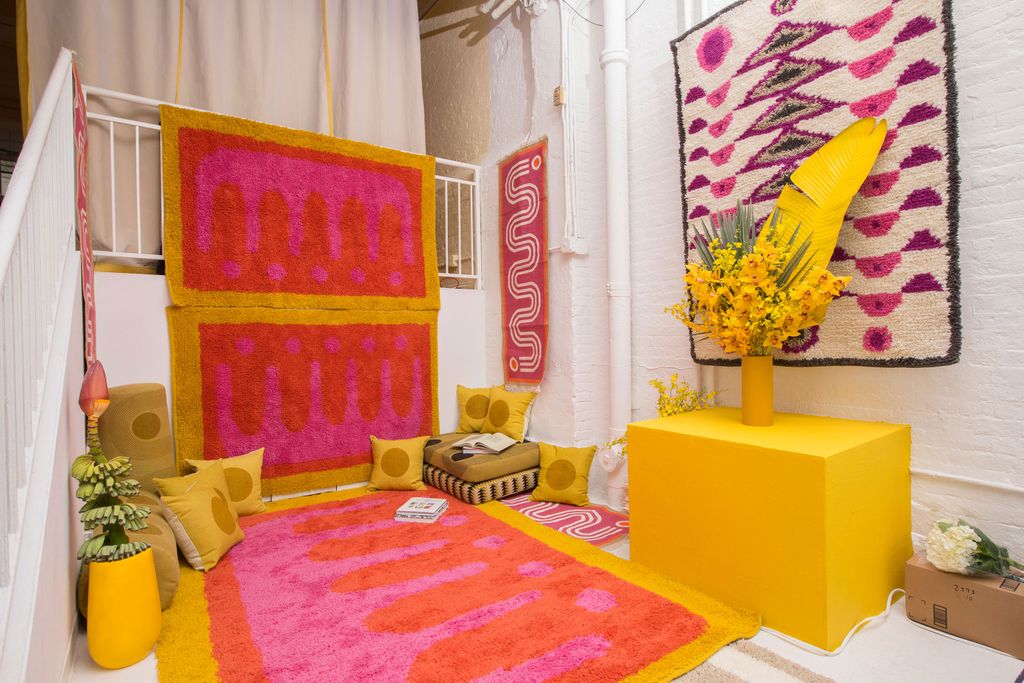 In 2009, Jill Singer and Monica Khemsurov started the magazine Sight Unseen, and five years ago, the duo launched the first edition of Sight Unseen OFFSITE, a showcase for contemporary design. This year's event took place at 201 Mulberry Street, featuring projects focused on collaborations. I loved the dynamic colors and patterns expressed in Los Angeles–based sisters Lily and Hopie Stockman's Block Shop collaboration with a family-run weaving business, V-Weave, in India, where their rugs are created. Each hand-tufted carpet, shown here, took three to four months to produce.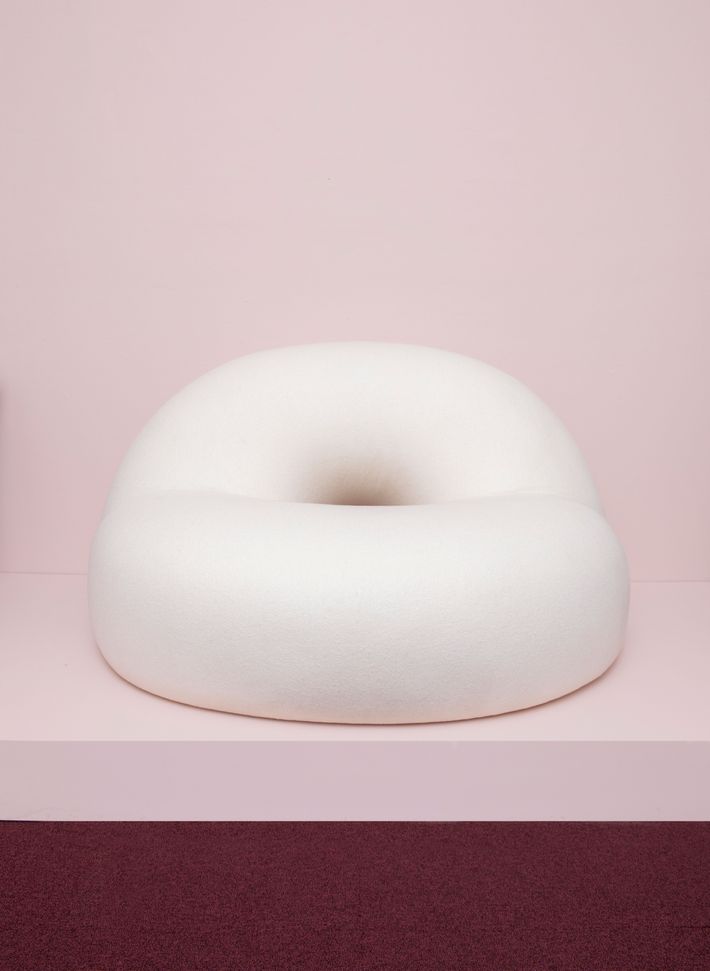 This Tube Chair, also featured at Sight Unseen, made of bouclé-upholstered foam, was a collaboration between Objects of Common Interest and Falke Svatun. It's both elegant and adorable and begs your company.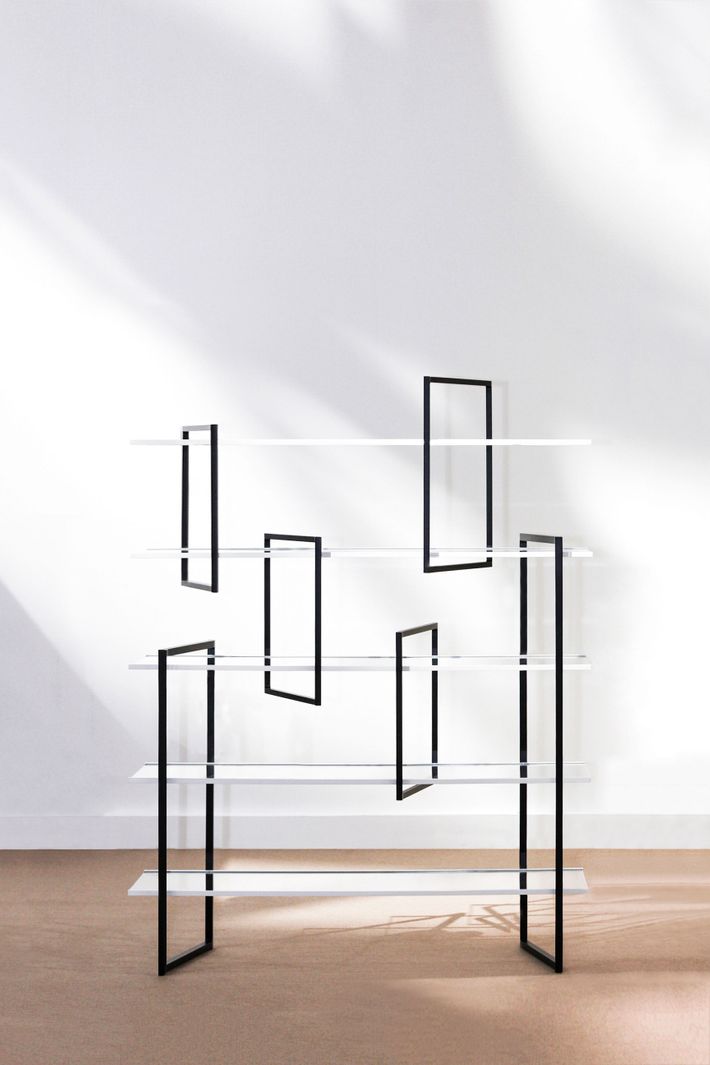 My first stop at the Javits Center is always the ICFF Studio, where there is a display of exciting new design talent from across the globe. This is the 13th year of the partnership between the ICFF and Bernhardt Design; their search for the next generation of creators produces a handful of finalists featured at the fair. I especially loved the lyrical geometry of Cecilia Xinyu Zhang's Discrete Shelf, made of tempered glass and aluminum.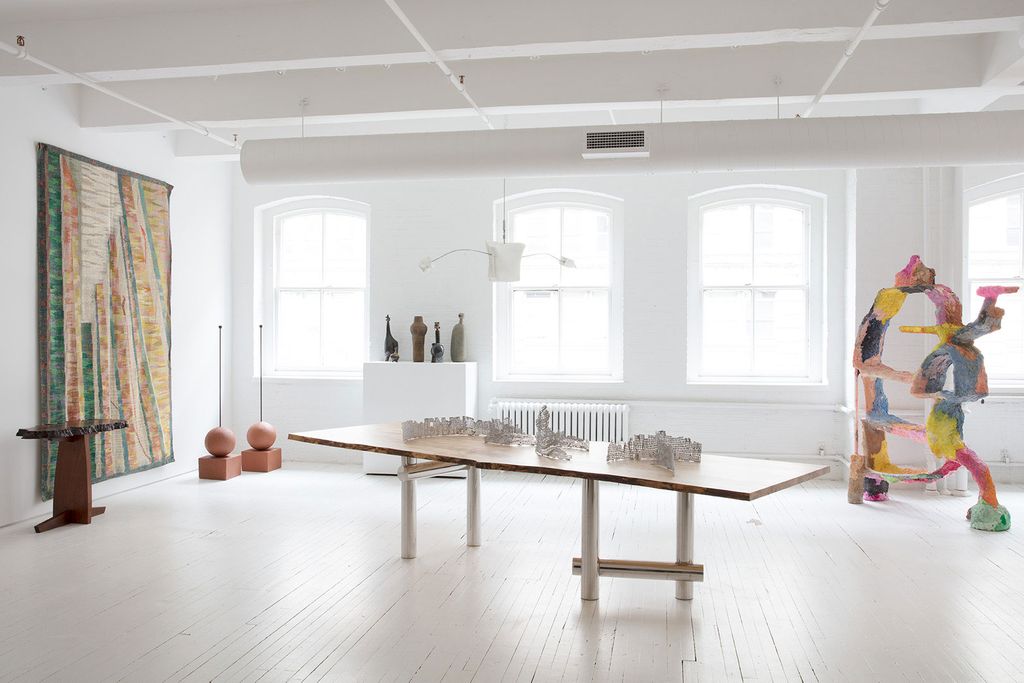 Stephanie Beamer, Crystal Ellis, and Hillary Petrie, who founded Egg Collective in 2011, presented "Designing Women II: Masters, Mavericks, and Mavens," co-curated with Lora Appleton. The array of beautiful design included a new Egg Collective–designed dining table, seen here. There was also Natalie Weinberger's collection of ceramic vessels, a Lilian Holm tapestry courtesy of Hostler Burrows Gallery, and a colorful shelf unit designed by Katie Stout, courtesy of R & Company.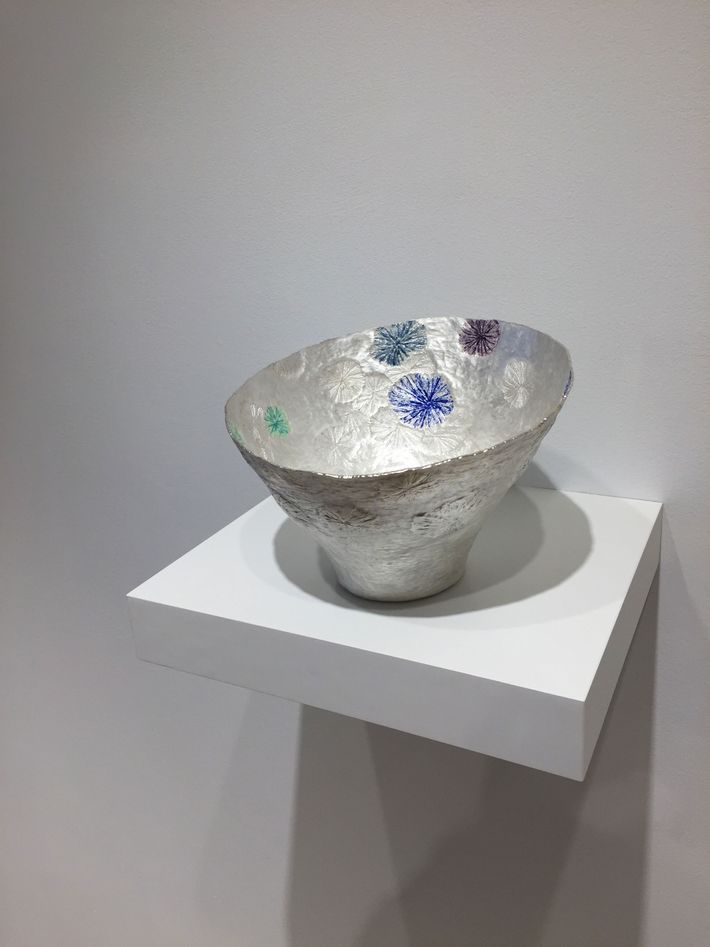 Gallerist Cristina Grajales is forever unearthing exquisite pieces from the treasury of her global design talent. Here, one of Alexandra Agudelo's silver-and-enamel pieces from her show, "Revisiting El Dorado."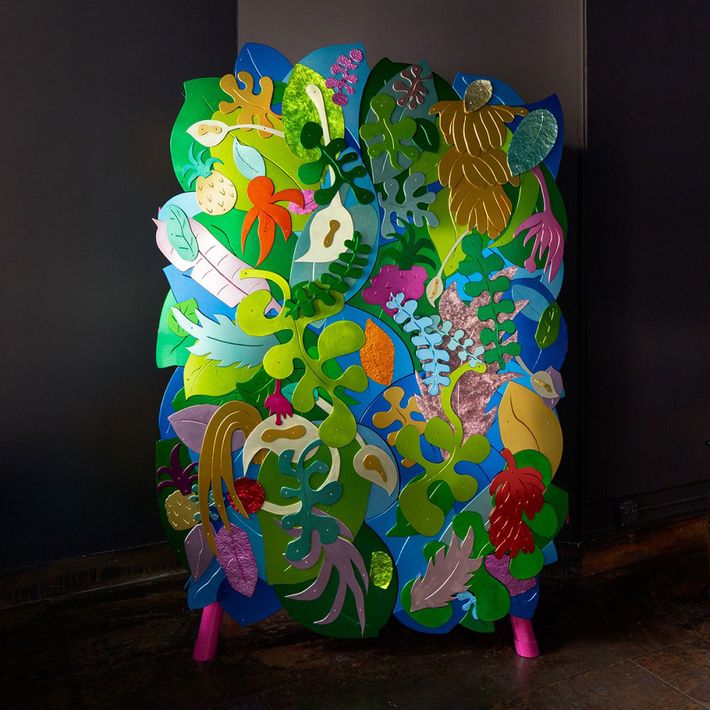 You can always count on David Alhadeff and his team at the Future Perfect to deliver fun, fantastical collections that are also beautifully made. Chris Wolston's most recent collection, "Lost in Paradise," on view at the gallery, was inspired by his time in Medellín, Colombia. This piece, Tropical Cabinet, is made of sections of cut aluminum taken from hand illustrations. And when you open it up, the inside shelving is made of wicker!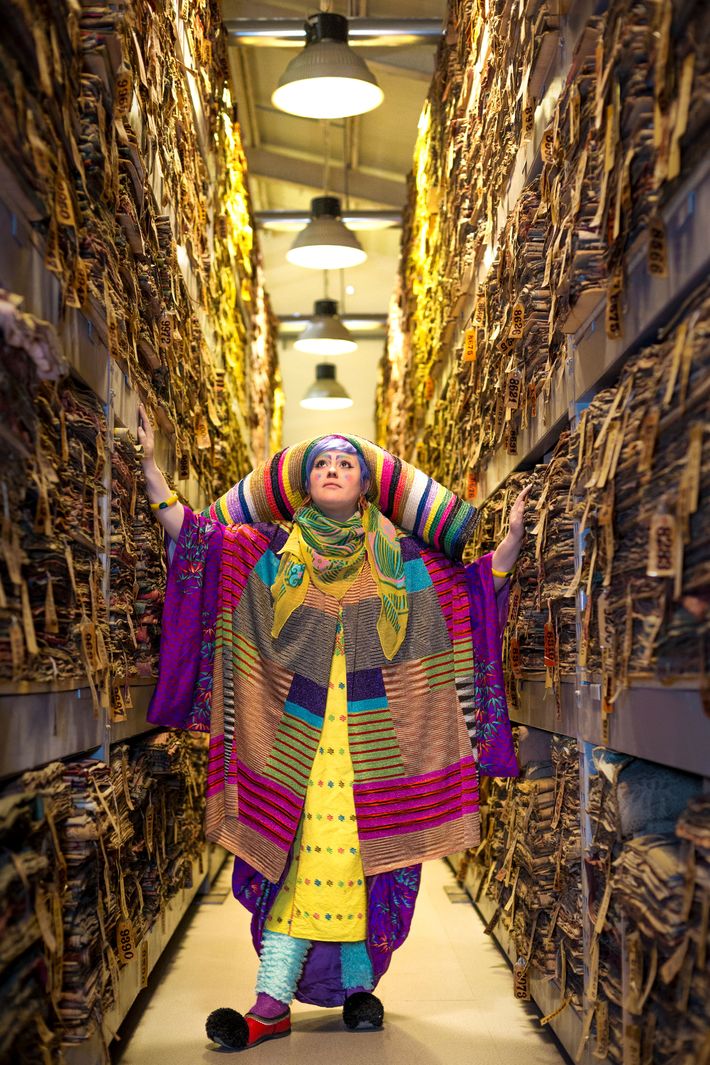 I have never forgotten the first time I saw Bethan Laura Wood, pictured here. She is a designer and artist and has created herself as a work of living art, always layered in the textiles and colors she loves. Patrizia Moroso enlisted Wood to design an exclusive collection of fabrics for Moroso produced by the factory Limonta in Italy. Moroso is celebrating a 20-year collaboration with design legend Patricia Urquiola with new seating and lighting designs.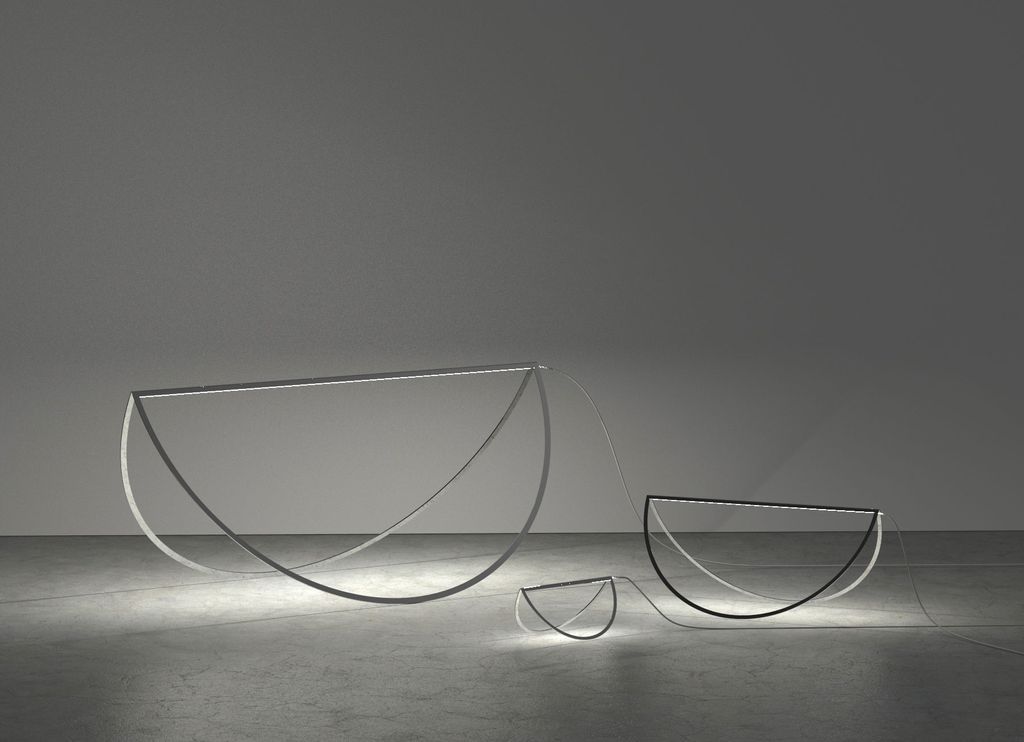 The Javits Center has so many wonderful installations in the nooks and crannies of its vast floor that it's hard to see everything; however, I was so happy to meet a young architect, Paul Chan, whose design practice the Coast created the series of lamps seen here. Chan describes it as a "mischievous yet austere lighting series," and that it is. These delicate shapes simply have to be touched to light up, and it is this tension — between the nimble fingers of a texting generation and the artistic aesthetics of sculpture — that is so appealing.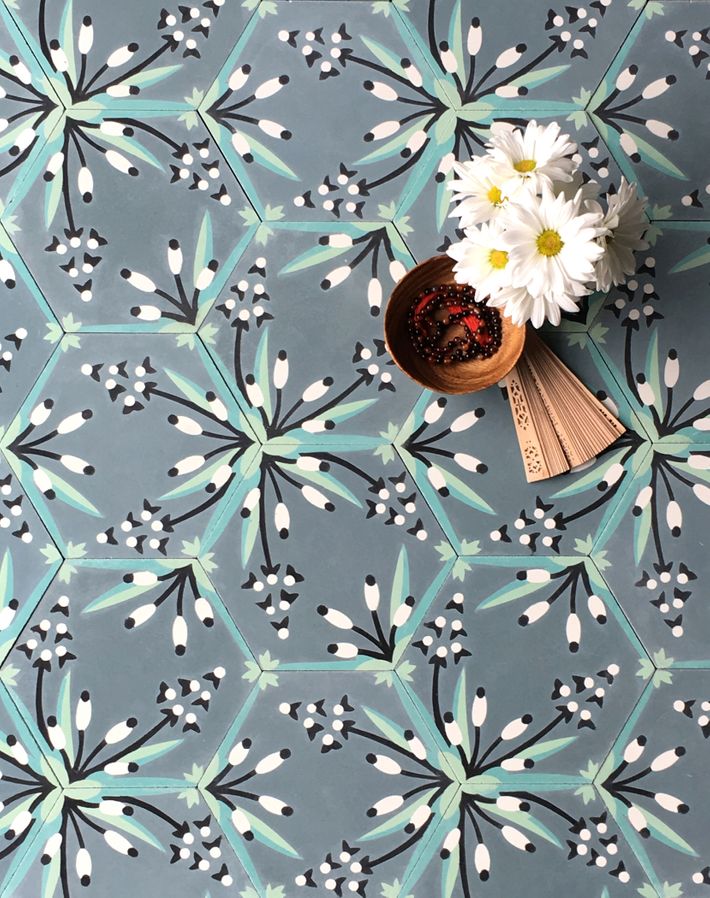 Wallpaper designer Katie Deedy has launched her most recent tile collection. "These cement tiles are particularly special to me," she says. "My family is Cuban, and I grew up seeing how traditional patterns were used across the floors and walls of Havana and Cuba's countryside. I dreamed of making them in my own style for a long time." The collection is flora- and fauna-inspired, as you can see from this Cattail pattern.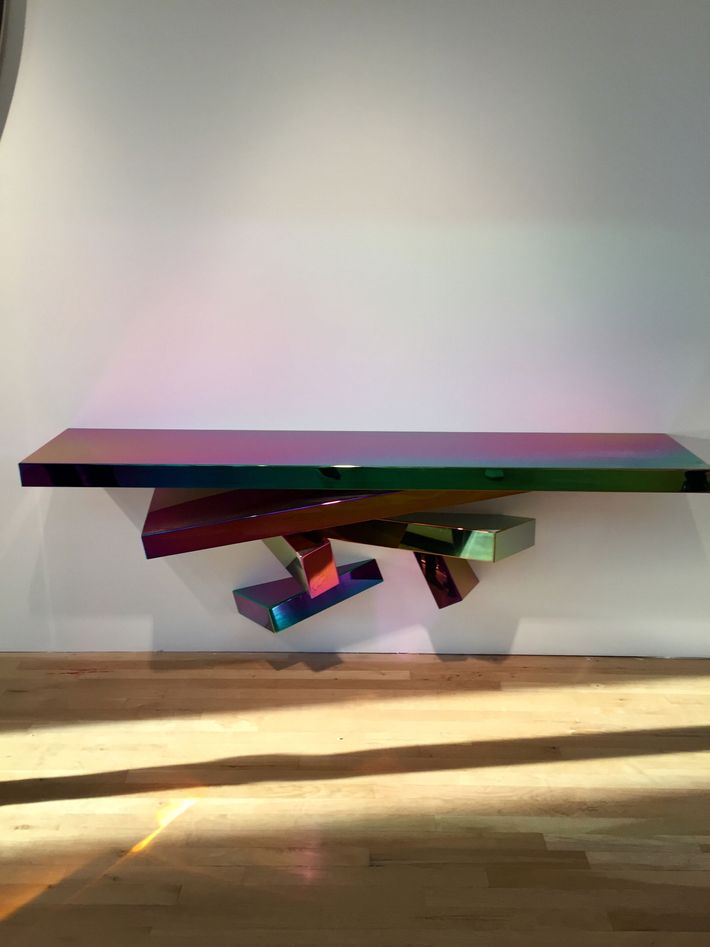 Another can't-miss event is any opening at Pucci International. Ralph Pucci has cultivated a stable of international designer stars whose sophistication and originality always dazzle. Hervé Van der Straeten's luminous Console Twist, of colored stainless steel is every bit as glamorous as that sexy Jaguar that Prince Harry and the Duchess of Sussex drove off in from Windsor Castle.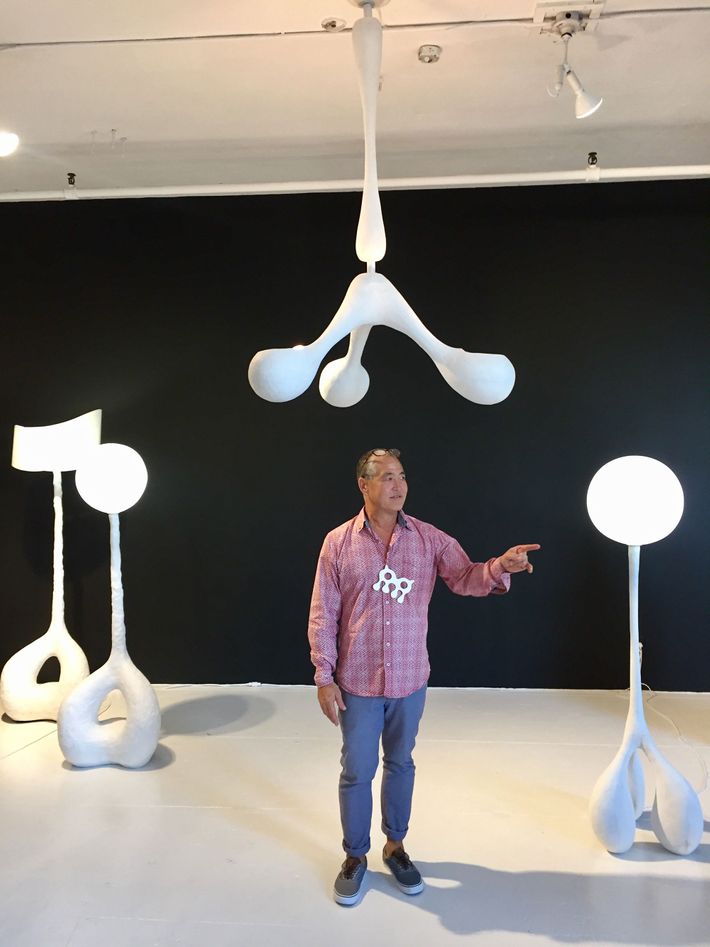 Also at Pucci International was Hawaiian artist John Koga, pictured here with some of the pieces of his new collection. Koga, who has worked primarily in stone and metal, showed sculptural pieces done in plaster. They command attention in the best possible way.