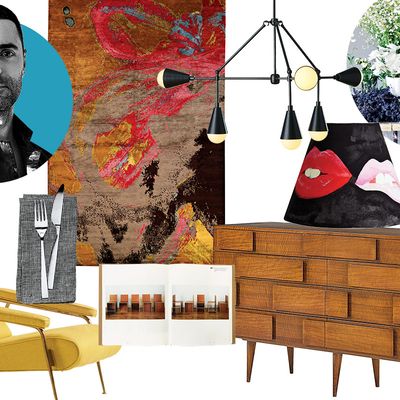 Andrew Cinnamon's favorite things.
Who sells the best table linens? How about art books? What's your go-to hostess gift? Where's the best dry cleaner, florist, wineshop? "Where'd you get that?" Here, six New Yorkers with great taste give their (forceful) opinions.

Andrew Cinnamon, branding expert, Cinnamon Projects (above)
For furniture, I love a project, so I mostly buy vintage at auction or from dealers. Rago auctions have the best unreserved sales and deals, and Wright is the house for Modernist masterpieces. Rago, ragoarts.com; Wright, wright20.com, showroom at 980 Madison Ave., nr. 77th St., third fl.; 212-585-0200
IDEA at Dover Street Market is the place to find the most extraordinary books — new, rare, vintage, you name it. Their Instagram account is genius and keeps me dangerously aware of the latest inventory in NYC, London, and Paris. Currently, I'm pining for Furniture Retrospective, by Donald Judd. 160 Lexington Ave., at 30th St., second fl.; 646-837-7750
I love a gallery where I can linger, see great work, and watch people respond to it. The Frick Collection serves all those agendas exceedingly well. 1 E. 70th St., nr. Fifth Ave.; 212-288-0700
Putnam & Putnam does flowers to perfection. Everyday options are tightly edited but always on point, and for a splurge or event, the execution is unparalleled. 160 Fifth Ave., nr. 21st St.; 917-671-6847
Meurice Garment Care is the fixer of so many late-night spills. My wardrobe wouldn't be the same without them. 245 E. 57th St., nr. Second Ave.; 212-759-9057
Joseph Carini Carpets has beautiful hand-knotted rugs, made with integrity. The inventory is vast and the custom options are amazing. 335 Greenwich St., nr. Jay St.; 646-613-0497
George Venson's atelier Voutsa creates a series of hand-painted lampshades that are phenomenal. Each is unique and full of life. 154 Eighth Ave., nr. 18th St., Ste. 4; 646-892-7797
Apparatus Studio makes the most exquisitely modern lighting. I recently bought a pair of horsehair sconces there to use as bedside lamps. The design is romantic, detailed, and incredibly well finished. 124 W. 30th St., nr. Sixth Ave., fourth fl.; 646-527-9732; by appointment only
TRNK, founded by Tariq Dixon and Nick Nemechek, is a fantastic retailer of smart and handsome things for the home — bed, bath, and table linens, as well as dinnerware. Beyond the goods, they've developed a strong editorial section, with stories, interviews, and style guides. trnk-nyc.com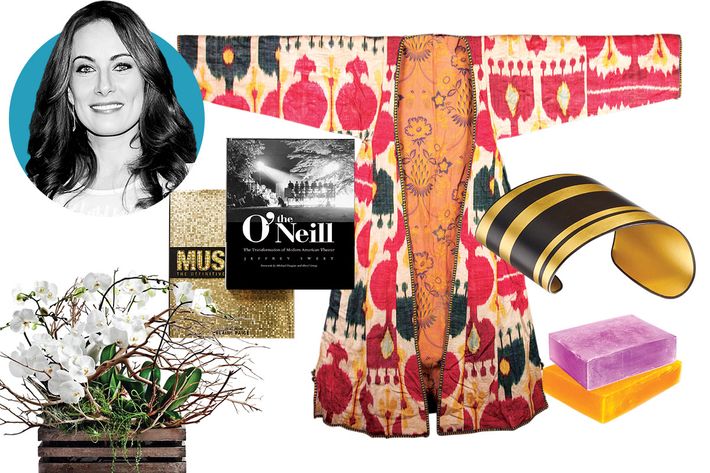 Laura Benanti, actress and singer (and ace Melania Trump impersonator)
Book Culture is one of my favorite stores: cute and family-friendly, and the recommendations are great. 536 W. 112th St., nr. Broadway (various locations); 212-865-1588
Manhattan Art and Antiques Center is basically a giant antiques mall. I go there for smaller items like china, silver, and jewelry, as well as larger mid-century pieces that I can refinish. 1050 Second Ave., at 56th St.; 212-355-4400
I try to go to a non-toxic dry cleaner that either uses wet cleaning or CO2 cleaning — I like Green Apple Cleaners. 8 Spruce St., nr. Gold St. (various locations); 212-601-9702
They aren't giving anything away, if you know what I mean, but ABC Carpet & Home is incredible when it comes to variety and quality. And if you get the right employee, you can do a little bargaining! 888 Broadway, nr. 19th St.; 212-473-3000
Unless you truly know someone's taste, give them flowers. I love Barbara's Flowers in Harlem — the attention to detail does not go unnoticed. I also splurge on orchids, my favorites, at Banchet Flowers. Some of theirs go up to $1,500, though, so be careful! Barbara's Flowers, 2522 Frederick Douglass Blvd, nr. 135th St.; 212-234-3211; Banchet Flowers, 447 W. 16th St., nr. Tenth Ave.; 212-989-1088
I'm a person who's sensitive to smells, and Soapology is pretty much my version of heaven, because you can design your own custom skin-care products. 67 Eighth Ave., nr. 13th St.; 212-255-7627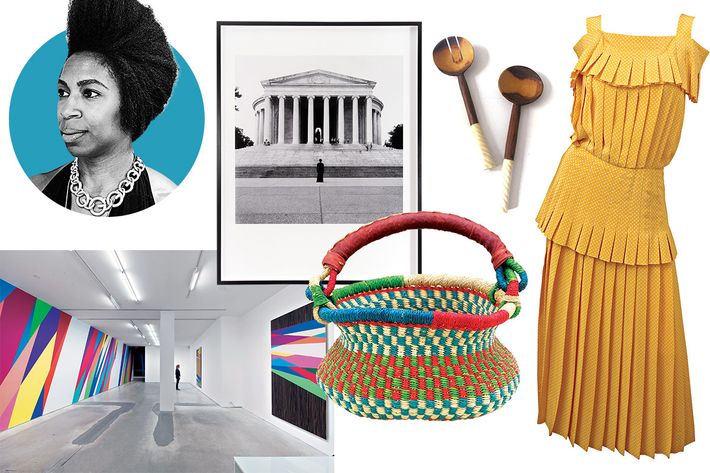 April Hunt, founder and CEO, sparkplugPR
There's nothing better than getting lost at the Strand. It's so massive, especially when you get to the basement, but it feels like home. 828 Broadway, at 12th St.; 212-473-1452.
I love and appreciate any galleries that truly strive for an ethnically diverse roster of talented artists, like Jack Shainman, Alexander Gray Associates, Project for Empty Space, and Long Gallery Harlem. When it comes to buying, I usually refer to independent dealers like Alaina Simone and Lizanne Merrill.
Collette and Darling are my go-tos for consignments and sample sales. Both are hidden gems that are never overcrowded. Collette, 153 E. 70th St., at Lexington Ave.; 212-348-9800; Darling, 1 Horatio St., at Eighth Ave.; 646-336-6966
I buy almost everything online to avoid crowds, but for unique knickknacks I go to Ode. shopodestudio.com
For cleaning, I refer to thumbtack.com. It's a really comprehensive aggregated list of home services.
When I go to dinner parties, I pick up a good bottle of dry rosé. Lately, the best I've tried is MiP (Made in Provence). They carry bottles by the boatload at East River Wines & Spirits. 302 Pleasant Ave., at 116th St.; 646-964-4229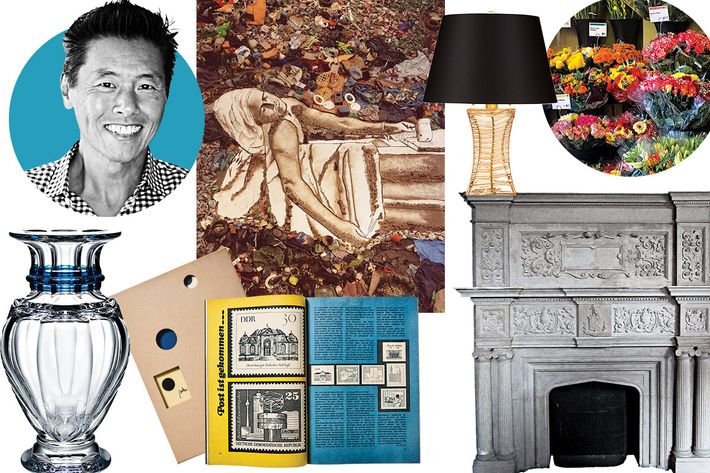 Vern Yip, interior designer and author of Vern Yip's Design Wise
The "Off the Floor" section on Donghia's website is a great way to get beautiful pieces that are perfectly made at a nice discount. I've found a limestone table, lamps, lampshades, and a console table there. People hear "sample" and assume something's going to be defective, but because Donghia updates the show­room so often, certain pieces just get taken out of rotation. donghia.com
For rugs, I love the Milliken "inspiredesigner" series. This program (which lets buyers order from a large menu of patterns in custom colors) allows me to produce perfectly sized and colored patterned carpet affordably. millikencarpet.com
Demolition Depot is the best place for architectural artifacts and antique garden ornaments. Even the salvaged pieces are from building exteriors, or intended for gardens. I love to use them inside to lend instant soul to brand-new interiors. Plus, it's great fun to walk through the yard. 216 E. 125th St., nr. Third Ave.; 212-860-1138
Everyday flowers should be fresh and easy to access, so I'm partial to my local Whole Foods floral department. The selection is usually very good if you're just looking for a simple, do-it-yourself arrangement for your kitchen counter. Nice orchid plants, too. 226 E. 57th St., nr. Second Ave. (various locations); 646-497-1222
I like to have my lampshades custom made by Stonegate Designs. I get the exact size, color, and shape for a comparable price to high-quality, off-the-shelf shades. stonegatedesigns.com
My last big purchase was a Vik Muniz photograph from Sikkema Jenkins & Co. My partner, Greg, and I share a mutual passion for fine-art photography and never cease to get joy out of having it in our homes and experiencing it on our walls. When you find art that resonates with you, you never tire of it. For me, art is the primary layer in every space. 530 W. 22nd St., nr. Tenth Ave.; 212-929-2262
I love crystal items from Baccarat. As hostess gifts, the Flora Biseau vase or the Harcort 1841 small bowl feel special and elegant, and easily blend into anyone's décor — they manage to be both functional and decorative when you may not know someone's exact aesthetic. 635 Madison Ave., nr. 59th St.; 212-826-4100
I'm not a fashion guy, I'm not a watch guy, and I'm not a car guy. But I am an art guy, and Dashwood Books has an incredible selection on contemporary photography. I feel like it was made just for me. 33 Bond St., nr. Lafayette St.; 212-387-8520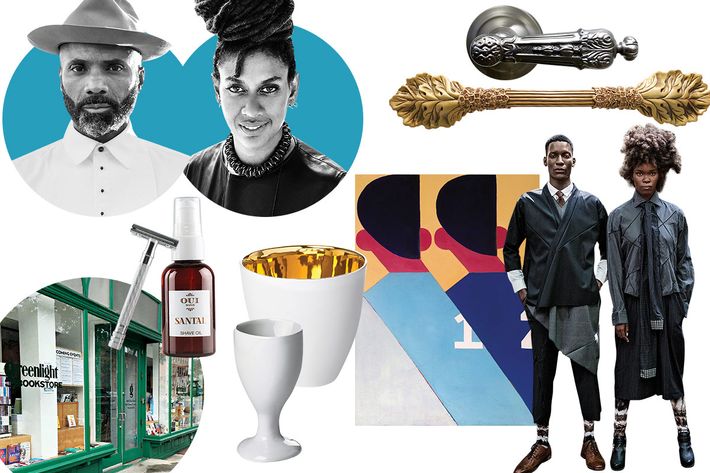 Anishka Clarke & Niya Bascom, Co-founders, Ishka Designs
Uprise Art is an affordable online gallery that represents inde­pendent artists in various forms of media. They often have pop-up exhibitions and are always showcasing artists you'd find at major national art fairs. You can lease to buy, make custom requests, and get recommendations on pieces for your space, style and budget. upriseart.com
Greenlight Bookstore in Brooklyn has an amazing selection and diversity of authors and genres. The shop also has great events, including book readings and signings by celebrated authors. 686 Fulton St., nr. S. Portland Ave., Fort Greene; 718-246-0200
We love the custom clothes at Epperson, where there's a wonderful fashion and costume designer (named Epperson). His signature style of raw edges and shape-shifting garments adds a unique quality to any wardrobe. eppersonnyc.com; 646-600-2459
ANISHKA: The beautiful safety-razor-and-organic-neroli-oil set from Oui Shave makes for a great unisex gift that lasts forever. And it looks incredibly sexy in a bathroom. ouishave.com
The selection of gorgeous, everyday flowers at DNY Natural Land has more than saved our day for last-minute events and photo shoots. 322 Flatbush Ave., nr. Carlton Ave., Prospect Heights; 718-783-0038
We call on Brooklyn-based restorer Burnett Coburn for flooring and installation work. He can do anything, he's meticulous, and he's very transparent about his process. 917-754-9680
Wesley Daniels, owner of 33 Woodwork, Inc., does all our custom millwork, furniture, and restorations. Originally from Guyana, he has decades of experience at home and in New York. We return to his shop time and again. 693 Mother Gaston Blvd., nr. Riverdale Ave., Brownsville;917-609-5683
NIYA: When it comes to hostess gifts, Tsé & Tsé Associées creates beautiful porcelain tabletop pieces that are also functional conversation pieces. I especially love the Thirsty stemware — white porcelain with gold interiors. You can get them at H.P.F., Christopher in Manhattan. 98 Christopher St., nr. Bleecker St.; 212-807-0140
Our go-to for hardware is Simon's Hardware & Bath on Third Avenue. The guys at the counter are remarkably knowledgeable and friendly and the range of products they supply is just perfect. 421 Third Ave., nr. 30th St.; 212-532-9220
If you buy something through our links, New York may earn an affiliate commission.
*This article appears in the Winter 2017 issue of New York Design Hunting.