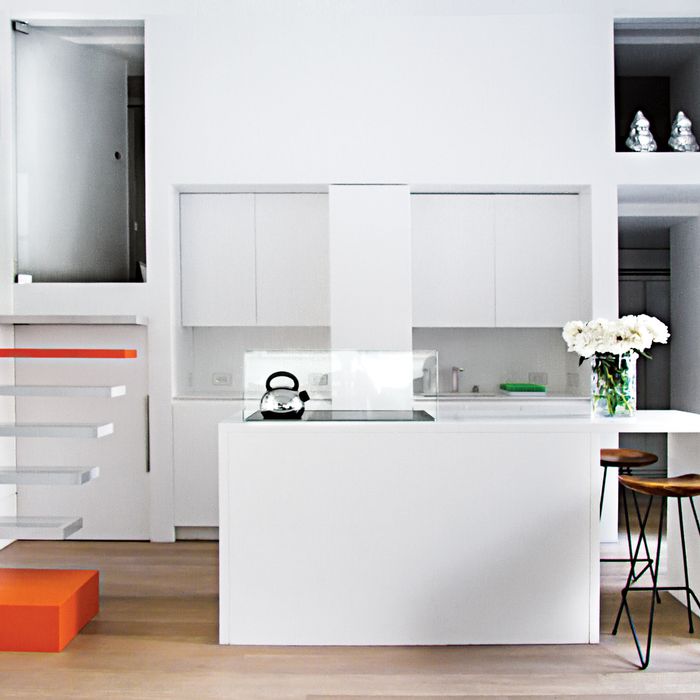 Sheinman explains that lowering a big portion of this sleeping-loft floor meant that, upstairs, there's now just enough ceiling height so you can stand up. "Technically." On the face of the middle column is a very shallow cabinet. Behind the door: spice jars. "These gnomes are from
CB2
. My dad was weirdly obsessed with them and bought ten. They're lying around the office, I have some, my sister has some." Fake-grass drying rack by
Boon
. The induction stove is by
Miele
.
Photo: Dustin O'Neal
When Alexia Sheinman invited her father in 2011 to see the Greenwich Village loft she was hoping to renovate, she knew she needed more than the usual parental blessing. The apartment, on the fourth floor of a co-op near NYU, was, she says, a "total wreck," and Dad — Andrew Sheinman, founder of the interior-design firm Pembrooke & Ives — brought decades of experience (and opinions) to the table. "My trick?" says the younger Sheinman. "I took him for a Bloody Mary prior. And that was that."
Alcohol probably wasn't necessary. Alexia had recently enrolled in the interior-design master's program at Parsons, and the father-and-daughter Sheinmans sensed a collaboration waiting to happen. "It was a nice opportunity — to have this as my first project with my dad was very special." They took inspiration from container homes and Japanese design, for minimalism and efficiency, and accentuated the 12-foot ceilings and oversize west-facing windows by painting nearly everything white. In the living room, they hung eight color-burst prints by the British artist Anish Kapoor and installed a custom-upholstered long bench below with complementary throw pillows, making a comfy sitting area. "There's a false connotation between minimalism and lack of comfort," says Sheinman. "That's not the reality at all."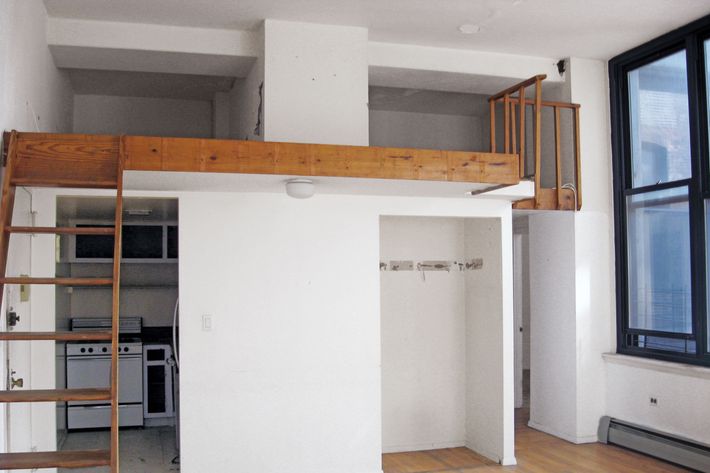 They brought the kitchen forward into the living area and installed custom pull-less cabinetry, a hidden dishwasher, and deceptively spacious pantries. To make the three-and-a-half-foot-high loft area more useful, Alexia and Andrew dropped half the floor significantly to create standing room and closed a large portion off with proper walls. (Sheinman now uses it as a guest bedroom.) It had been reached via a spindly ladder, and they ditched that in favor of cantilevered floating steps, a decision that required moving over the apartment's front door a couple of feet.
"Luckily the building is pretty open to changes like that," she says. "It's not going to be nearly that easy somewhere on Fifth Avenue."
Despite the family collaboration, Sheinman knows the loft likely isn't meant to be enjoyed by the next generation. "The space probably has an expiration date. Having kids here would be tight." she says. "And I'm petrified of anyone under the age of 18 going up and down these stairs!"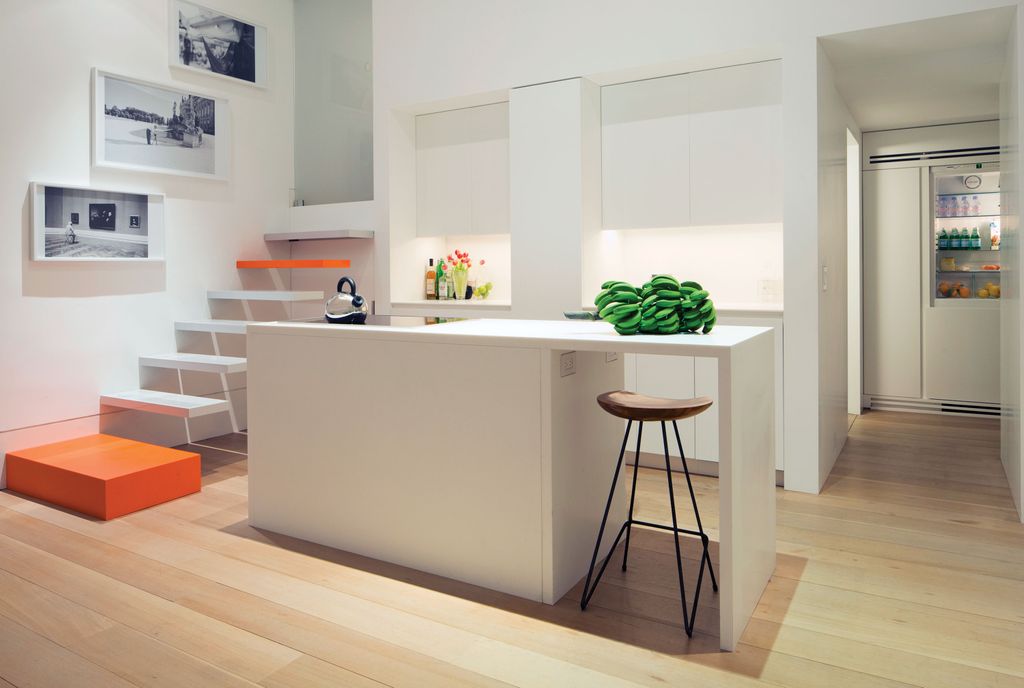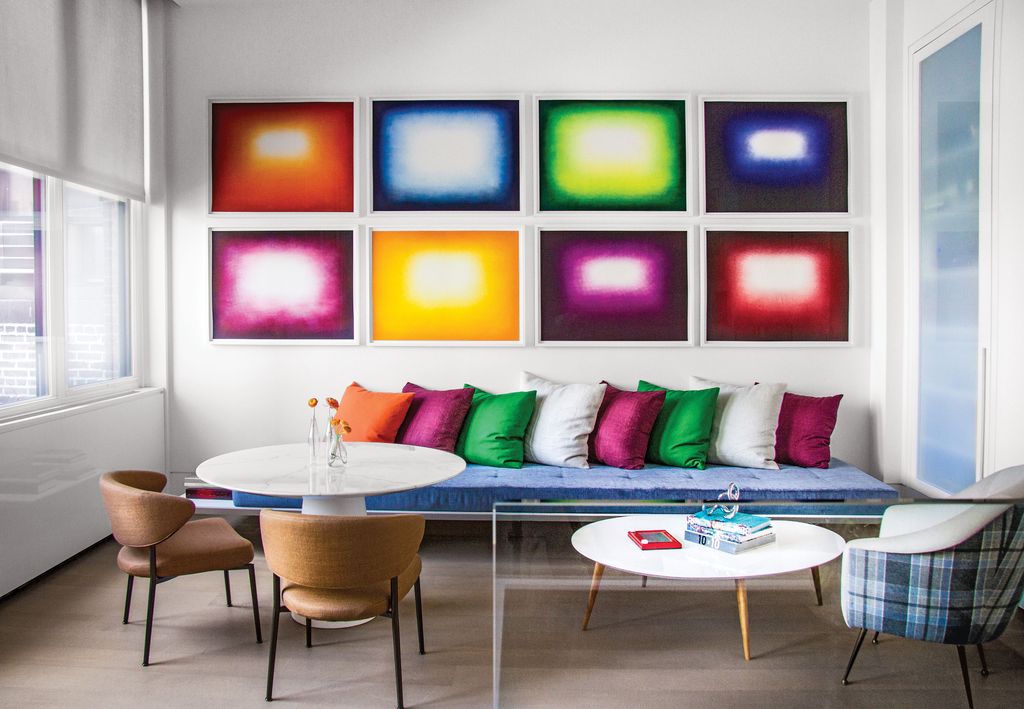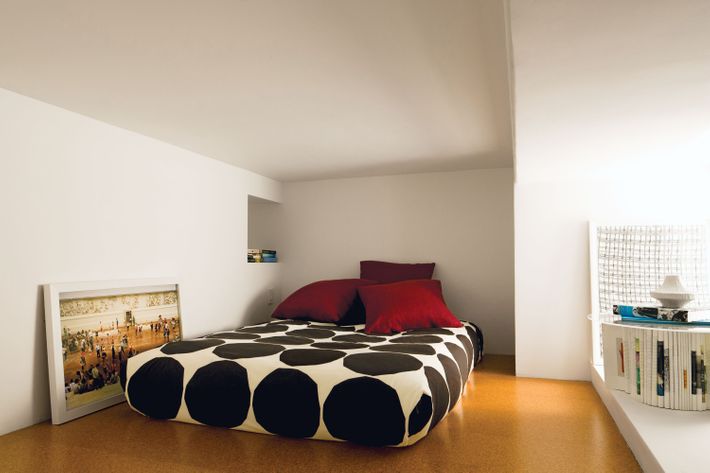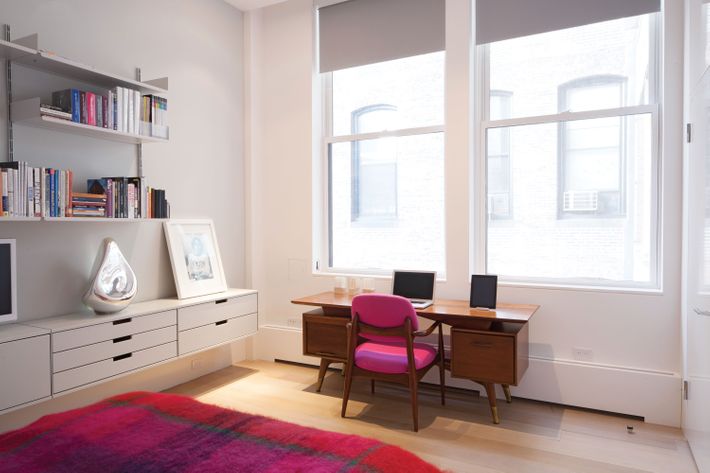 *This article appears in the Fall/Winter 2018 issue of New York Design Hunting.