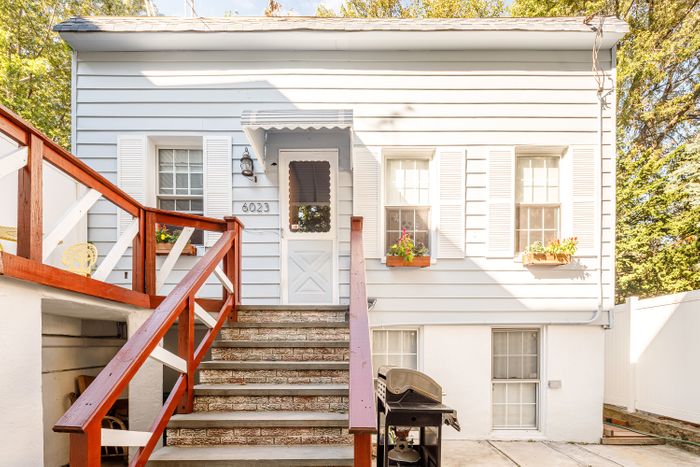 Carriage-house listings are not uncommon, but rarely will you find one like this: an entire, fastidiously renovated building, plus some actual acreage (okay, .06 acres — but still), for well under $1 million.
The 1910-built house sits at the border of Maspeth and Ridgewood and is entered through a white picket fence and down a stone-paved path. The main floor has a living room with a built-in wooden dinette, two bedrooms (one on each side of the hallway), and an open kitchen. A wooden staircase, cleverly hidden under a glass-and-marble counter, leads to a spacious, well-lit den and a laundry room so large it feels practically suburban.
The owners, a teacher and a sports-industry professional, bought the place in 2015 and have been slowly renovating it ever since. They've made sure to keep lots of original features, including the house's stained-glass windows, exposed brick, and tin ceilings that were only uncovered when they ripped off the drop ceilings. They also added plenty: Wood beams, a barn-door closet in the larger bedroom, marble in the kitchen and bath, and reclaimed-wood floors sourced from a barn in Georgia (and cut by M. Fine Lumber Company in Bushwick). Some wood retrieved from the walls was repurposed into a laundry chute.
And that less than an acre of outdoor space is cleverly split. There's a sizable yard near the sidewalk for gardening, a paved area adjoining the lower level (where you can access a storage room), and a large fenced deck in the back that wraps around a tree. According to the owners, the deck extends past the neighbors' property lines, so "not a soul borders you on either side."