"Leo is a force of nature," Brent Sikkema says of artist Leonardo Drew, who has been represented by his gallery, Sikkema Jenkins & Co., since 2005. You begin to understand the force-of-nature part as soon as you enter the ground floor of the converted Cypress Hills garage where Drew's been living and working since 2007: The 30-foot ceiling can barely contain his monumental abstract sculptures, made from materials that he creates to look like things he has found. A cracked, peeling painted-wood sculpture, for example, that looks like it has weathered decades outdoors was made using his own perfected distressing method. In the studio and every other room, there's a TV on — each one tuned to a black-and-white movie. "As a child, there were five of us who had to share a room," he says. "All boys. I need to have that excess noise." He has a collection of 3,500 films to choose from when he is not watching TCM.
Drew was born in Tallahassee, Florida, and grew up in the P. T. Barnum housing project in Bridgeport, Connecticut. The views from his childhood apartment overlooked the city dump, which affected him deeply: "I would watch the bulldozers troll back and forth over this massive landfill. I remember all of it: the seagulls, the summer smells, the underground fires that could not be put out." At age 13, Drew had his first solo show, exhibiting his action-hero paintings at State National Bank in Bridgeport. DC Comics and Marvel soon came knocking, and before he knew it people were paying for his art. Now he's busy working on an upcoming project, a massive wood sculpture that will cover the ground of Madison Square Park that he has dubbed City in the Grass, or Carpet Monster — a nod to the neighborhood kids who told him it looked like a city. "You'll be able to sit on it, move around, have an experience with it."
Upstairs from the studio, it's a different world entirely. Shoes must come off at the door before one enters his loft, painted tomato red and anchored by a giant barge of a bed layered with pillows. "I wanted to be sure that when I go up there, I change my head," Drew says.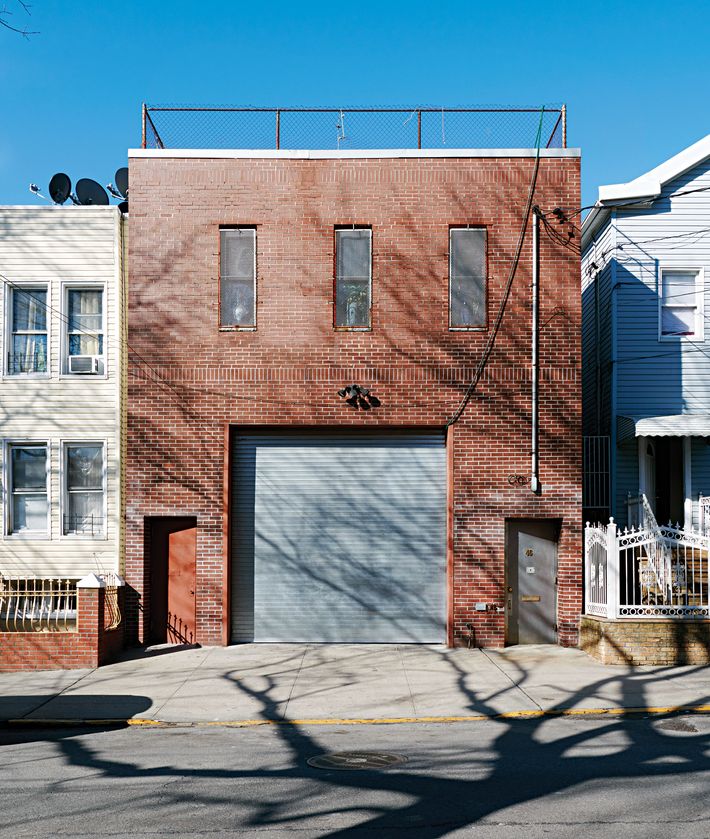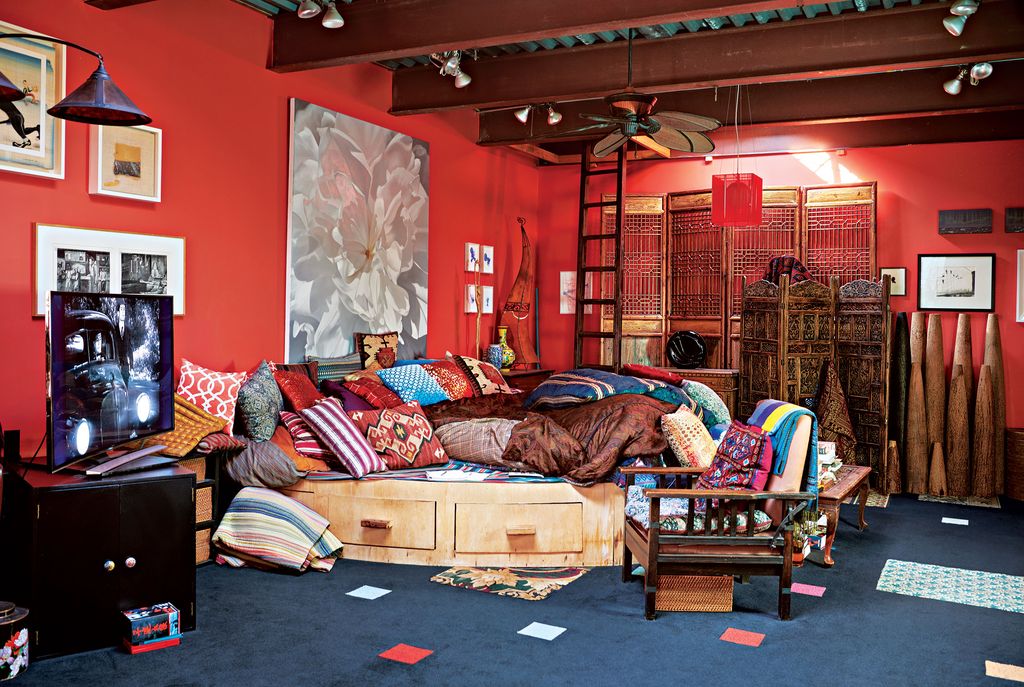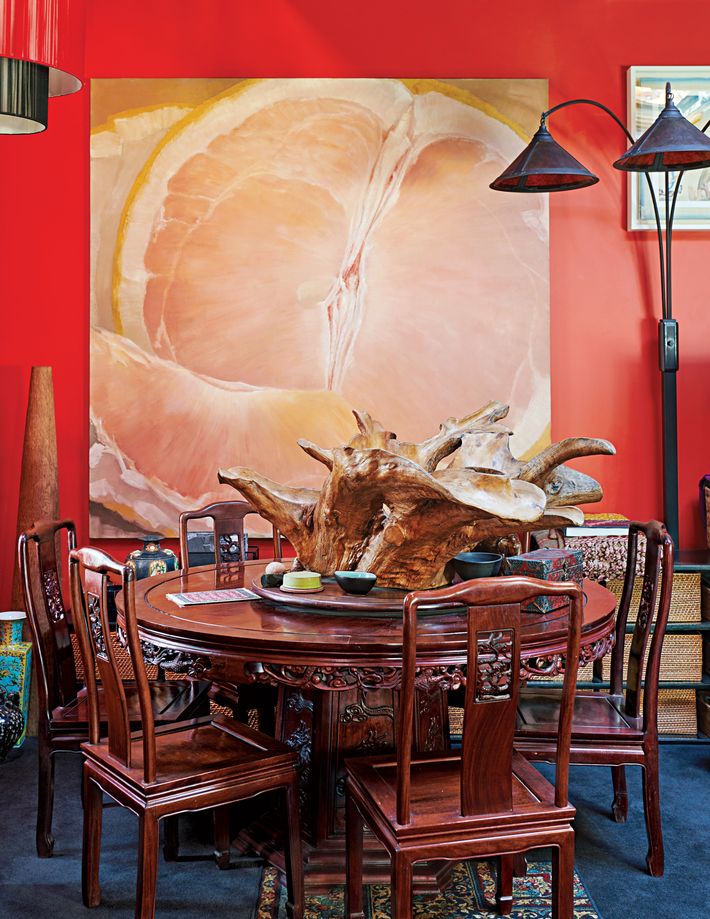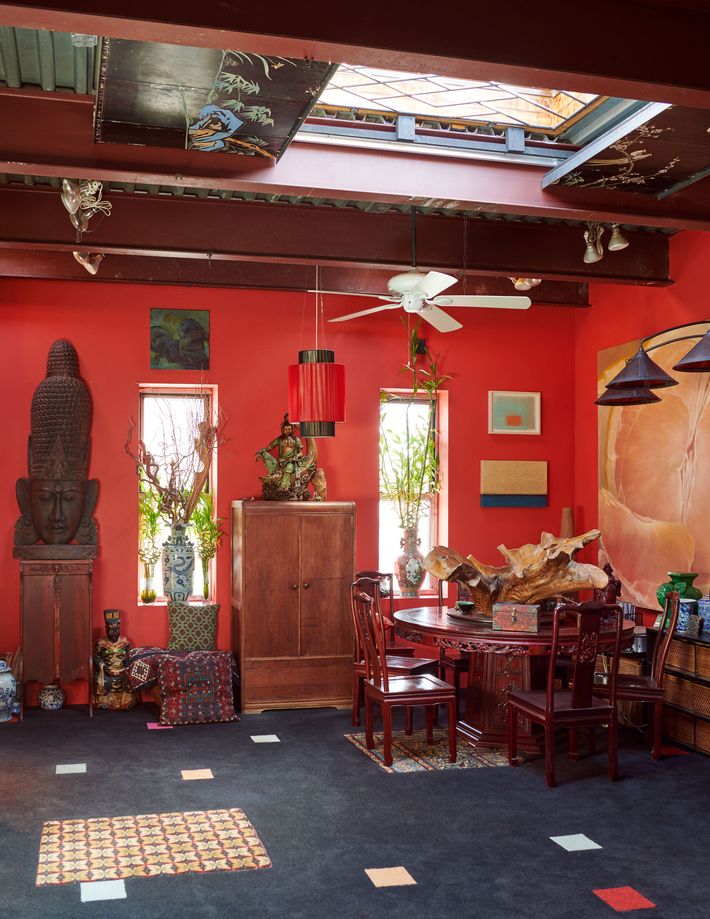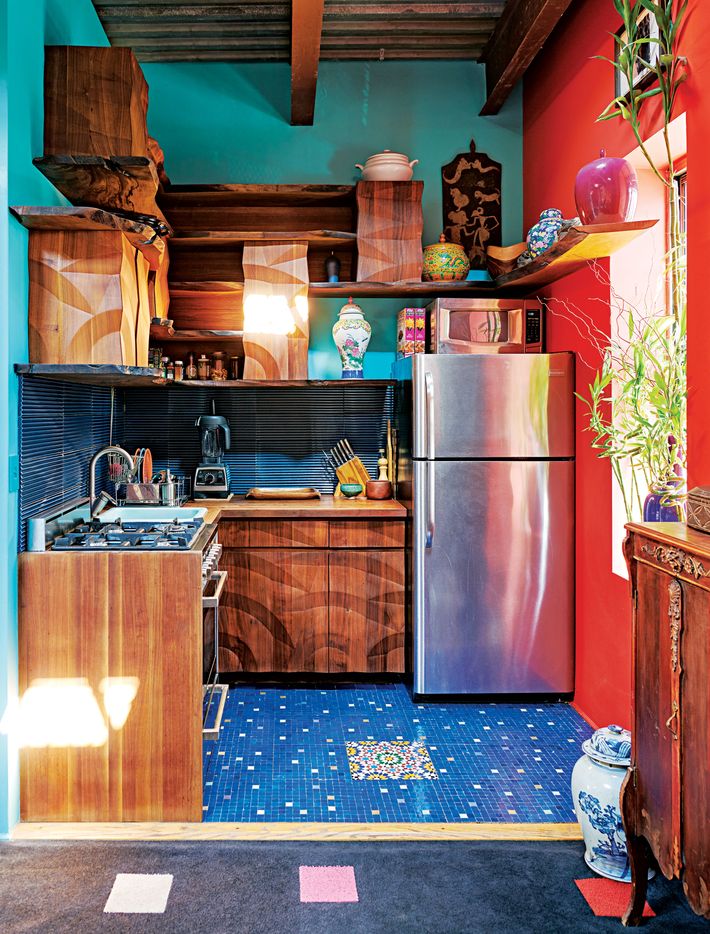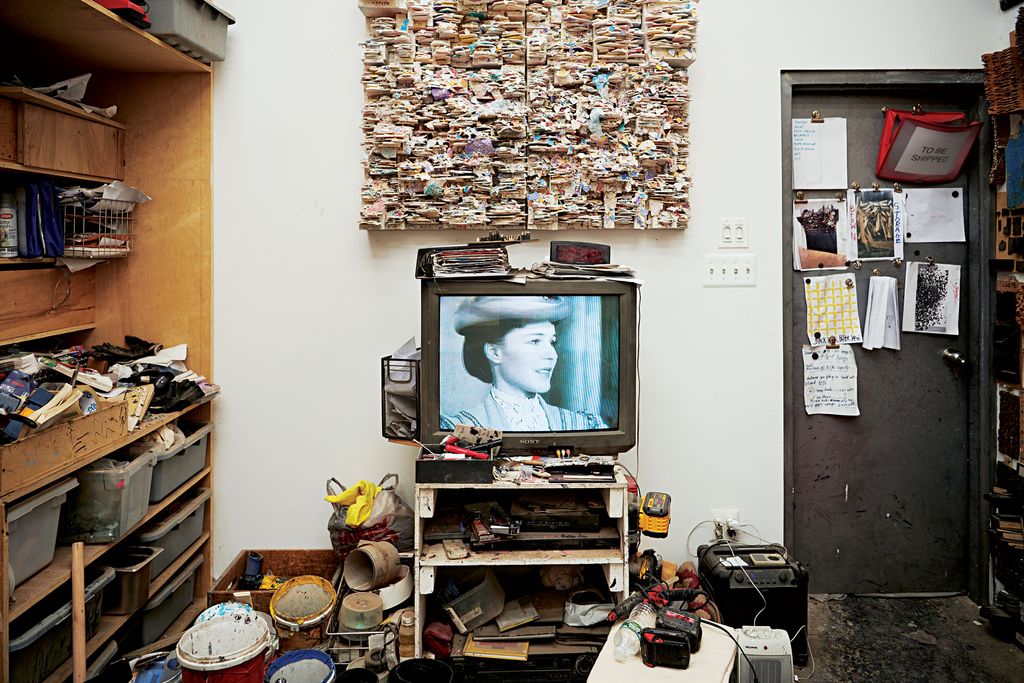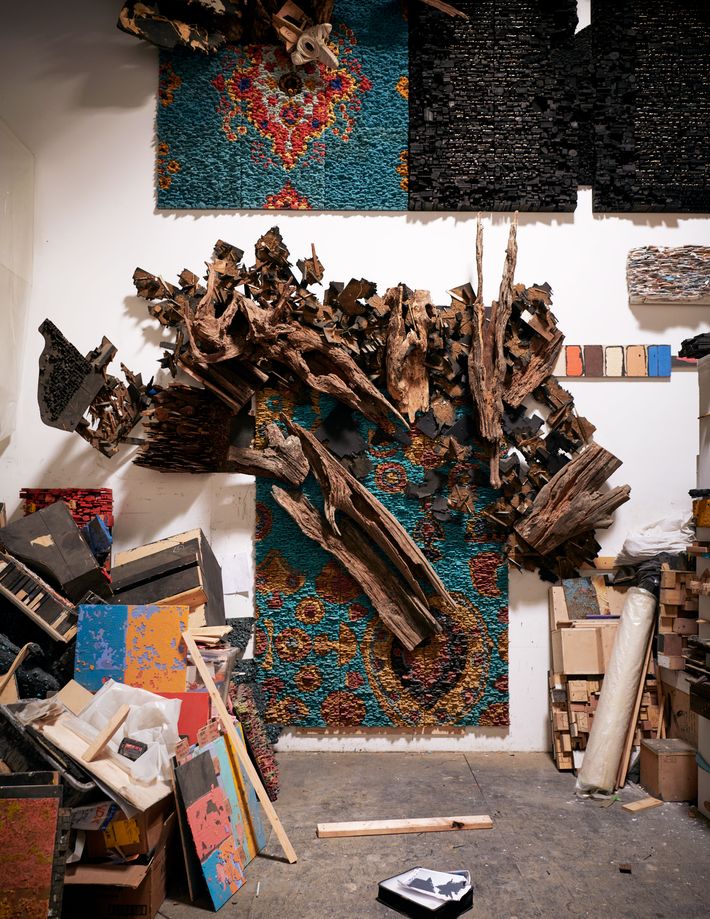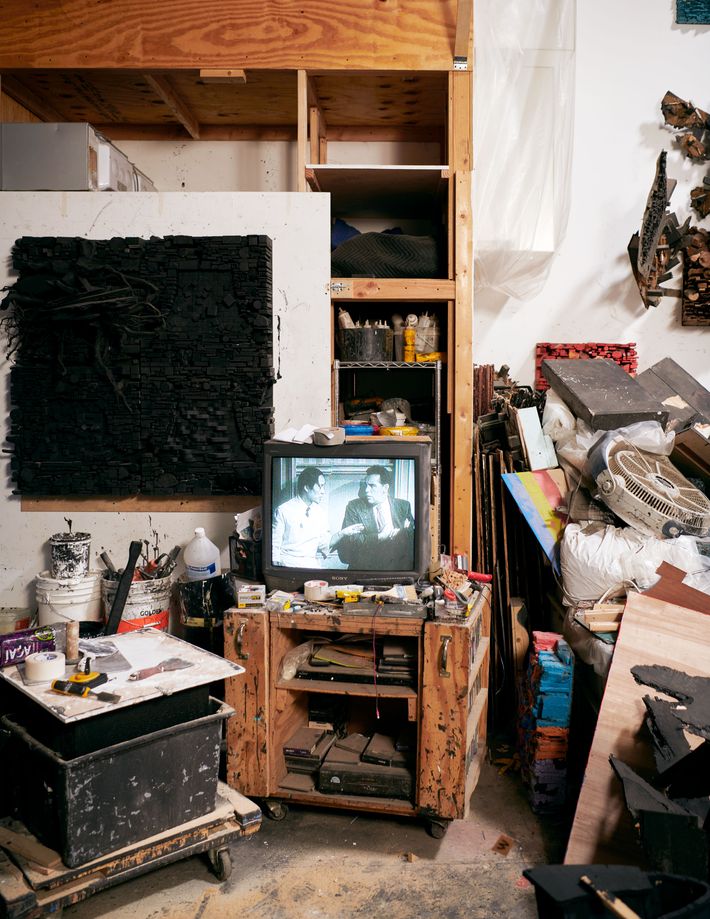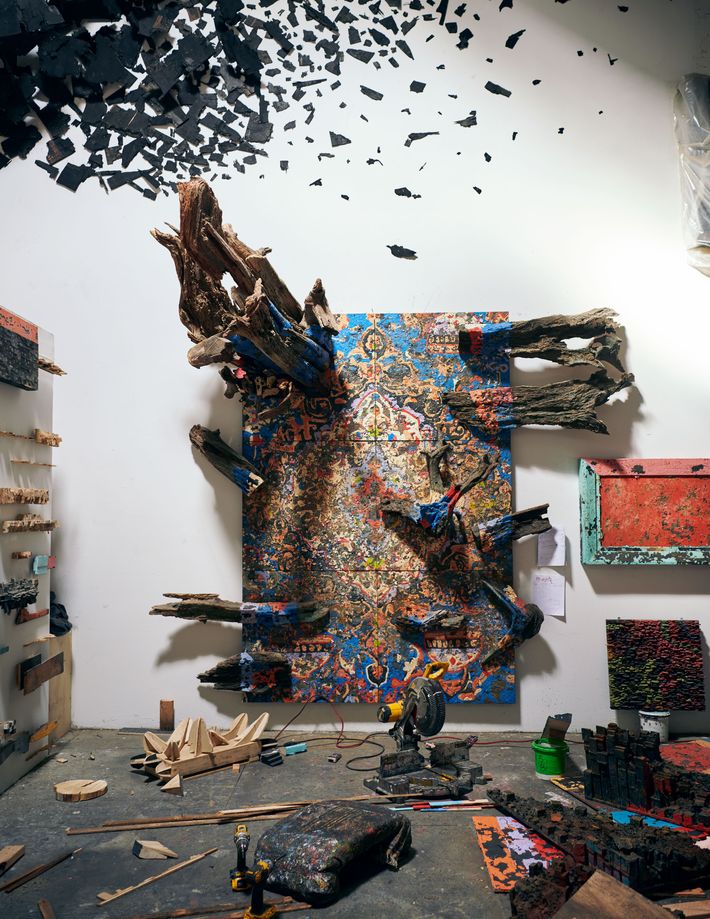 *A version of this article appears in the April 16, 2018, issue of New York Magazine. Subscribe Now!