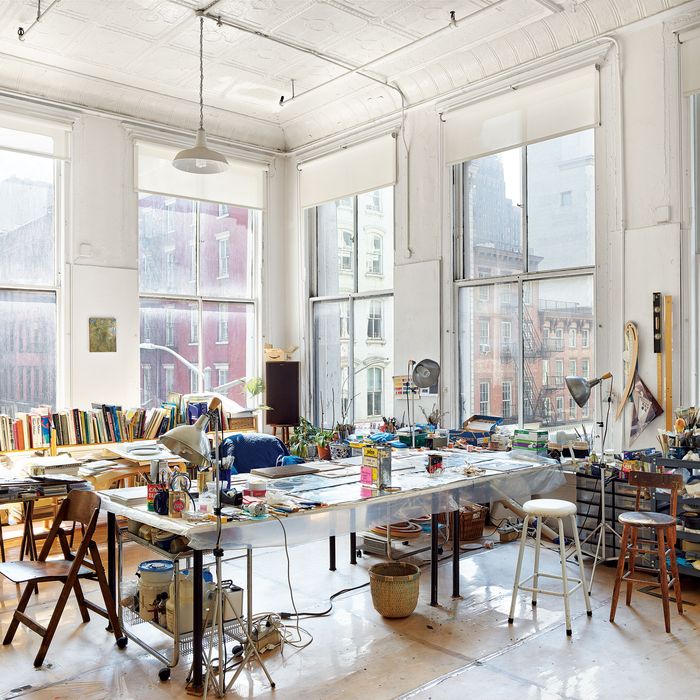 The Front Studio
: Here, Dorothea Rockburne is currently creating various works investigating knot theory.
Photo: Annie Schlechter
In 1974, the painter Dorothea Rockburne was living in a walk-up on Chambers Street when she received an eviction notice from her landlord. Until that point, she'd been supporting herself and her daughter by waitressing and assisting Robert Rauschenberg, and she was forced to move just as she was offered her first solo show at MoMA. "So I started looking at these dreary, cramped apartments — then someone told me about this place," she says. What she saw was a barren 6,200-square-foot Soho space in what had originally been built as a hotel and later converted to a furniture factory. "I said to myself, 'Well, better too big than too small,' and I took it."
Rockburne is sitting on a sofa in a little grouping of furniture — all of which is covered with moving blankets (to protect the pieces from her cat) — in her vast front room, which is flooded with light from the 12-foot windows. A wall separates the front room from the back part of the floor, which Rockburne uses as a painting studio, exhibition space, and office. (Right now, she's preparing to install a show of her carbon works at Dia:Beacon that will open this fall, an expansion of her long-term exhibit on view now.) Since moving here 44 years ago, she has added only a kitchen and bathroom. "It's like my work," Rockburne says of her home. "It isn't tarted up. My work is straightforward, and the answers are there because that's the answer; there is no other answer. And that's how this place is."
*A version of this article appears in the September 3, 2018, issue of New York Magazine. Subscribe Now!