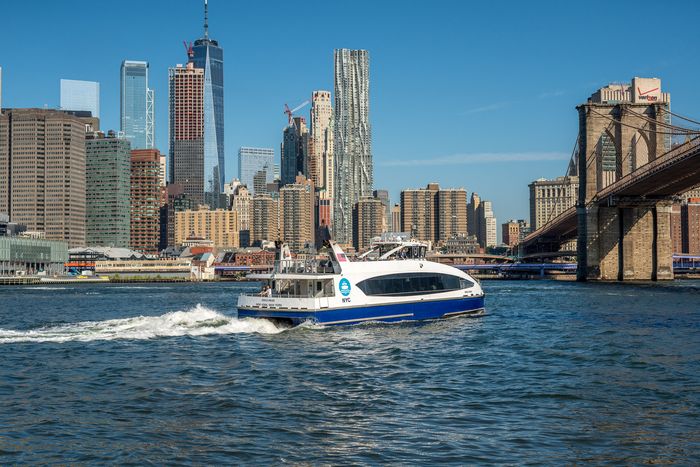 At 4:07 p.m., a NYC Ferry docked at a pier in Greenpoint precisely on schedule. But earlier today, it was unclear when service would resume at the privately owned landing after the new owner temporarily blocked the publicly subsidized ferries from stopping there. This morning, Katie Stoltman timed her arrival perfectly for the 8:59 a.m. ferry, joining a dozen other travelers on the Greenpoint pier just as the white-and-blue vessel cruised into view. But instead of slowing and docking at the pier, the ferry kept sailing along the East River like it was never meant to stop at the Brooklyn waterfront. "I was livid," said Stoltman, who has taken that morning ferry every week day for the past three months to her Gramercy office. "I count on that to get to work, and no one knew what was going on. We all sort of looked at each other stunned."
On Twitter Saturday, the ferry system had discreetly announced that ferries to the private Greenpoint pier would be suspended because of a dispute with the jetty's new owners. Australian developer Lendlease and investment fund Aware Super purchased the property at 18 India Street, which includes the pier, earlier this month for $110 million, with their sights set on building it out with 800 new apartments. The NYC Economic Development Corporation, which manages the Hornblower-operated ferry service, said boats weren't able to operate at the property until insurance issues were resolved with the new owner. Lendlease pointed the finger right back at Hornblower and said the company had failed to hand over the proper paperwork to allow for a smooth transition of service from one pier owner to the next. Regardless of where the actual responsibility lies, the reality for ferry riders was the same: One of seven stops along the East River line was effectively gone. After a daylong debacle that threw the commutes of hundreds of New Yorkers into doubt, the dispute was settled and ferry service resumed at the Greenpoint stop as of Monday afternoon.
Out of the nearly two-dozen NYC Ferry stops, Greenpoint is the only one whose pier is privately owned. "Private developers shouldn't be responsible for the infrastructure of public transit," Stoltman, who lives two blocks away from the pier in Greenpoint, said this morning. "I just have anger brewing in me, and if this isn't going to happen, I'm trying to figure out what my next steps are. We're going to enter my Jane Jacobs phase."
Even if today's pier closure was short-lived, it left New Yorkers who've relied on the stop since 2017 in a bind. Commuters said there wasn't a single sign to warn riders of the lack of service this morning. Others heard the news from NYC Ferry employees shouting at them from a vessel in the East River that they'd have to find another stop. "What kind of world are we living in when someone has to yell service changes at us from the river?" said Roberta Jones, a bank teller who reluctantly hopped in a cab to keep a midtown doctor's appointment that had taken her two months to get. "I'd like a little dignity and respect."
Stoltman, an interior designer, had to double back and take the subway, which she's been avoiding owing to coronavirus concerns; the NYC Ferry has been her preferred travel method during the pandemic because of its open-air rooftop seating. On Saturday, Stoltman said she was also stood up by a ferry and hustled on her bike over the Williamsburg Bridge to make a gallery appointment.
Mike Schubert, a podcaster who lives in Midtown East, was getting ready to head out to commute to his office in Greenpoint when he saw a flurry of tweets complaining about the sudden service cut. He was disappointed but not surprised. "A private landlord owns the pier, so now this public transit can't be used? Sure, in 2020 everything goes," he said.