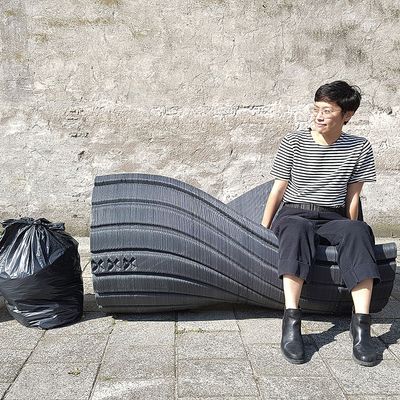 The XXX bench, a chair 3D-printed from recycled plastic.
Photo: The New Raw
As bicycling capital of the world, Amsterdam is a leading force in championing sustainable energy. Now, it's the first city with the XXX bench — a black rocking chair that seats up to four people, 3D-printed from recycled plastic — which will line the streets that bikers zoom down. Two benches are made with the same amount of trash that three people throw away every year.
Rotterdam-based research and design studio The New Raw used a 3D printer to shape the chair out of recycled plastic pellets. Unlike other forms of manufacturing, which whittle down material to make a product, a 3D printer creates the product from scratch by layering material. The bench is the first product from the studio's Print Your City! initiative, which hopes to transform urban spaces with more recycled designs, including bus shelters, waste bins, and playground material. Amsterdam is the first testing site for the XXX bench, sponsored by Amsterdam research institutes TU Delft and AEB Amsterdam. The New Raw is talking to the city's administrators about distributing more benches there. Check out the video below to see how the project aims to change cities for the better.