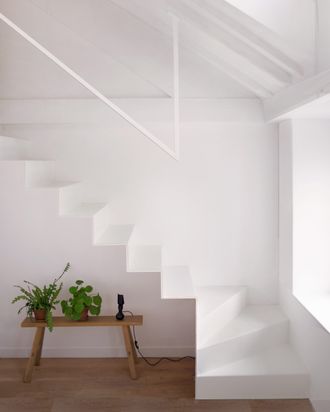 Caroline Gaimari's apartment in the 11th arrondissement.
Photo: Courtesy of Studio NOCC
Caroline Gaimari arrived in Paris 15 years ago for what she thought would be a six-month student exchange program. She surprised herself and never left. A creative consultant and stylist, and the former fashion director of Purple magazine, Gaimari splits her time between Paris and the United States — but just put down considerable roots in the French capital, with the purchase of her first-ever apartment. She enlisted her friends at Studio NOCC to turn the petite la bohème apartment into a crisp, modern Parisian home.
Fantasize about a little pied-à-terre in Paris, and chances are you'll picture something like Gaimari's 485-square-feet apartment in the 11th arrondissement. Gaimari found her home with the help of an apartment hunter. "I tried my hand for three to four months looking on my own on websites," she says. "But anything that's online is a dud. You have to actually go there and show your face, show that you want it." After Gaimari snagged this jewel, she felt it needed a renovation. "We designed a singular folded steel sheet that's only 10 millimeters thick," says Juan Pablo Naranjo, one of NOCC's three architects, of the new staircase. "Thanks to its thinness, it looks extremely light to the eye, but it brings some volume and structure to the room. It also plays nicely as a contemporary element in comparison to the classic French beams that make up the ceiling."
"There is nothing we didn't touch," Gaimari says of the renovation, which included putting down new floors. Naranjo says one of the biggest challenges, and a common one in old Parisian apartments, is getting the floor level. Here you see the underside of the new staircase.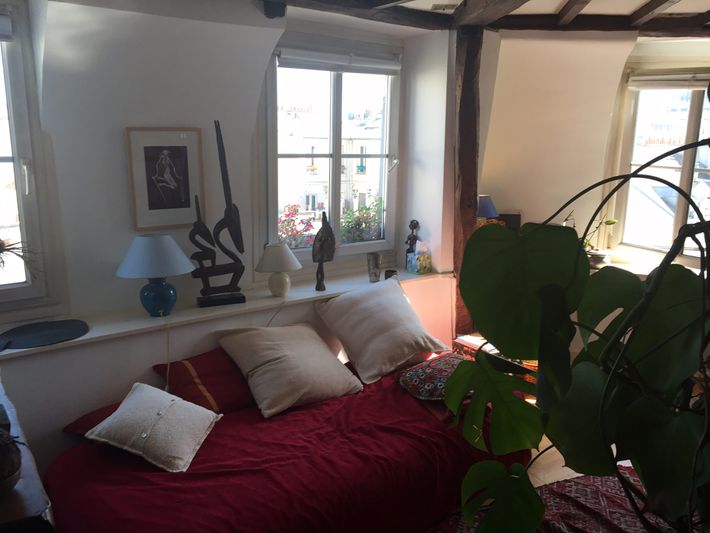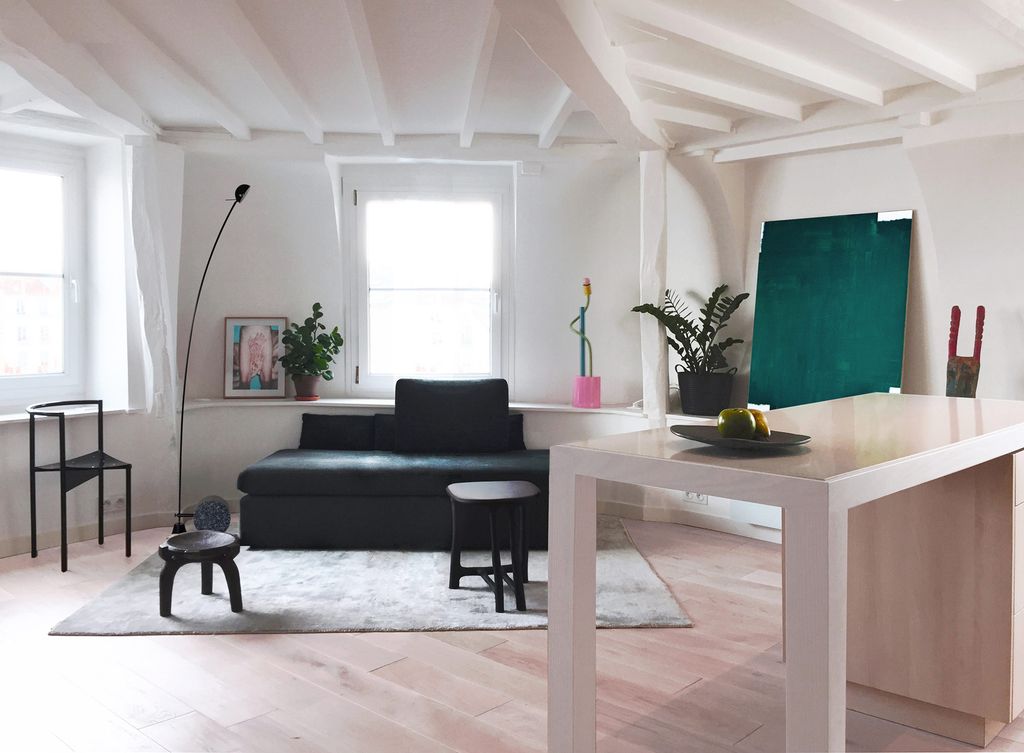 "The first task was to make what used to be three separate studio apartments into one bigger apartment that made sense," Naranjo says. "To accomplish this, we took out everything that was superfluous and rationalized the space. On the ground floor we turned what used to be three individual spaces into an open multi-purpose living and entertaining space." There is a Wendy Wright chair by Philippe Starck by the window and the Aerial standing lamp is from Falke Svatun Studio. The carpet is from Serge Lesage.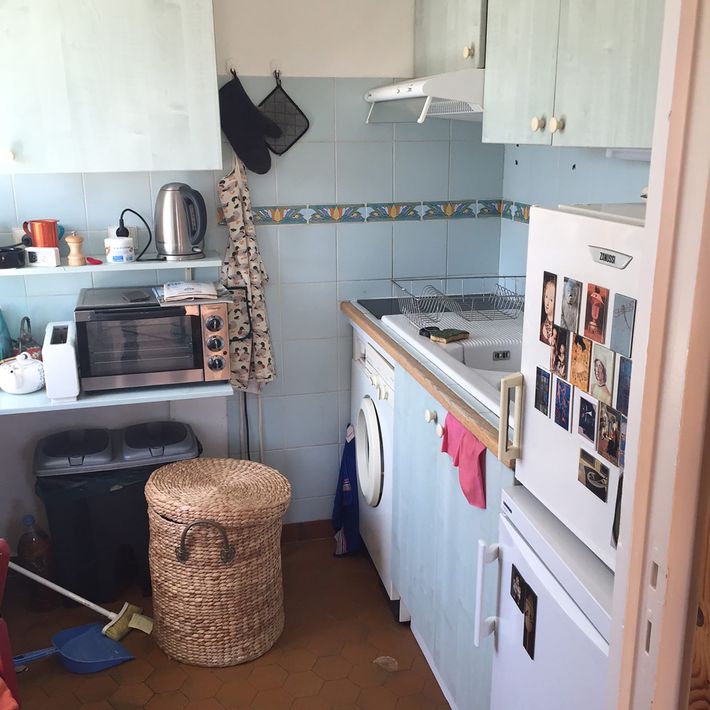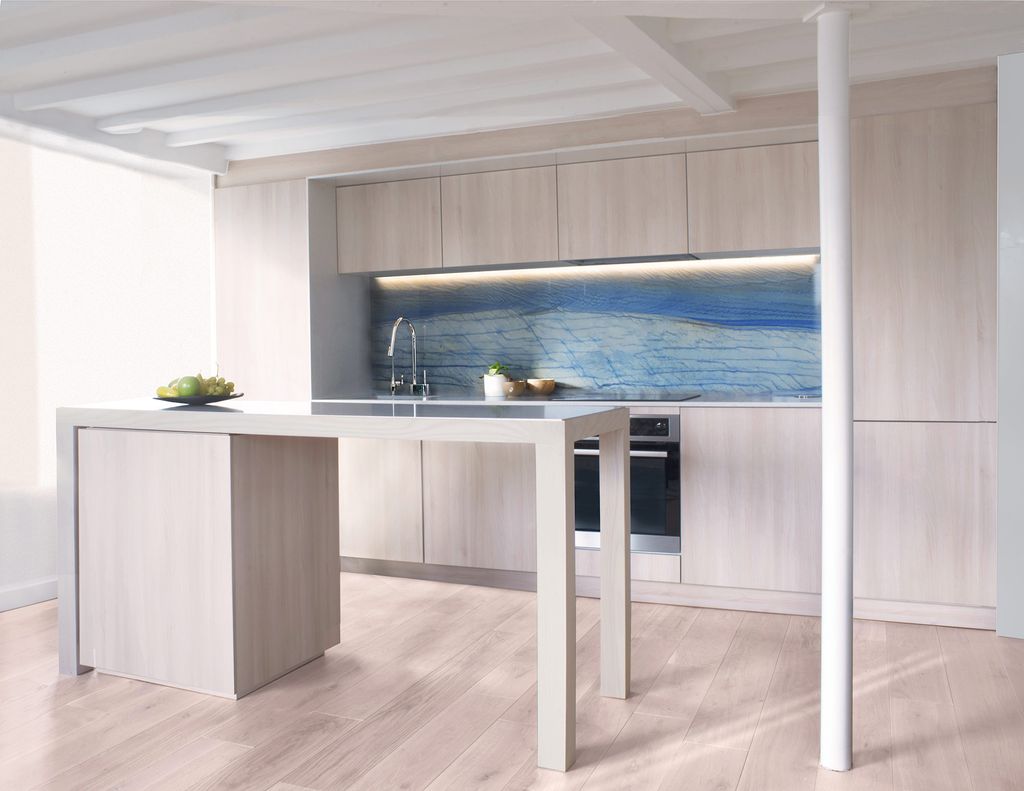 "I love to cook," Gaimair says. "I have dinners all the time, and I can fit eight around the table." If needed, the kitchen counter doubles as the dining table. "Caroline wanted a statement piece as the backsplash of the kitchen," Naranjo says. "We wanted to find something that would be a beautiful focal point, and we found this Macuba blue marble from Brazil. The shades of the blue and gray have a pictural aspect to them that make the piece look like a landscape photograph, or an abstract painting."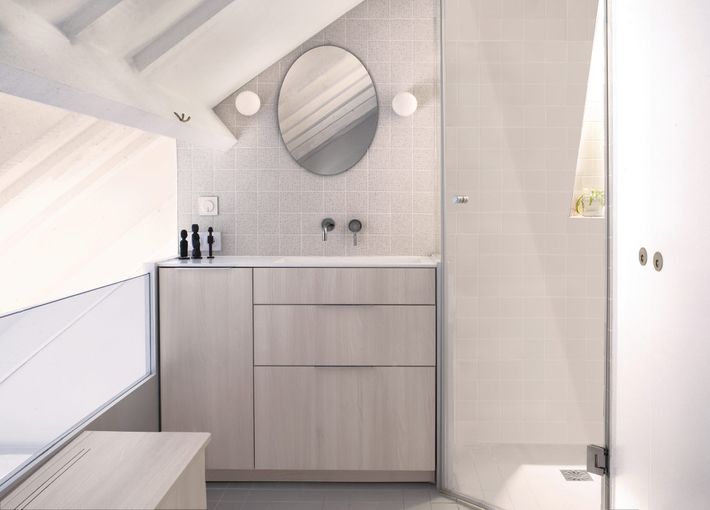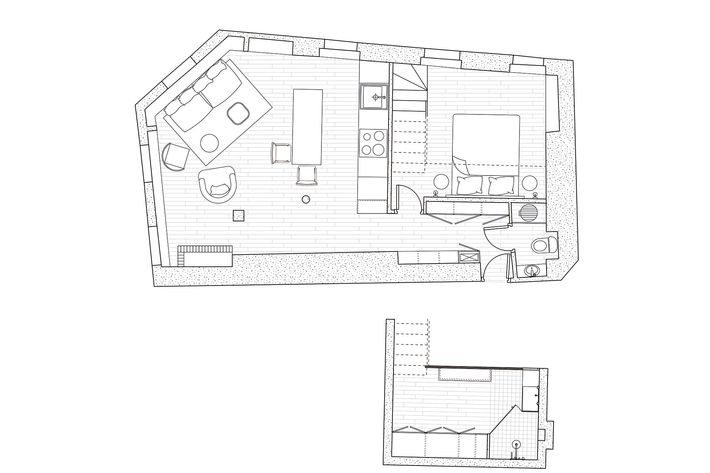 "It is my first apartment," Gaimari says happily. "It is part of my commitment to my first love: France!"