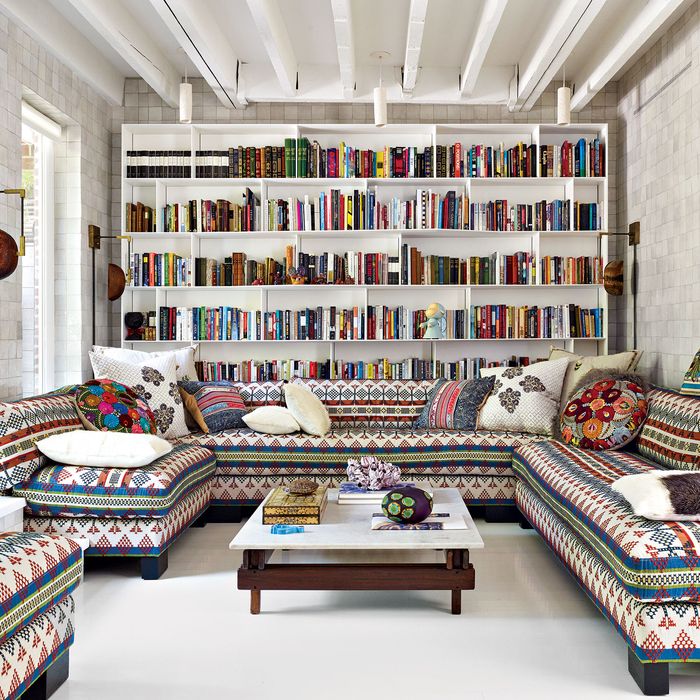 Jeffrey Bilhuber covered the walls of this room with Moroccan tiles from
Mosaic House
. They were individually chosen and set to get the precise mix of slightly varied whites. The oversize embroidered pillows came from
Coral & Tusk
. At a glance the pendants from
Lightexture
look like steel-can fixtures, but they're ceramic, rolled in rice to make an irregular surface. The sconces made from African bowls are by
Apparatus
, and the bookcase is from
B&B Italia
. The custom sectional sofa was made by
Michael Dawkins Home
and upholstered in
Mulberry Home
fabric for
Lee Jofa
. The coffee table is by
Sergio Rodrigues
.
Photo: Bjorn Wallander
There were two things that Michael and Alexandra Shuman didn't think would happen when they started looking to move from their townhouse on East 73rd Street three years ago. They never expected to find a house with outdoor space, lots of natural light, and an art studio on the Upper East Side. And they absolutely did not plan to work with a decorator. Michael is an architect, and Alexandra was a vice-president at Michael Kors. Surely they could do their own place?
And yet. The houses on the market downtown were dark and beat-up, and the couple soon gravitated back to Lenox Hill. There they found a house that was nearly pristine: It had been renovated already by the architect Bastien Halard and the landscape designer Miranda Brooks. After a few "surgical interventions" of their own — not a full rehab, just tweaks, plus a fresh kitchen — the Shumans moved in with their two kids (Nate, 11, and Ana, 6), two Great Danes, one dachshund, two parrots, two parakeets, and three cats, plus the family's accumulated treasures from years of traveling and collecting. "We love what an oasis it is behind the brick façade — it feels a bit like our own Moroccan riad," Michael says.
As for working with a decorator, that started as a simple friendship several years back, when they got to know Jeffrey Bilhuber. (His son was in the same preschool as theirs.) How it turned from friendship to business was — well, when you ask Bilhuber, the best he can do is say "I don't know? I think it was just during a chat, maybe two years ago? It was a gradual process."
Needless to say, all three parties have strong ideas and tastes. Over time, the conversation with Bilhuber started to include his suggestions. "My goal was to try and clarify and edit the many layers that were there," Bilhuber says. His biggest intervention was in the upstairs sitting room, which had plain white walls and one of exposed brick. "We started with recladding that room with all-white Moroccan tiles," Bilhuber says. "It was an assertive move in all its subtlety." A massive wraparound sofa, upholstered in a complex patterned fabric from Mulberry Home, turns a room that might have seemed severe into an enveloping lounge-y enclave. Bilhuber also raided Alex's textile collection for more patterned seat covers and pillows, and introduced new art pieces. "We felt most comfortable with things that were already a part of us, a part of our history, a part of our travels. It was so great that Jeffrey respected that and built on that. He helped us find things that we wouldn't have necessarily found on our own." The sitting room that resulted is now mostly for reading and family time, Alex says, "but we use it for late-night dinner parties. It is also the cats' preferred hangout." No doubt the parakeets are relieved.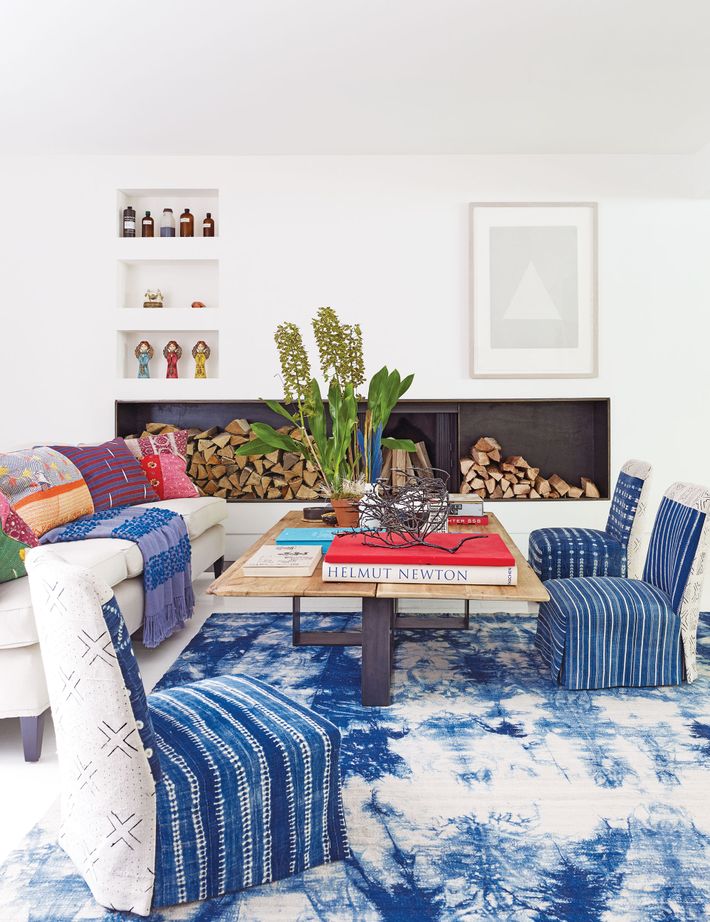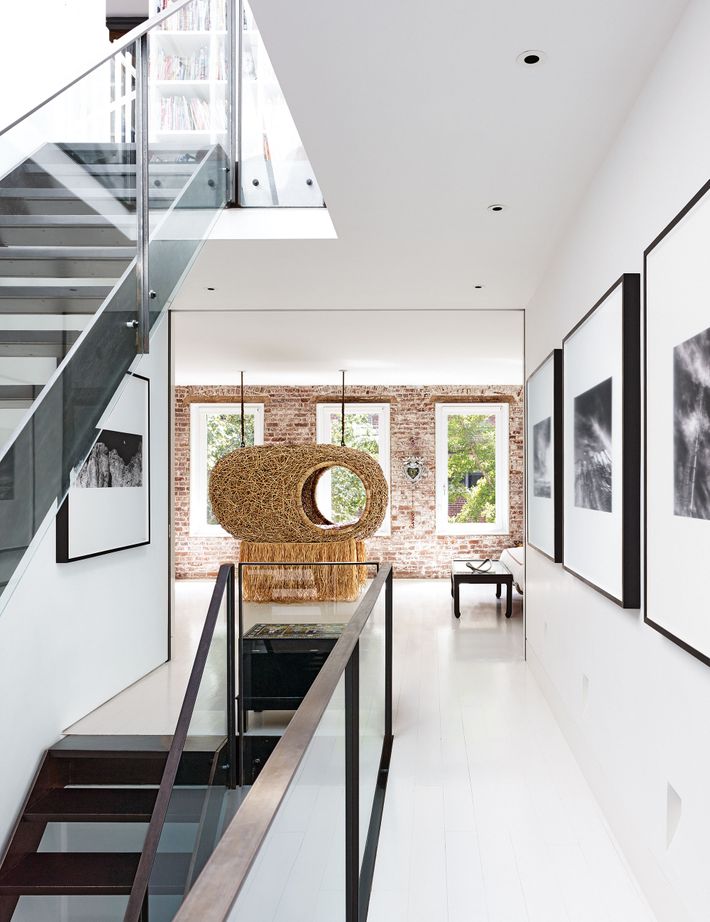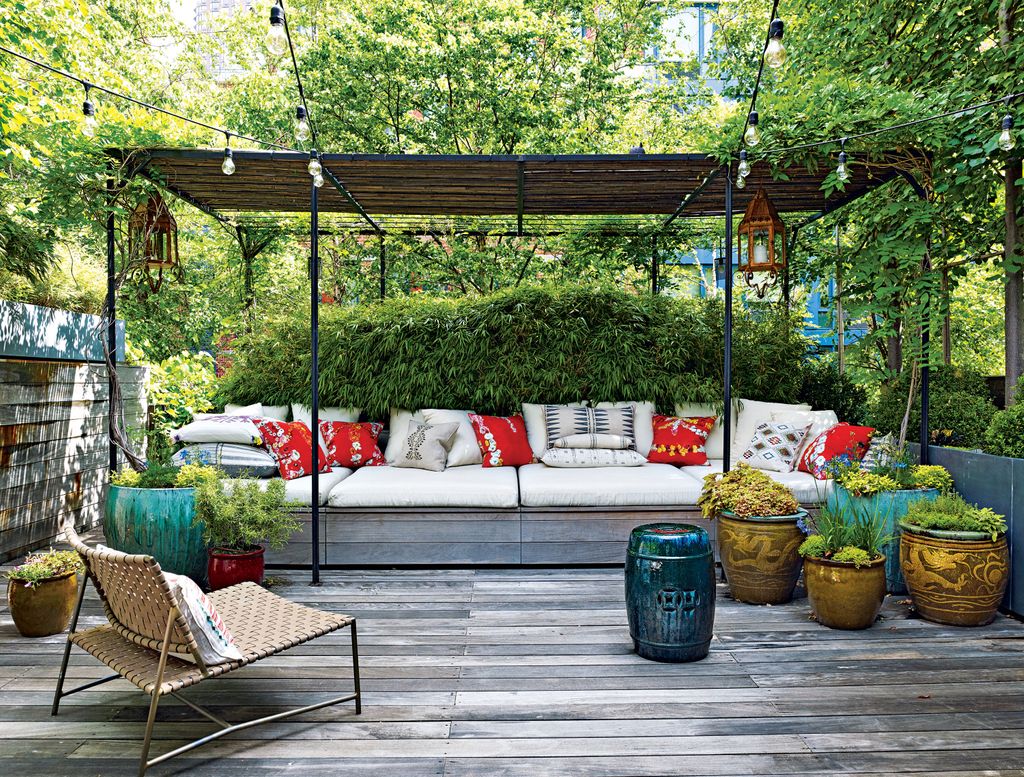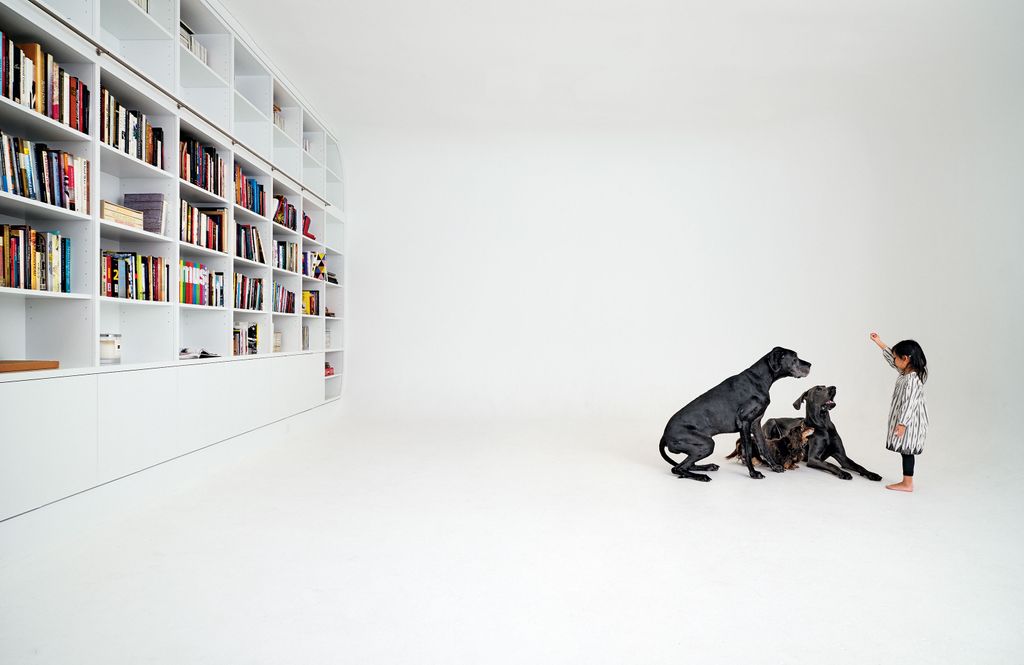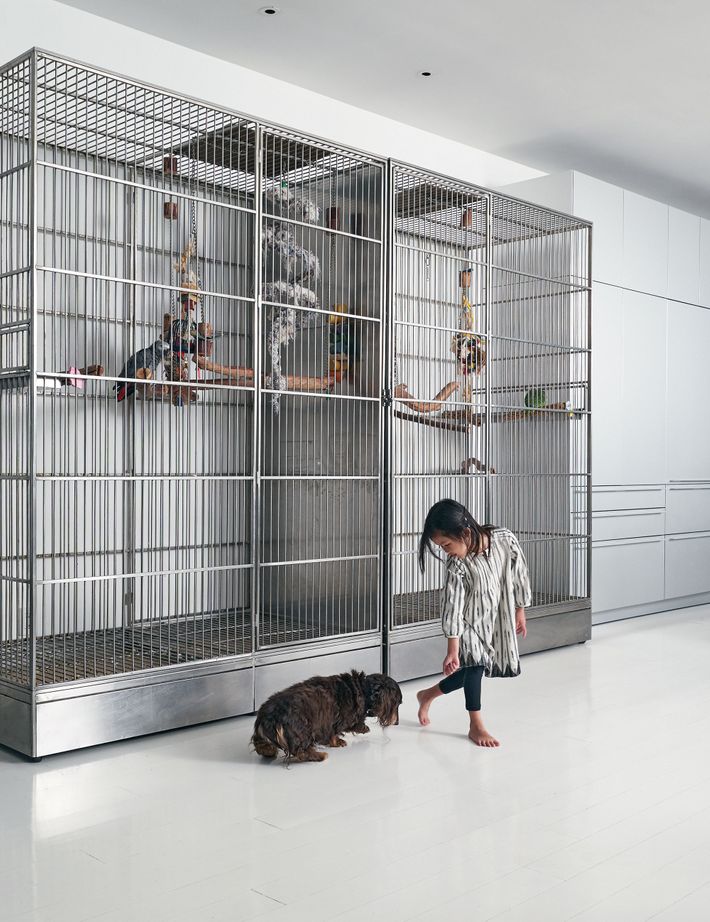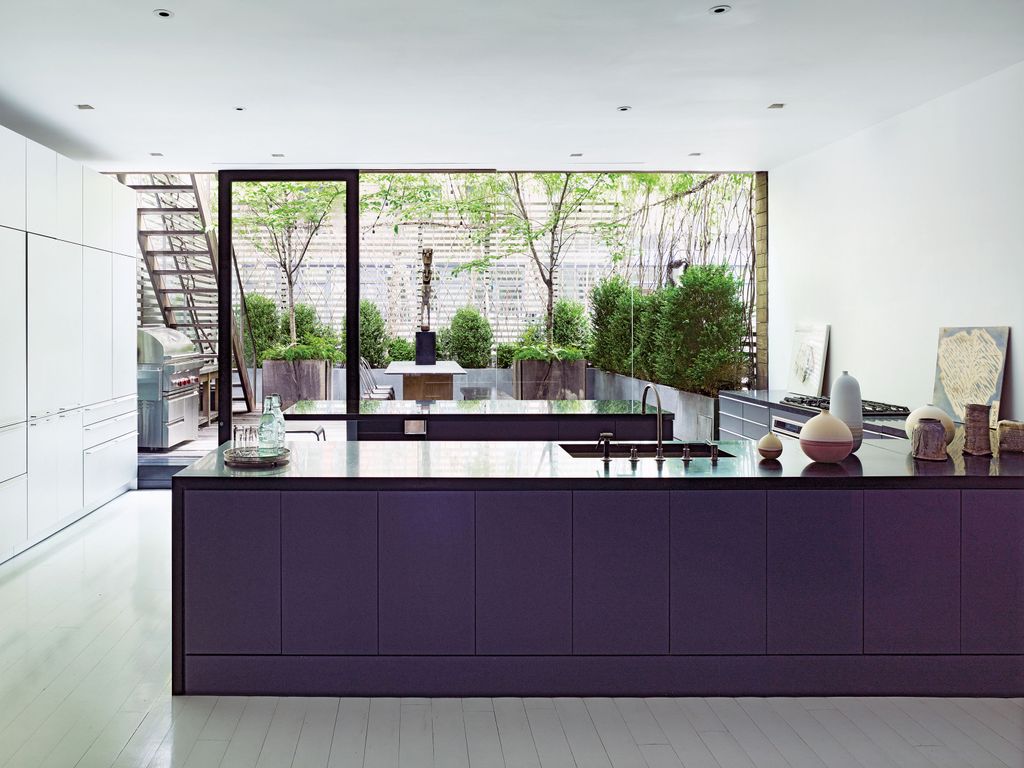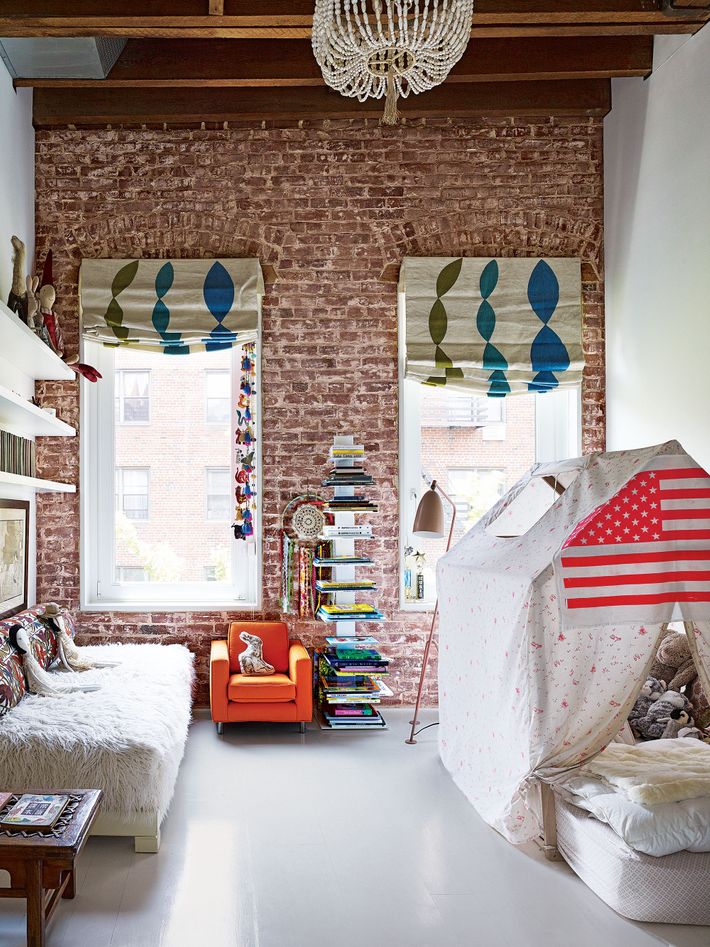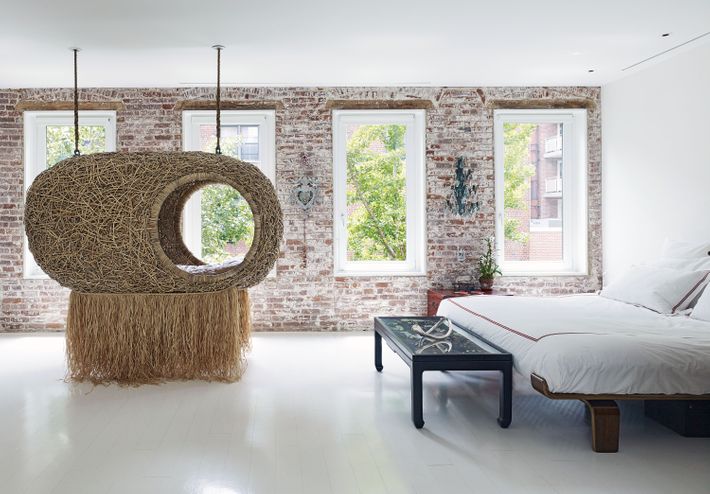 *This article appears in the Fall/Winter 2018 issue of New York Design Hunting.