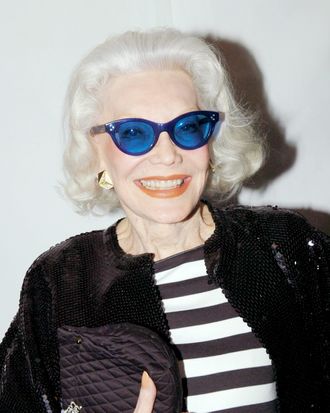 Slater in her trademark glasses.
Photo: Djamilla Rosa Cochran/WireImage
Anne Slater was a lady with a capital L, but Anne Slater was also a babe. In her signature blue glasses, she was more fun, spirited, and dazzling than anyone — a New York treasure.
Anne, who passed away in her sleep on Christmas Eve, reigned as one of the leading socialites of New York for decades. Her warmth and interest in people made her stand out above the glittering pack of her peers. She was not just the life of the party but often the host, and she knew how to throw parties that were never, ever "ho-hum" — as she described things that were not up to her standards.
I met Anne totally by chance while scouting for New York's now-defunct Vu, where we featured the most luxurious properties in the city that were up for sale. It was 2006, and I was looking at a 14-room Fifth Avenue apartment on the market for $17.7 million. The real-estate agent, Kathy Sloane, hadn't mentioned the owner of the apartment when we met in the lobby of Stanford White's 998 Fifth Avenue building, but when the legendary Anne Slater opened the door, I realized that this story had so much more potential than I could ever have imagined.
I asked Anne and her beloved partner of over 50 years, John Cahill, if they would help me bring the story to life, and they were both game. That's when the fun started. We talked at length about the parties that Anne and her late second husband, Denniston Slater, had hosted throughout the years. Did she have any photographs of any of the events? She smiled and said, "Oh, darling, there are boxes and boxes of photographs packed away in the basement." I asked if we could see them, and on my next visit, the floor of her living room was covered in boxes. We went through them for hours, unearthing one fantastic photograph after another. In the end, we chose a photo of Anne in a satin jumpsuit decorated with ostrich feathers below the knee, among many others.
Anne had even kept the masks that she and John had worn to the Save Venice Ball in 1967. She told me that her mask was designed by Cosmo Sirchio to work with her trademark blue glasses. A woman who truly understood style, she was never seen without them, or without her pear-shaped marquise-cut diamond as big as the Ritz.
Photographer Mark Heithoff and I took three days to shoot the story. The infinity-mirrored bathroom had a mirrored dressing table that once belonged to the 1938 debutante of the year, Brenda Frazier. Another bathroom had the original cane-encased toilet, as exposed fixtures were not seen back in the day when Stanford White designed the building in 1910. We came away with the gorgeous photos that you can see here.
The whole time, Anne regaled us with stories about guests like Ingrid Bergman, Cary Grant, Porfirio Rubirosa, Grace Kelly, and Fred Astaire. Singer Bing Crosby always stayed in the tented guest room and practiced his soft-shoe routines in the large gallery hallway. Back then, she said, "New York was a moving cocktail party." The party won't be the same without her.