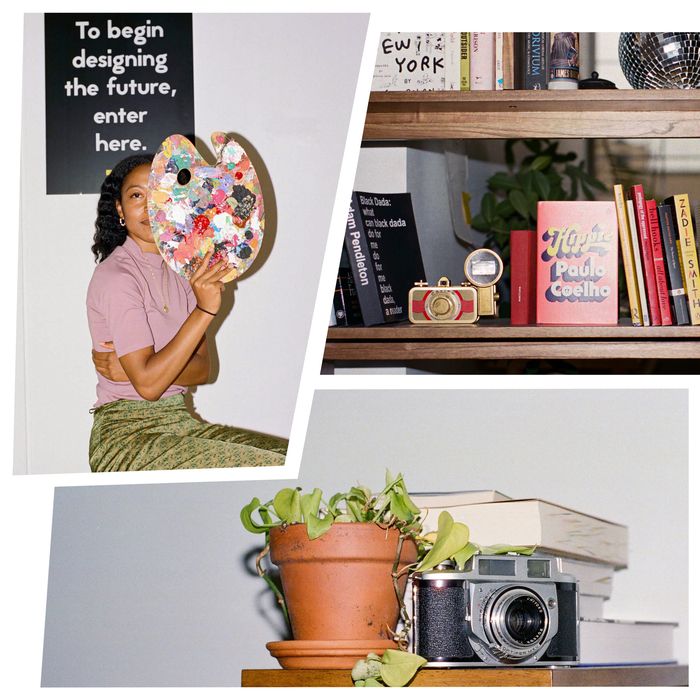 Quarantine has taught me that I don't need much as far as the external world," says Ari Melenciano, a multidisciplinary artist, theorist, and educator, from her home loft in Bed-Stuy. "I can really just live in this world that I've created and have a whole portal [to the world] with the Internet. I love New York City, but I don't need to be in a city. I don't really need to be anywhere, specifically. Just being inside of a space that I get to design feels good."
Melenciano is nonetheless an optimist. Or at least she has been working to imagine a better — more humane — future, and a way for us to get there. In 2017, she founded Afrotectopia, a "social institution" that's sometimes a school, sometimes a festival, sometimes a summer camp, and always focused on bringing people and ideas together to explore Black futurism in all its abundant possibilities. "Afrotectopia is so much about planting seeds," she says. "Let's create a space and see what people do with it; let's share information and see where people run with it. And people always do something much more amazing than I could ever have envisioned."
In the worlds of art and design, as in the world at large, many barriers — social, financial, and conceptual — have kept those fields, in the professional sense, very narrow. And very white. There are many more designers and artists of color who go unrecognized for their work or become discouraged by a system that doesn't seem interested in their contributions. Afrotectopia and Melenciano's work are about bringing more people and more ideas into the fold and making more intersections where exciting ideas and careers can flourish.
This summer, Afrotectopia hosted the Imaginarium, a free weekly public program featuring talks from artists — like Olalekan Jeyifous, Olivia McKayla Ross, and Ayodamola Okunseinde — on topics like inventing a radical Black technoculture and designing a remote-learning curriculum for underresourced communities. Afrotectopia also funded ten Imagineer fellowships for students to immerse themselves in a curriculum Melenciano designed.
"There's value in imagination," says Melenciano, 27. "Having the space to imagine among other Black people is inspiring."
Melenciano's ever-evolving artistic project began in earnest when she was a graduate student in NYU's Interactive Telecommunications Program (ITP). In 2018, the first Afrotectopia festival was spun off from a passion project she completed while she was a student, but the roots of this work go much further back. Born in Miami to parents who immigrated from the Dominican Republic, Melenciano moved to Prince George's County, Maryland — a D.C. suburb known for its thriving Black middle class — when she was in elementary school.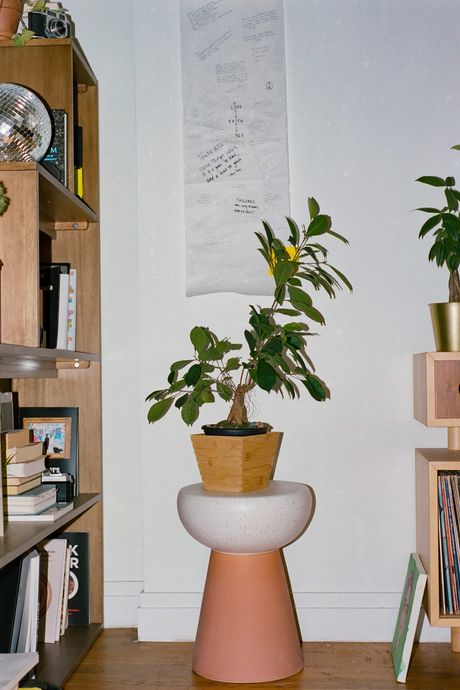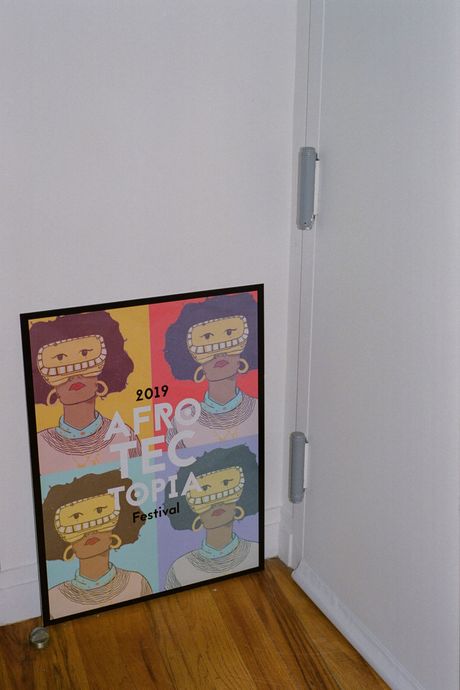 The first job she dreamed of having was as an architect. "I saw architecture as one of the main forms of art that engaged with people every single day, and I wanted to make the world more beautiful for everyone," she remembers. Meanwhile, one of her early heros was Steve Jobs: Her mother nicknamed her "Gadget Girl" because she carried a backpack full of electronics with her everywhere. After college at the University of Maryland, she wanted to create more immersive experiences with her work, so she went to NYU's ITP, which is known for nurturing innovators. It was a revelation in a couple of ways: First, having access to the tools and knowledge was exciting, but second, she saw barely any other Black students, faculty, or mentors. She wondered what it would be like if all her friends at home had access to this world and how that might impact their creative expression. Melenciano decided to solve the problem herself and create the community she wanted to be in. The theme of the inaugural Afrotectopia festival was imagining ways in which tech could be used to eradicate social disparities, and it brought together people with backgrounds in urban design, policy, law, education, and health care to conceive the possibilities.
Since then, Afrotectopia has expanded. Last year, it held its second festival and organized a summer camp for middle and high schoolers that taught the students coding and how to make things like interactive sound sculptures and data visualizations. Afrotectopia has also hosted talks and workshops on topics like creating an anti-racist technoculture and has developed interactive projects like Metamorphosis, an "audio-visual healing environment." Meanwhile, Melenciano teaches design courses at Pratt (on visual communications), NYU (on the design and history of nightclubs), and Hunter College (on the sounds of social revolutions) and is a prolific public speaker in the academic world. The first time I learned about her work was during the Harvard Graduate School of Design's 2019 Black in Design Conference, where she spoke about her vision of a nonhierarchical community of people building an inclusive future centered on Black empowerment.
"My life is probably going 150 bpm — it's just too fast," she says. "But I have no idea how to solve that because everything I'm doing feeds me so much."
Melenciano's private world, like her professional one, is about making space for creative expression and exploration. The loft she rents on the cusp of Bed-Stuy and South Williamsburg is a place where she hacks synthesizers, makes her own electronics, paints, DJs, sews, and, when time allows, just sits with a cup of tea and reads.
She gave us a tour.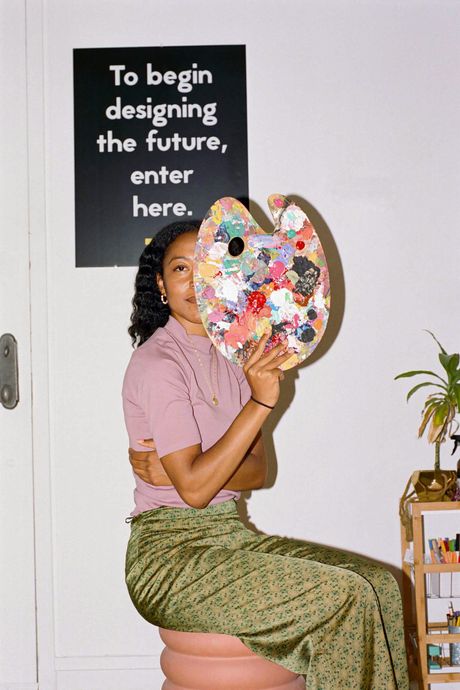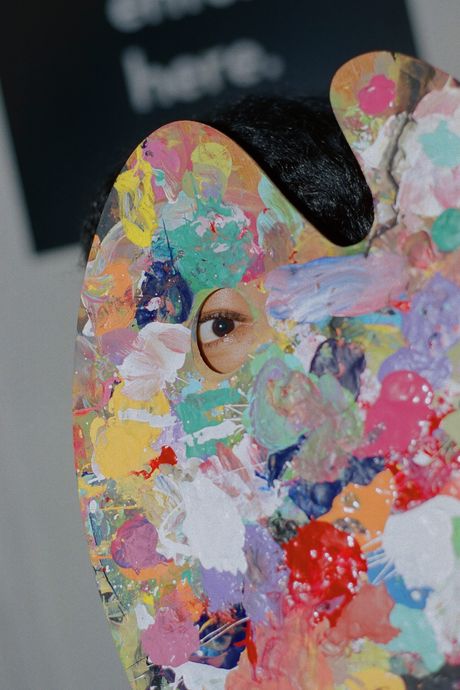 On getting "two out of three":
I've been living in this apartment for two years. When I saw it, it was like a dream. The open space was really nice, the windows, and all the light that comes in; it just felt perfect. Before this, I was living a few blocks away in Clinton Hill.
In New York, you get two out of three things: being close to a train station, so you can get anywhere; a nice place to live that's spacious; or a good location, like it's nice outside of your building. I feel like my apartment is two out of the three. It's not so nice outside of my building.
On "creating a space for creation":
I have so many projects everywhere. I can just bounce around to different things. All of my gadgets — they're basically my toys — are everywhere. I play around with my modular synthesizer, then I'm back to my computer coding, or I'm DJing.
During this quarantine time, I've loved it more than anyone that I've met or known. People ask me, How are you doing? And I'm like, I am great. I never have to leave my home. This is perfect.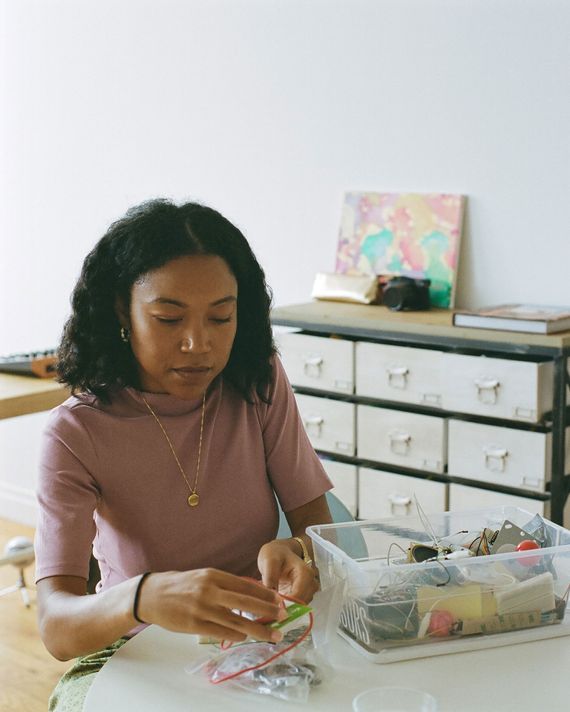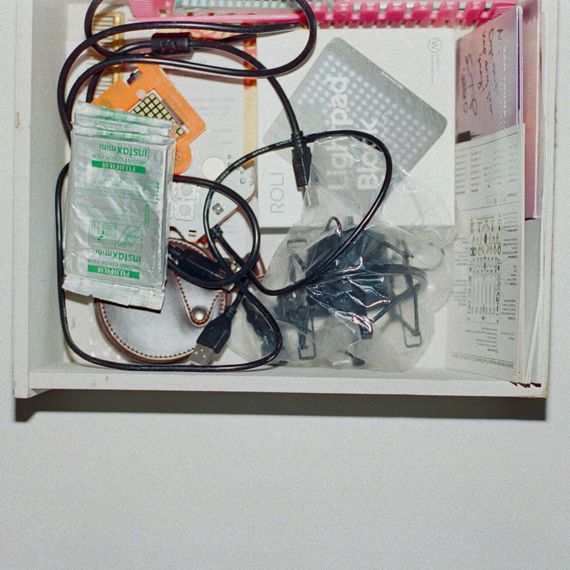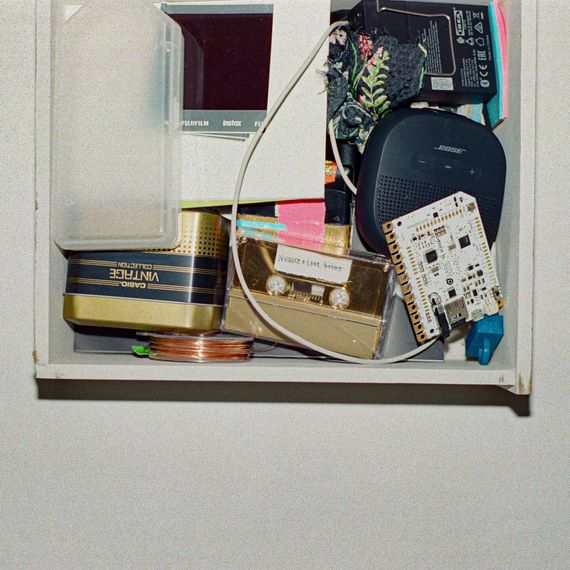 On her "robotics factory":
I love physical computing. It's like coding, but instead, you're creating with sensors and microcontrollers. It's basically robotics, and that allows me to make my machines. When I'm doing physical computing, it's usually in relation to sound. I'll make sound machines that allow people to compose music with an unusual UX. You might wave your hand over something and it will turn that motion into a sound [like a theremin].
One of the more finished pieces that I created was called Electro•Negro•Synesthesyo, where I was thinking about Black cultural artifacts that are often negatively stigmatized, but are very beautiful to me, and imagined their presence in the future. I was thinking about how I could use culture and sound to create this whole experience through physical computation. When you touched certain sections of the do-rag, bamboo earrings, hair rollers, and hair, they played beat loops of African drum-patterned music. When you changed the Afro picks within the aligned slot, they changed the visuals being projected onto a screen.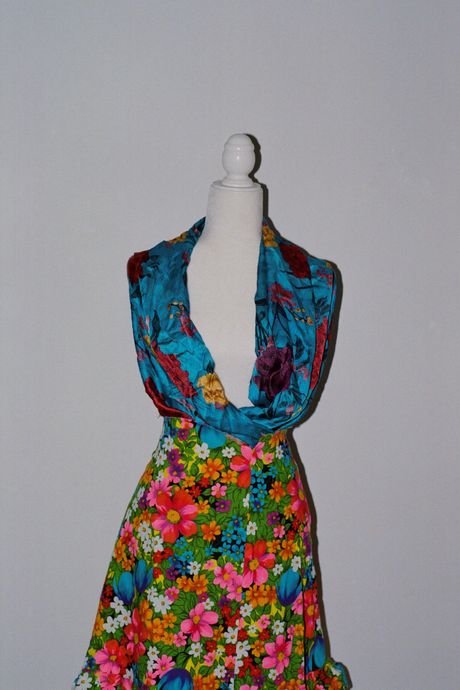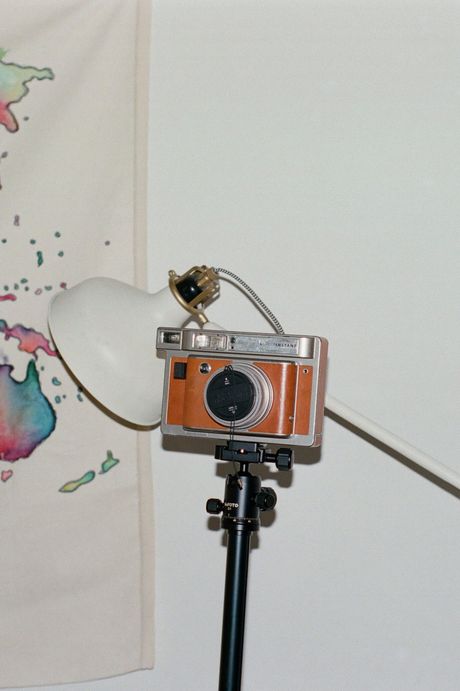 On a quarantine project:
I spent time in quarantine teaching myself how to sew and wanted to leave the quarantine lifestyle by only wearing clothes I've made and not buying any more from stores. I haven't gotten close to that goal yet. But this piece was an experiment with a few pieces of cloth I've had for a while. I love patterns.
On her DJ area:
For me, DJ-ing is really about getting into your groove and understanding yourself. After DJ-ing around the city, I discovered that I'm not very comfortable in spaces where I'm creating the hype or amping people up. It's much more about appreciating the sonic texture and relaxing.
I also have a modular synthesizer. For me, as a person who grew up loving gadgets and tech, it's the ultimate tech toy. Everything is so tactile. It's a Eurorack, so it's all about turning these knobs and patching cables to make sounds. A synth is set up for the music you want to create, and for me it's about rhythms and drum patterns.
On her library:
Collecting books is such an important thing to me, but it also can make me feel anxious, like, I have no idea how I'm going to get through all these books in my life.
My books make me so happy, and I'm so proud of my library. It's a reflection of the things I'm thinking about. I have Architecture in the Age of Radio [a book on Buckminster Fuller]; Adam Pendelton's Black Dada; Basquiat's Defacement. I love my copy of Hippie Modernism, by Andrew Blauvelt. Other favorites right now are Lo-TEK, on indigenous design, and African Fractals: Modern Computing and Indigenous Design. A lot of my library is related to sound, so I have books on psychedelic sound, the future of sound, and the history of rap. Then there's critical race theory, geopolitics, and technical kinds of things.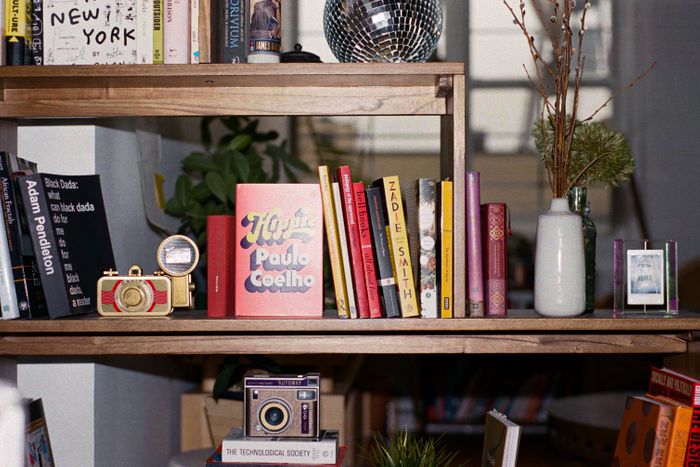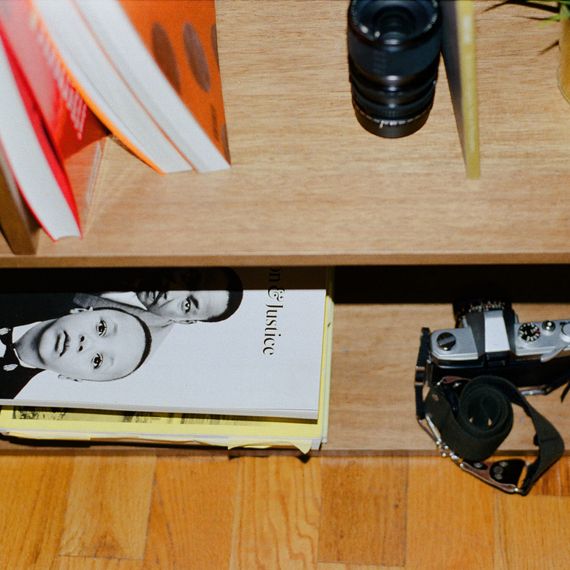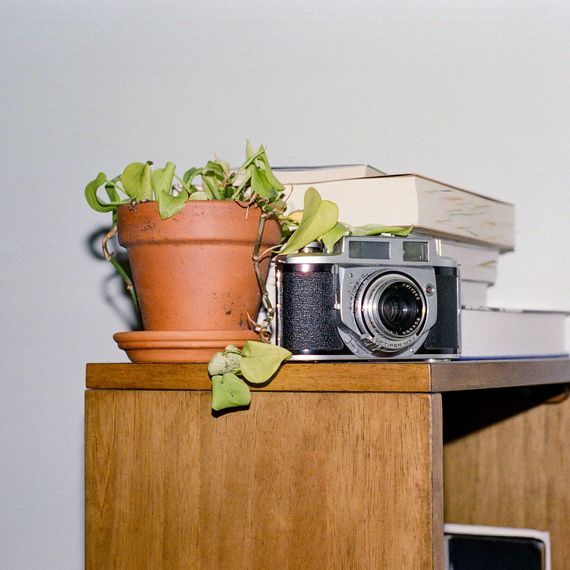 I'm often asked what books I'm reading, so I made a list that I could easily send to people. I treasure the books that I have, because they're on such fascinating topics, and I'm always excited for other people to be able to learn from them as well. I felt it would be helpful for people to be able to parse through the list if they knew the general nature of the books listed, so I added color-coded highlighting. And I have a bad habit of starting and not finishing a lot of different books, so it's personally a helpful reminder for me to see what books I need to return to and finish.
A reading list was important too for the Imaginarium. It allowed the fellows to build conversations through literature. We studied the work of prolific innovators in the fields we were exploring for that week, and every Sunday we engaged in conversation around what we read. It was an area of focus that the fellows could reflect on, learn from, and [use to] influence the work they developed.
On what would make her space better:
I wanted to put a disco ball right in the center of the living room, hanging from the ceiling. Something that allows you to recognize how tall the ceilings are. Living in a loft that's so open, I've been thinking about walls and making artificial walls out of yarn or something, just so you're able to pass through something so there's a bit of a mental shift. But I love how open it is; there's a lot of light that comes through, and it's really fueling and renewing.
On starting the day with a ritual:
A peaceful day is when I get to start it off by taking my tea to the couch and reading the Tao. I'm focused on improving myself as much as possible every single day. One of my favorite things about reading philosophy is it's so abstracted from reality, but it also generally gets to the root of reality enough where you can reflect on the things that are going on in your life and what's going on in the world but at a vantage point where you can step back and look at the fuller picture.
But with the school year starting, I don't get to read and sit on the couch much; I'm really just at my table in Zoom meetings. But on the weekend, a treat would be lying on the couch and looking at the clouds outside the window.