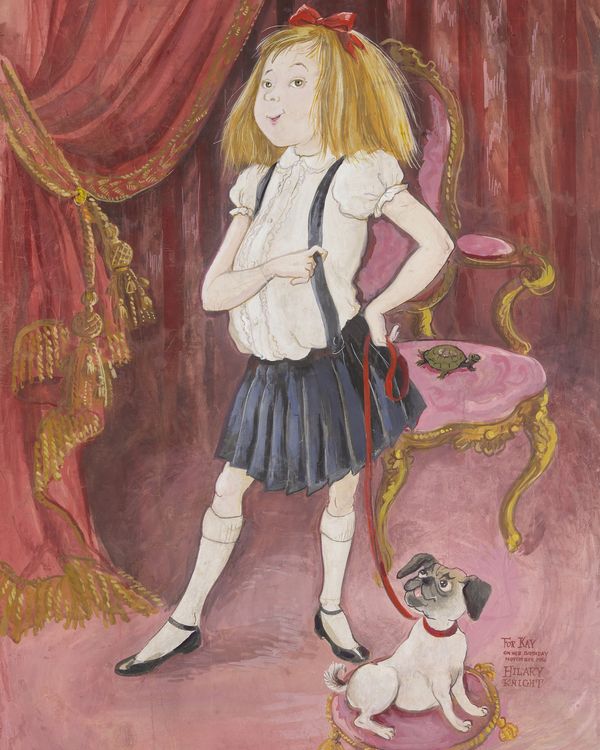 Hilary Knight's original Plaza Hotel portrait of Eloise.
Photo: Courtesy of Bonhams New York
Artist and author Hilary Knight has illustrated more than 70 books, eight of which he wrote, and many Broadway musical posters, but he is most famous for his drawings of Eloise, that precocious 6-year-old who lived at the Plaza hotel with her nanny; her dog, Weenie; and her turtle, Skipperdee. Knight envisaged Eloise as a glorious mess: She combed her flotsam hair with a fork, and, best of all, she had full run of the Plaza to do whatever she pleased. Eloise sprang from the imagination of the actor, singer, dancer, and author Kay Thompson, who also lived at the Plaza when she wrote the first of four Eloise books in the mid-1950s. Thompson and Knight's collaboration created a legendary character that thrives to this day. The upcoming sale of 63 lots of Knight's personal art and artifacts can be viewed on the Bonhams site. The auction takes place in New York on December 5, so we met with Knight to get the scoop on the painting of his fabled heroine and more.
The centerpiece of Knight's sale is his magnificent original painting of Eloise (above). "The first year, Eloise, published in November 1955, had a slow start," Knight says. "Conceived as an adult book, reviewers and the public did not know what to make of it, but a heavily illustrated Life magazine article brought a new wave of interest. After months of a runaway success, Kay had a call from CBS to do a Person to Person interview with Ed Murrow," Knight adds. "It was also an opportunity to give myself a bit of credit. It was her birthday, and as a present I created an enormous birthday card, a portrait of our creation, Eloise. In my mind, it was a parody of a Thomas Gainsborough painting, whipped out hastily in poster paint on cardboard. She was delighted, had it framed, and hung it in the bedroom of her Plaza suite just in time for the broadcast." It turned out that Jerry Lewis, much to Thompson's dismay, replaced Murrow. Then at some point after the interview, according to Knight, "the still-unsolved mystery begins." Kay loaned the painting to the hotel, where it hung near the Persian Room, until Kay called and said to me, "It's been stolen by drunken debutantes!" Walter Cronkite reported the theft on CBS in 1960. Knight made a replacement painting in 1964 that hangs in the Plaza today. The mystery continued when he received a call that someone had found it in the trash on the street minus its frame, rolled up in one piece, and gave it back to Knight. "For over 50 years it has resided in my apartment and in Long Island," says Knight. "In October of 2018, I did a total refreshment of my and Kay's child." There is speculation that Thompson orchestrated the alleged theft herself. "Oh, I am sure that's what happened," Knight says when asked, "because of things she said to me — and she was very savvy about how to get publicity."
"Andy [Warhol] and I both were active illustrators in the late 1940s and '50s," says Knight. "I had several charming visits with him during that period. Including a day when he took me to meet his mother and visit his studio where he showed me his current works, pulling out a huge canvas of a Campbell's soup can. I had just moved into my apartment, where I still live; I was full of my newfound fame and commissioned A.W. to do a watercolor drawing in the style of his current fancy. His delicious drawing was called Iced Lemon Delight. When he came to deliver it, he brought along a miniature version [seen here] that his mother had inscribed, "To Phoebie [sic] Knight from Andy Warhol's mother." It came with instructions that it be hung down near the floor for her to see." Phoebe was Knight's cat.
"I was always fascinated by the Sphinx," Knight says of his drawing. "The improbable always seemed like a good idea."
"The Sea Witch was one of the very few oil paintings I had done," Knight says. "The Plaza's Eloise portrait, another. It was a portrait of a Parsons student." Knight had trained to be a stage designer, working as an apprentice in summer stock at Ogunquit Playhouse in 1947. He went to the New York School of Interior Design and worked at Amster Yard in the decorating office of James Amster, doing interior-design renderings. Knight says that he was a great fan of American artist Eugene Berman (1899–1972) and that his work influenced his painting of The Sea Witch.
"When I met Kay in Paris to do Eloise in Paris, she had completed shooting Funny Face [the 1957 Stanley Donen film also starring Audrey Hepburn and Fred Astaire]. Kay knew everyone," Knight says, "particularly in the fashion world. She decided that Eloise needed a dress by Dior, and so with the help of her friends, we went to his workrooms where this plump little man, complete with his rapier-like bamboo cane, described to his tall assistant how the dress should look. The assistant, soon to take over the company as its chief designer, was Yves Saint Laurent. Dior himself handed me the drawing."
This illustration by Hilary Knight was done especially for Design Hunting and is not in the sale. We asked him to do this when he revealed the following in conversation: "Kay, when I first met her [in 1954], had many extremely successful careers. First as a singer [in the early '30s], then MGM, where she was their vocal arranger, working with top stars Judy Garland and Lena Horne. Then an astounding nightclub act that ended with our long collaboration creating the Eloise books. By the time I knew her, she had been trained to recognize what was of-the-moment stylish and what was considered chic. When she took up residence at the Plaza hotel, she bemoaned the fact that there was no fireplace, so typically she made her own, using cardboard cartons, pins, and not very expertly sliced-up zebra-printed linens. She did a similar 'upholstery' job on her grand piano, wishing it were beige. She cut up paper grocery bags and taped them all over its glossy black surface." And yes, lucky for us, Knight is working on an illustrated autobiography that will be out next year.