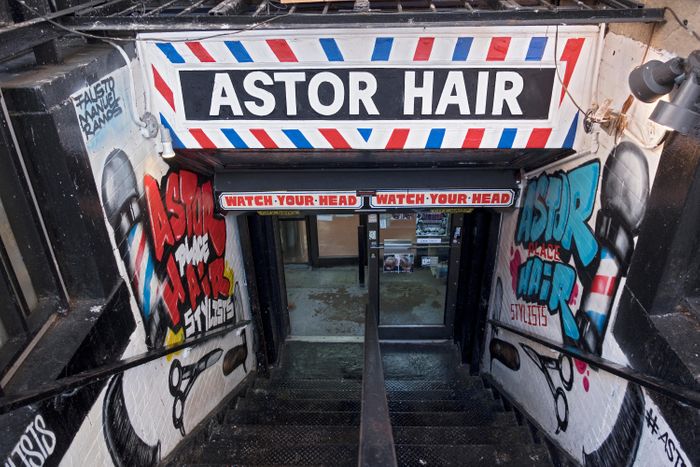 Photo: Ira Berger/Alamy Stock Photo
Here's our weekly roundup of the important — and unimportant — news you should know about from this week.
Astor Place Hairstylists, the 75-year-old spot where celebrities and ordinary New Yorkers alike got cuts, is the latest New York institution set to close owing to the pandemic. Since reopening in late June, the barbershop has suffered a plunge in business, going from 700 customers a day to fewer than 100.
A rat skeleton fell on a tenant in a Lower East Side apartment building after the ceiling crumbled. A rat skeleton. A RAT SKELETON. Enjoy your Halloween nightmares!
Even four-legged New Yorkers are flocking to the suburbs: A large deer took a Tuesday swim from the shores of Staten Island all the way over to Bayonne, New Jersey.
The EPA is barring recreational boaters from the fetid Gowanus Canal as the next phase of the waterway's Superfund cleanup begins.
Carroll Gardens has a "plastic bagman" who has been snagging plastic bags out of trees with his homemade "snatchelator" since 2018. His highest grab? A cool 29 and a half feet.
State Senator Brad Hoylman became the first elected official to openly oppose an upzoning of Soho and Noho. At a public hearing on Monday, he called the plan "the Amy Coney Barrett of rezoning proposals" because it's a mere 15 months from the end of Mayor Bill de Blasio's mayoral administration. Land-use Twitter was not amused.
In a rare bit of good news, on Wednesday, the city completed its $106 million cleanup of Pugsley Creek in the South Bronx ahead of schedule.
A TikTok star enraged New Yorkers this week with a bizarrely botched video about visiting the Brooklyn Bridge, in which — among other cringeworthy errors — she said it would take you to Washington Heights instead of Brooklyn Heights.
As the Lucerne-shelter residents' move to the Financial District has been delayed, NIMBY Upper West Side residents (and their lawyer) are still trying to find a way to push their homeless neighbors out of the neighborhood. This week, the group filed a motion to intervene in the lawsuit brought on by downtown residents that seeks to prevent them from moving into the Radisson Hotel on William Street.
It feels as though every block in New York has outdoor restaurants — or at least every block with a restaurant does. That's not the case for a restaurantless stretch of the Bowery that a ghost streetery is now haunting.
State Senator Mike Gianaris is looking to provide rent relief to NYCHA residents in Astoria who have been left without cooking gas since late September.
This weekend, the Brooklyn Children's Museum is welcoming kids back for the first time since March for a Halloween bash on the pineapplelike building's expansive rooftop.