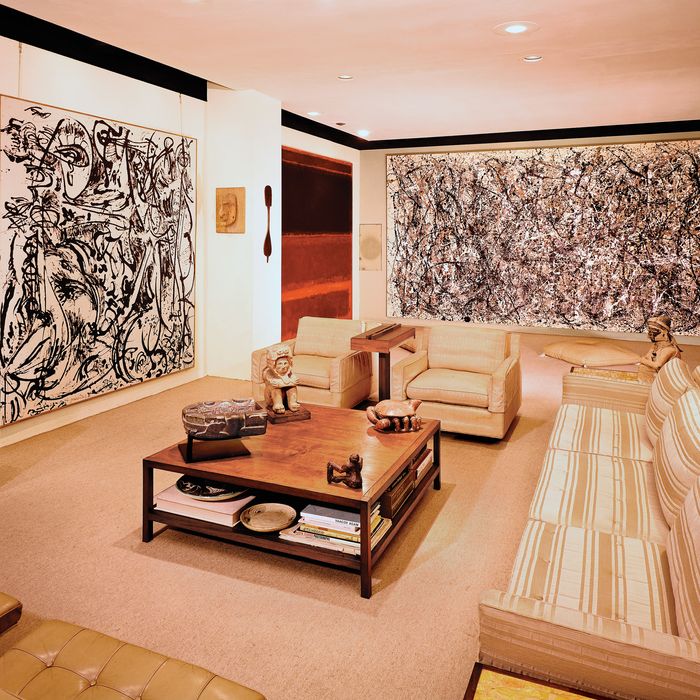 Ben Heller bought Jackson Pollock's
One, Number 31, 1950,
when he lived in an apartment with lower ceilings. When he and Pollock installed the painting, it was too tall for the room; Pollock shrugged and stapled the top few inches of the canvas to the ceiling. Mark Rothko's
Four Darks in Red,
from 1958, is at the Whitney. Pollock's
Echo (Number 25, 1951)
went to MoMA in 1969. Heller's small, fine collection of pre-Columbian American, African, and ancient sculpture complemented the paintings.
Photo: Courtesy of Ben Heller
If you had Ben Heller's eye, you'd have picked 50 straight Derby winners, or signed 100 future Hall of Fame ballplayers when they were 17. "When I think of my old apartment on the Upper West Side," says the tall, spry Heller, who is 91, "even I'm shocked." In the mid-1950s, the talent he was spotting was Abstract Expressionist, and the art he amassed and later sold would be worth about a billion dollars today.
In this living room at 151 Central Park West — where Heller lived from 1959 to around 1975 he had three Jackson Pollocks and one Barnett Newman. In the dining room was a Giacometti sculpture, a Kline, and a Johns. Also hanging around were works by Willem de Kooning, Arshile Gorky, Philip Guston, Robert Motherwell, Adolph Gottlieb, Mark Rothko, and Clyfford Still.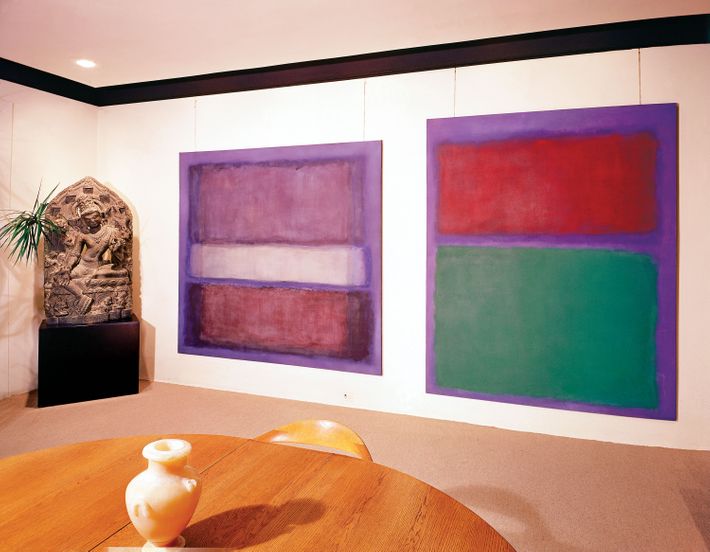 How did a young textile executive have such an incredible eye? In 1949, 24 and newly married, Heller was living at Riverside Drive and 100th Street. Intent on owning a major work, he bought a Georges Braque still life, and then other safe bets by artists he had seen at MoMA and the Met. But he was scared to buy the more experimental American work he was emotionally drawn to. "The eye is a rare thing," he says, "but it came on my own with careful study, like a yeshiva boy."
Then he met Pollock, around 1953, on a weekend in East Hampton, and the two men clicked. Heller visited his studio and was taken with an unnamed painting (later known as One, Number 31, 1950) and another that Pollock called Echo. The former was priced high, at $8,000, and he backed out until Pollock let him pay in installments. Because he liked Heller, Pollock threw in another painting, the black enamel No. 6, 1952. Advised that he could also get Echo, Heller bought that one, too, for another $3,500. Heller says when One was delivered on a roll, he and Pollock "unlawfully placed it on the top of the elevator and schlepped it in." It turned out to be too tall for the room; Pollock laughed, shrugged, and had Heller hold the ladder as he stapled the top few inches of canvas to the ceiling. At Pollock's death in 1956, Lee Krasner said her loner husband considered Heller his closest friend.
After meeting Mark Rothko, Heller bought a painting called Yellow Greens at the Betty Parsons Gallery for $1,350, and a friendship grew there, too. In 1955, Heller offered to buy four paintings a year from Rothko so the artist could stop teaching. It was Rothko who nicknamed that first Riverside Drive apartment "the Frick of the West Side," and the label stuck when the couple moved to this place on Central Park West. Heller's wife died in 1970, and when he remarried in 1971, to Patricia Sedgwick, she moved her three children in to join his three. One of them is Kyra Sedgwick, placing Pollock three degrees from Kevin Bacon.
He let his collection go gradually. In 1968, MoMA bought One for $350,000. In 1973, Blue Poles went to the National Gallery of Australia, Canberra, for $2 million, rocking the art world. "It was my sale that woke everyone up to what these paintings were worth on the market," Heller says now. In 1983, a 1958 Rothko — one of seven from Heller's collection — sold for $1,815,000, then the highest auction price ever paid for a postwar painting.
Today, Heller lives on the East Side, with newer art that he loves plus one early de Kooning that he kept. "There is no way in the world that you can say a painting is worth what some paintings are fetching today," he says. "But whatever I do or don't do, Jackson Pollock will be there. Rothko will be there. Newman will be there.
Kline will be there. The experience I had! To know these fellows and have lived with paintings that will be known into the 22nd century — how do you put a price on that?"
*This article appears in the Fall/Winter 2018 issue of New York Design Hunting.