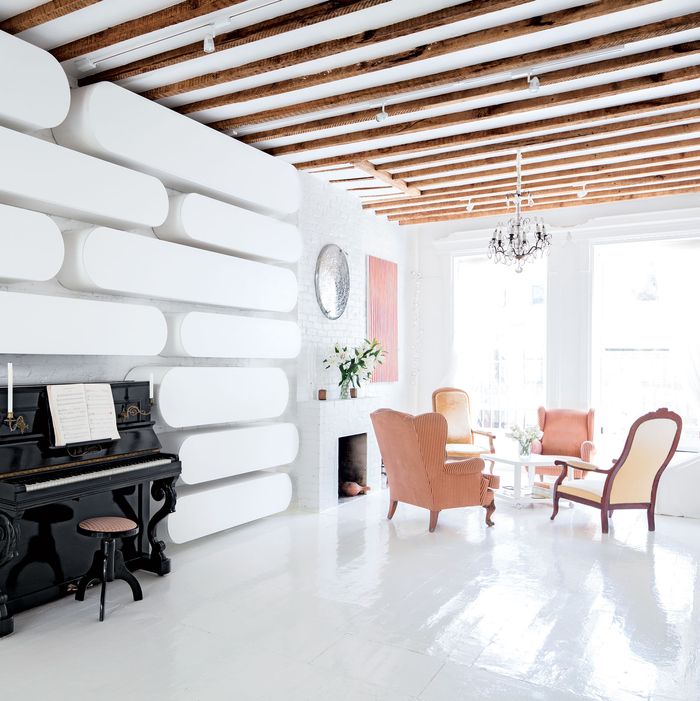 The oval bookshelf pods were designed by
Virginie Sommet
. The covers are painted wood and lift off. Sommet and her sister learned to play on this piano as children in Normandy. The fireplaces were relined and now work. The floors were finished in high-gloss epoxy. (Yes, they require a lot of cleaning.) The living-room chairs belonged to Sommet's grandparents, and she found the chandelier on
eBay
.
Photo: Floto+Warner
"The garden was used as a garbage dump, filled with cement, glass, toys, wood," Virginie Sommet says. "It took 85 garbage bags to clean it out." That was in 2012, when she and her partner, Christian Frederick, bought this 1888 Queen Anne house in Bedford-Stuyvesant. It took a solid year of eight-hour days, five days a week, to finish the project, which required a whole lot of love and refinement — Sommet and Frederick are both artists, and she has her own design firm — but also a lot of lifting and loading.
Why was she not intimidated by that? Possibly because, when she was growing up in rural Normandy, she worked on her first renovation when she was 8 years old. "Our father gave us an outbuilding to transform," Sommet remembers. "It became our playroom. It was exciting. We were working long hours to make it look good and then invite our friends over." She and her sister were routinely given roles as their parents repaired antique furniture, restored churches, built stone walls. All that gave Sommet a foundation on which to build and realize her fantastical design dreams. Having taught ballet for many years, she's also strong enough to haul heavy trash bags.
Quite a few of the furnishings come from her family's house in France, like the comfy wingback chair and the upright piano in the open living room. But nobody looking at this house will be surprised to learn that Sommet had the only modern room in her parent's home. The most eye-catching part of her design is probably the white oval pods that line the living room. They're custom-built modular bookshelves, and although they look space-age, they are actually rather low-tech and tactile. They're painted wood rather than metal, and the lids simply lift off to reveal the books within. "You want to live with your books because you love them so much," Sommet says, "but sometimes they are just too much, visually. Also, bookshelves are always the same flat piece of wood — boring!"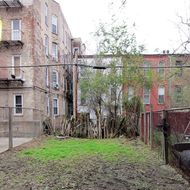 Out back, the junkyard is gone, replaced by a natural-stone pond, two waterfalls, and enough vegetation to make the area feel like a little forest. The couple keeps a shared studio on the basement level of the house, and when they're not at work they cook and entertain in the open living-kitchen-dining room on the parlor floor. More oval pods, turned on end, became kitchen cabinets, with a miniature round pod at the bottom tip of each. "As a visual artist I already did a series of exclamation-point installations, so I decided to do my kitchen cabinets the same way. So every morning you have to smile with your coffee!"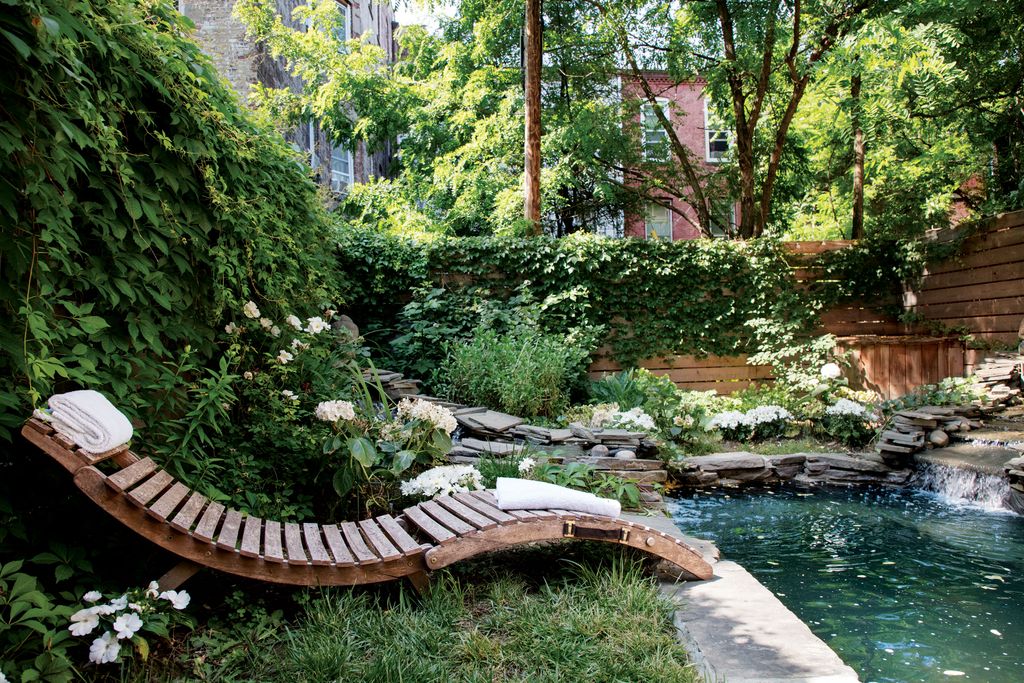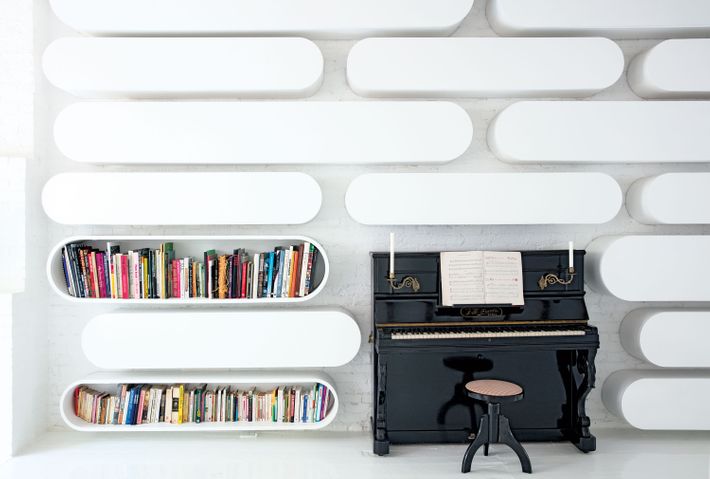 *This article appears in the Fall/Winter 2018 issue of New York Design Hunting.