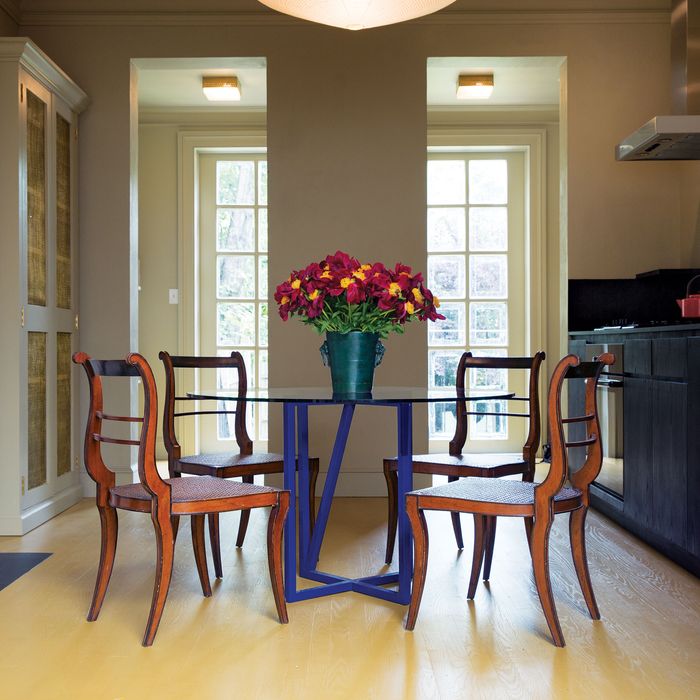 All cabinetry, including the pantry hutches, was custom-made by
Brian Ackley
. The French doors to the garden in back came from a salvage yard. Firebrick in a herringbone pattern lines the firebox; the hearth is a slate slab. The chairs are 1920s reproductions of
Regency
designs, found at a St. Louis auction. The table base is from a collection Cotton designed.
Photo: Tina Tyrell
Is this a new house? It's hard to say. When the designer Billy Cotton signed on to help his friends Tina Tyrell and Ethan Pomerance with the renovation of their newly purchased Brooklyn brownstone, he figured he'd advise the couple on the interior design, make some suggestions about the structure, and be done with it. Pomerance himself is an architect at ChoShields Studio, so the underlying renovation would be his. But then it turned out that the house was your classic money pit, gravely structurally unsound and exorbitantly expensive to salvage. "The whole house was taken down — you can't even say to the studs, because the whole thing had to be reframed," Cotton says. Of the four-story home, only the original front and rear façades and a few interior structures remain intact.
But of course the couple didn't want a new building, or they would have bought one. "They fell in love with the original house — so how do you do a creative renovation and still imbue the house with some life, some age?" says Cotton. Effectively, much of the 19th-century building was re-created behind those two masonry walls. He salvaged pieces of the original moldings and had Dykes Lumber copy them, and the team hewed closely to the house's original floor plan. ("The brownstone is a very well-thought-out design. There's a reason it was repeated thousands of times," Cotton says. "We weren't thinking we were going to do better than the architect did 120 years ago.") And where original materials were simply gone, Cotton got creative, investing in plaster crown molding on the main floor — "It immediately gave it a gravitas that had not existed before" — and tiling the entryway in a black- and off-white-stone checkerboard. Gestures like that make reference to period styles but also signal that the materials are new.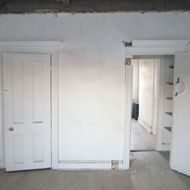 The reconstruction meant that flexibility was available in a few spots where they wanted it. The closetlike kitchen and formal dining room became one open-plan space. Cotton hid the most identifiably kitchen-y elements, like appliances, behind custom-made cabinetry. Hutches that take their cues from English larders provide pantry space and hide a radiator. "The dining table can become an island. Unless you have the luxury of space where you can carve out a whole room devoted to just cooking, the idea was to make it feel more subtle, a bit more broken up," he observes.
"By the time the renovation had finished, there was not much money left for decoration, so we had to get very creative," recalls Cotton. That meant scouring auctions and using his own reserves of textiles for the couple's son's bedroom wall. For all the stress of rebuilding an entire home ("Every single detail was a struggle"), the renovation only strengthened Cotton and Tyrell and Pomerance's relationship. "Our friendship was the easiest part. We banded together through it. It was really all hands on deck."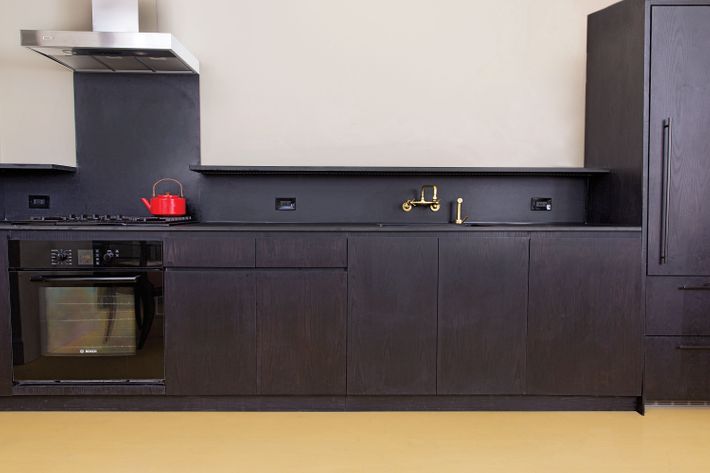 *This article appears in the Fall/Winter 2018 issue of New York Design Hunting.