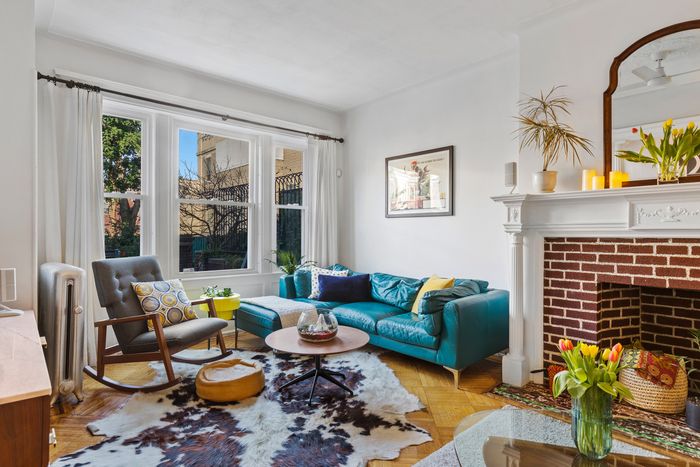 In perusing listings, we've spotted quite a few potentially Truly Terrific–worthy townhouses, from an updated Tudor-style home on Pomander Walk to a Park Slope house with its own free library. Our favorite, though, was this brick townhouse in Flatbush (half a mile from Prospect Park) on a quiet cul-de-sac called Martense Court. Though it's situated only 300 feet from Flatbush Avenue, the 14 brick homes on the cul-de-sac feel entirely secluded. They were built between 1915 and 1916 by Charles Goell, an early-20th-century developer, are all 18 or 20 feet wide and 55 feet long, and had garages (most of which have since been taken down) and Flemish rooflines. No. 14 sits at the very end, right next to a plaque engraved with the street's name.
Currently owned by two graphic designers who bought the place in 2017, the prewar house has interior columns and an exposed-brick mantel in the living room (the gas fireplace still has a hookup), exposed beams in the dining room, stained-glass windows, parquet floors throughout, and a couple of ceiling medallions upstairs. The upstairs bathroom was recently renovated and now has slim built-in shelves, white chevron and penny tiles, domed pendant lights, and a new skylight (a second skylight in the hallway was also replaced). Minimal white ceiling fans from YLighting were installed in two of the bedrooms; a built-in open wardrobe was added to the master.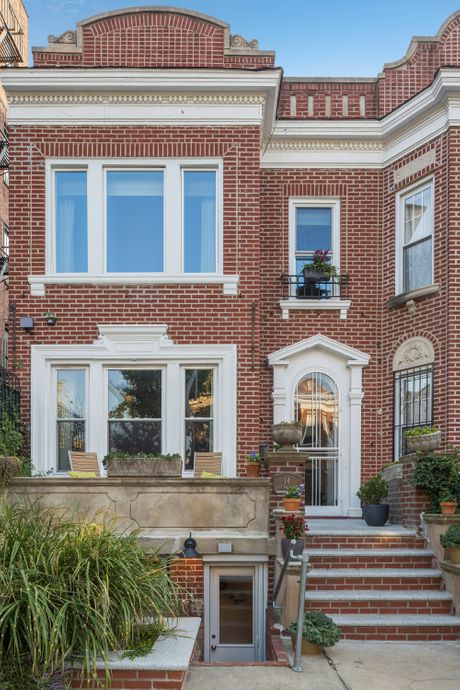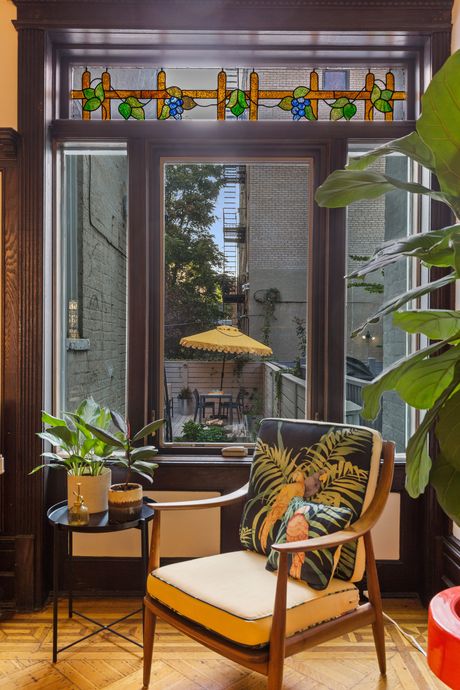 There's also an overhauled, unusually well-equipped basement, which comes with a windowed bedroom, full bathroom, a kitchen more spacious than many apartments, some white brick walls, and doors that lead out to both the front and backyard.
Speaking of which: "When we moved in, there was a falling-down wood fence on one side of the backyard and a chain-link fence on the other," the owners say. "There was also this concrete porch with a corrugated plastic roof." All of that has since been redone, with new fencing on three sides (and a wall of tall bamboo trees on the fourth) and new decking off the kitchen and farther into the yard. There's also another outdoor space up by the front entrance: a small terrace overlooking flowers and shrubs.
"Everyone on the Court has everyone else's phone numbers, helps one another move furniture, lends each other ingredients for dinner," say the owners. "The garden at the end of the street is tended to by two of our neighbors, but we all pitch in with pruning and watering."