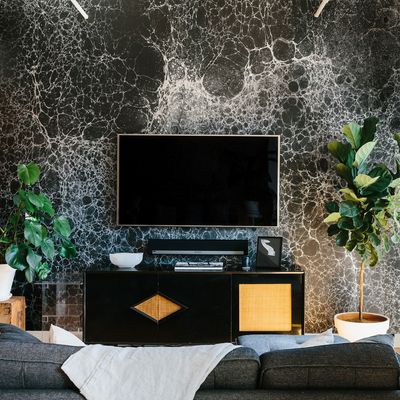 The Lunaris print, seen in the Cope's home in Red Hook.
Photo: Brian W. Ferry
Up until 2012, Nick Cope ran an architectural design firm. Rachel, his wife, worked in inpatient psychiatry and art therapy at NYU Hospital. Then, around this time five years ago, Hurricane Sandy hit. Nick's contracts were put on hiatus, and NYU Hospital had to shut down, leaving Rachel with six months of paid leave. In that downtime, rather than bingeing The Sopranos or sitting on a beach somewhere, the Red Hook duo started … marbling paper. They printed out some wallpaper samples, rented a booth at the Architectural Digest fair, and launched their line, Calico. By the following November, Vogue had called their designs "modern heirlooms," and told readers to start collecting Calico. Next month, they're introducing Cope, a new line of textiles featuring the same marbled (or ombré, or topographical, or Rothko-esque) prints that won fandom for their wallpaper.
Of all the hobbies to pick up during a weather-imposed sabbatical, printing wallpaper sounds more than a little out of left field. But Rachel studied fine art at RISD, and grew up hanging around her mother's studio in Martha's Vineyard, watching her paint pieces of cotton fabric and make quilts and art. And Nick, while installing wallpaper in some of his projects, started to notice a slow uptick in new designs. Flavor Paper was making Warhol-ian wallpaper, and Farrow & Ball, the old guard, had started updating their inventory. The Copes's designs mix brushstrokes with scientific-looking motifs. One collection is based off satellite imagery from NASA; another evokes the color clouds seen in aura photography. It's not so much wallpaper as it is abstract art that you can glue to your walls.
For that reason, some of Calico's customers haven't done full apartment installations. "People will do a powder room to create a small jewel box or small accent wall, to get that transportative feeling," Nick says. "Some people just order a very large panel, and frame it," Rachel adds. (Their friends at Uhuru design did that.) And the new line of pillows or curtains make their handiwork even more accessible to a larger amount of people. That's where they're starting with Cope: with pillows and yardage, and, soon after, curtains. Then come scarves, napkins, place mats, and, eventually, rug design.