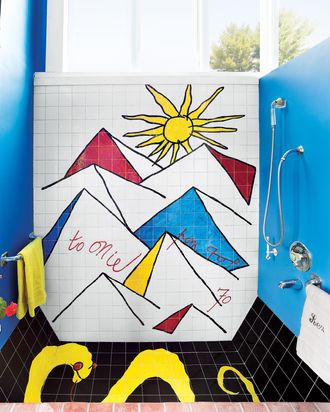 1. This one-of-a-kind art installation that's also a tile shower is in a house in Roxbury, Connecticut. "Onie," to whom it's inscribed, was the late interior designer and arts patron Léonie Parsons, who lived here with her husband.
2. Most of the artist's friends called him Sandy, but he signed this piece with another, less-well-known nickname, "Pop."
3. The sculptor in question was a neighbor who also made a few other objects for Parsons, including a whimsical tin light fixture that looks a little like an origami parachute.
4. The current owner says that a London museum offered him $1 million for the shower. (He declined.)
Answer: Alexander Calder was the neighbor, and was known to stop by the Parsons house for a cocktail regularly (because his wife, a teetotaler, kept a dry home). The current owner is Rex Reed, who bought the house in the early 1970s. Why didn't he take the museum's offer? "I didn't want to mess up my bathroom."
*This article appears in the Winter 2017 issue of New York Design Hunting.