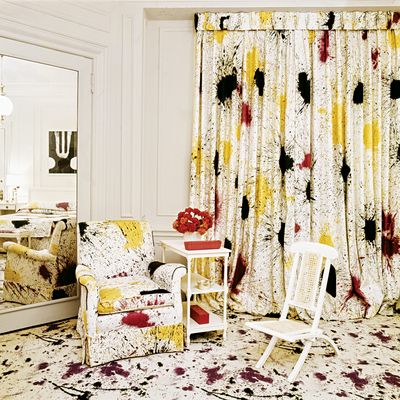 After Cecil Beaton checked into a hotel room, it never looked the same.
Photo: David Massey/CondÈ Nast
Cecil Beaton hated hotel rooms — at least, as they looked when he checked in. But by the very nature of his work, the great interior designer, costumer, photographer, and artist spent a lot of time away from his home in England, and that meant staying in hotels, especially in New York. So, of course, he did what any self-respecting world-class aesthete would: change everything.
In his early years, he'd merely accessorize his room with (as Andrew Ginger explains in his new book, Cecil Beaton at Home) trunkloads of baubles, hauled from England and kept in storage in New York between hotel stays. A bowl of Christmas ornaments might occupy a table, regardless of season, if it pleased him; lamps might get wrapped top to bottom in red fringe, and be set alongside a small tasteful Picasso. Once he was done, the room would regularly become an impromptu photo studio, with those lamps rearranged to provide artful naturalistic lighting.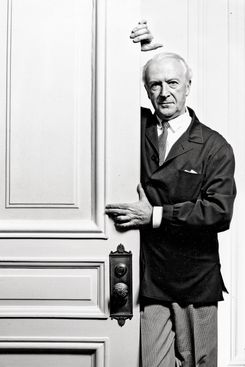 Beginning in 1945, though, these ad hoc redecorations got stepped up, and he turned pro. The Plaza Hotel's new public-relations director — an honest-to-God prince, Serge Obolensky, who was trying to perk up the aging property — asked Beaton to redecorate a room completely. (He was paid for his work with a deep discount at the hotel and its restaurant and bar.) He raided the Plaza's storehouse of antique furniture for its best pieces, added bright strong textiles and a great big Léger painting, and instantly turned Suite 249–251 into a destination.
It was the beginning of a great run. In 1949, Obolensky moved to the Sherry-Netherland and invited Beaton to try his hand again, this time in a duplex suite. There the result was even more dramatic: black doorframes, heightened color downstairs, monochrome upstairs in the bedroom. Then came rooms at the Ambassador (now gone, it was on Park Avenue at 51st Street), the Drake (at Park and 56th), and finally the St. Regis in 1966. Every one topped the last; the St. Regis room, especially, looks years ahead of its time, covered in bursts of yellow and purple that still seem avant-garde.
None of these rooms was meant to be permanent, and none was preserved. "The most they ever lasted was five or six years," says Ginger, "and [the work] wasn't treated with any sense of respect in that way. When fashion changed or the hotel changed hands, they were dismantled." (Beaton, for his part, spoke about them as designs that were casually put together, and in fact each was done in a couple of months or so.) But, after all, Beaton's motivation was partly to provide himself with somewhere to stay, and once he moved on, the room's reason for being went with him. "It mattered so much to him that he lived in an environment that he created," Ginger says. "He seemed to live in the moment that way."
1966
The St. Regis (top photo)
Beaton felt the need for each hotel-room project to outdo the last. This suite on the 18th floor of the St. Regis was his final one, and his most outrageous: These spatter-paint draperies and rugs share a room with other, relatively conventional window treatments in tangerine velvet. "If I were younger," wrote Beaton, "I'd go whole-hog hippy."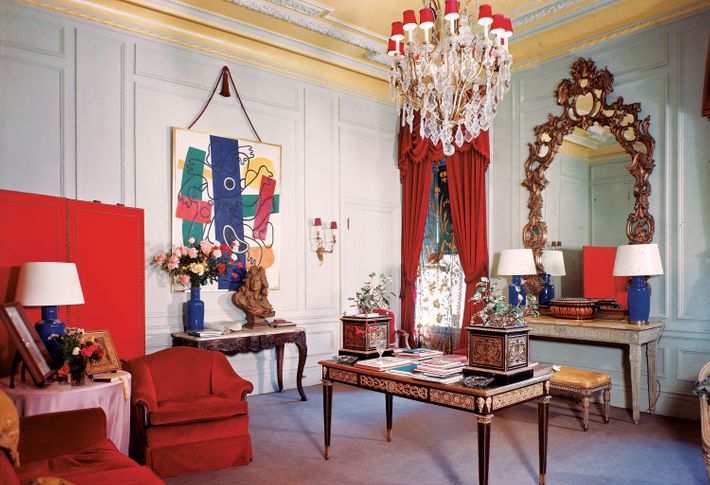 1945
The Plaza
The painting is Fernand Léger's Divers, Blue and Black, now owned by the Metropolitan Museum of Art. The strong colors in the screen and curtains, said Beaton, were inspired by a visit to Pablo Picasso's drawing room.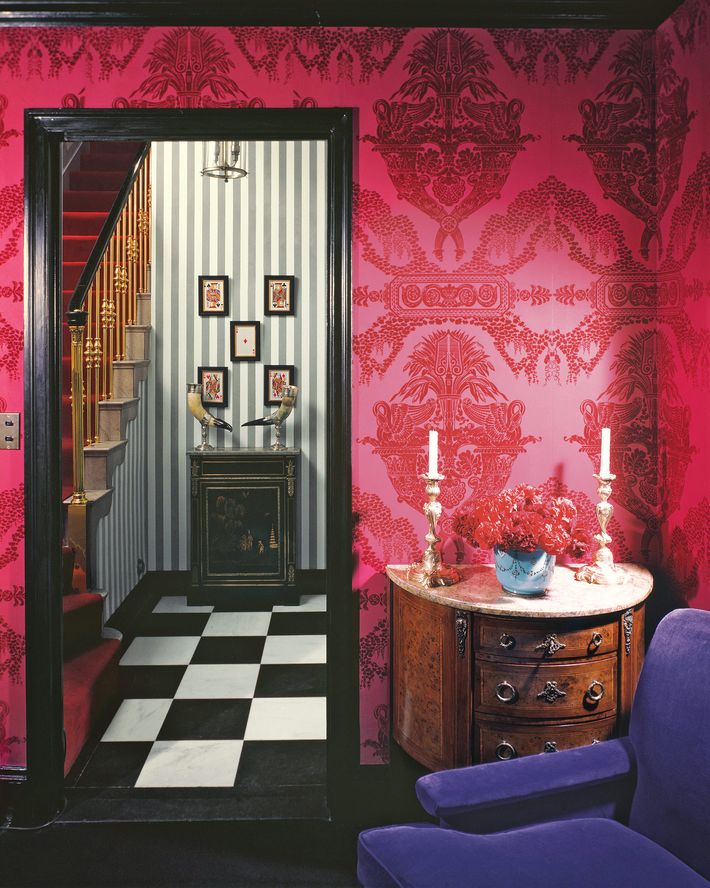 1949
The Sherry-Netherland
Greta Garbo posed for one of Beaton's portraits in the sitting room, seen here. The little paintings in the foyer are all red playing cards; Beaton dealt his guests a royal flush.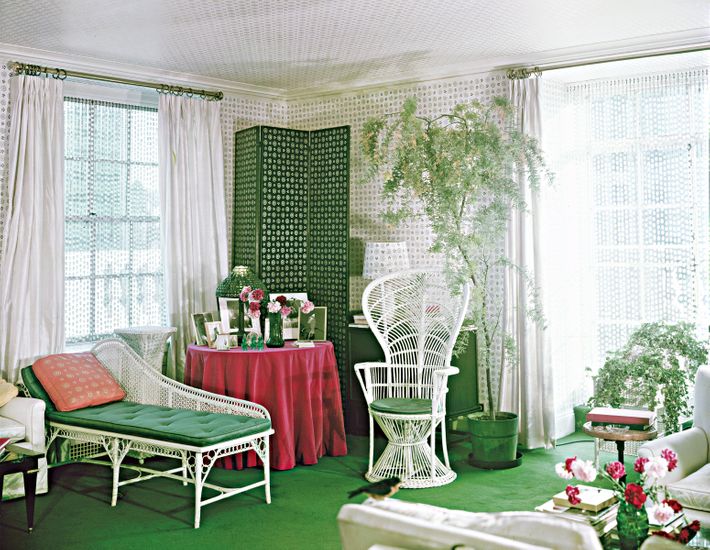 1954
The Ambassador
The Art Nouveau wicker furniture came from a closed-down spa resort in Saratoga Springs. The wallpaper and other details were heavily adapted from Asian designs; Beaton puckishly called the whole treatment "bogus Japanese."
*This article appears in the Winter 2017 issue of New York Design Hunting.