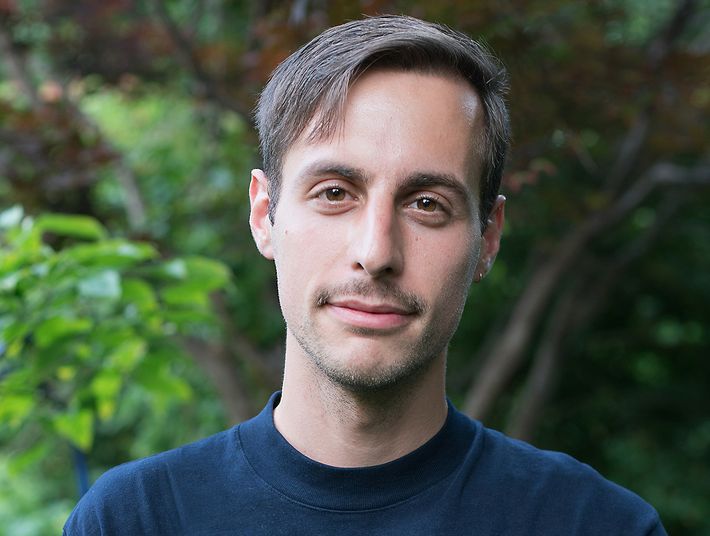 In creating the Design Beyond™ Fellowship, New York magazine teamed up with Delta Faucet® to hand-select four outstanding emerging interior designers to experience this one-of-a-kind opportunity. Over the course of the summer, these promising young professionals are participating in four exciting challenges relating to: industrial, eco, art-inspired, and tech-integrating design. Here, get to know the fellows' distinct personalities, style, and backgrounds in advance of the video series documenting the fellowship. (Look out for the videos as the challenges take place.)
Nick Ozemba, 27
New York, New York
What was your most memorable introduction to design?
I grew up in a home that my family built from the ground up. The second home I moved into when I was about 13 was one of the last homes my grandfather built, which was a process I got to be a part of. Building a home is a huge project, and it takes so much time and so many people to do each thing. I loved the collaborative aspect of it and that every person had a specialty and skill they brought to the table. My grandfather's specialties were concrete and dynamite—no joke.
Where were those early homes located?
I grew up in Dobbs Ferry, New York. I moved to Brooklyn the day after I graduated from Rhode Island School of Design.
Tell us about what you're doing professionally now.
I launched a design company with my friend Felicia Hung this past May. It's called In Common With and it's a creative studio producing furniture, lighting, and objects, all made-to-order. We work alongside skilled artisans and liaise with like-minded brands to create custom goods and thoughtfully designed spaces. We're passionate about providing beautiful, dependable products that are built to last, and we value traditional craftsmanship and honest materials. We also work with highly skilled artisans and industrial manufacturers around the world, so our products are really unique and detail-driven.
Describe your mission as a designer. What drives you?
For me, design is a conversation. I want to work with people to develop products and spaces that tell a unique story: work that communicates who they are and what they represent with physical goods and experiences. Whether it's a lighting collection, space, or interior identity.
What creative influences have shaped that design ethos?
I travel often and see influences in my work from things I've experienced or practices from different cultures. Little details, like the way someone hands you back your change from a bill, and the experience around that, or the way someone makes a cup of coffee. Things like this have influenced how I think about space, and the details that go into my designs.
In past work, what have you felt most passionate about?
I'm most proud of the collaborations I've been part of. I've had the opportunity to work at some amazing design firms, and with incredibly talented people and brands to create interesting products and experiences together.
Given unlimited time and budget, what kind of creative projects would you want to pursue?
My dream project would be to design every detail of a hotel or restaurant, something that people can visit and experience. Everything from the interior architecture to the materiality, furniture, lighting, objects, branding, menu, scents, floral arrangements—literally everything.
What are you hoping to gain from the Design Beyond Fellowship?
I'm most excited to work with each of the mentors. They each have a different perspective, and I can't wait to learn from their unique experience in the design world. I'm also excited to work on the two kitchen projects. I'm super-nervous about eco-design, but am up for the challenge.
What excites you about where design is headed now?
There are so many interesting brands that are re-contextualizing objects and experiences in our everyday lives. The way that we consume, the way that we experience space, the way that we communicate with people—I think those are the most interesting parts of the design forecast.
This is paid content produced for an advertiser by New York Brand Studio. The editorial staff of The Cut did not play a role in its creation.