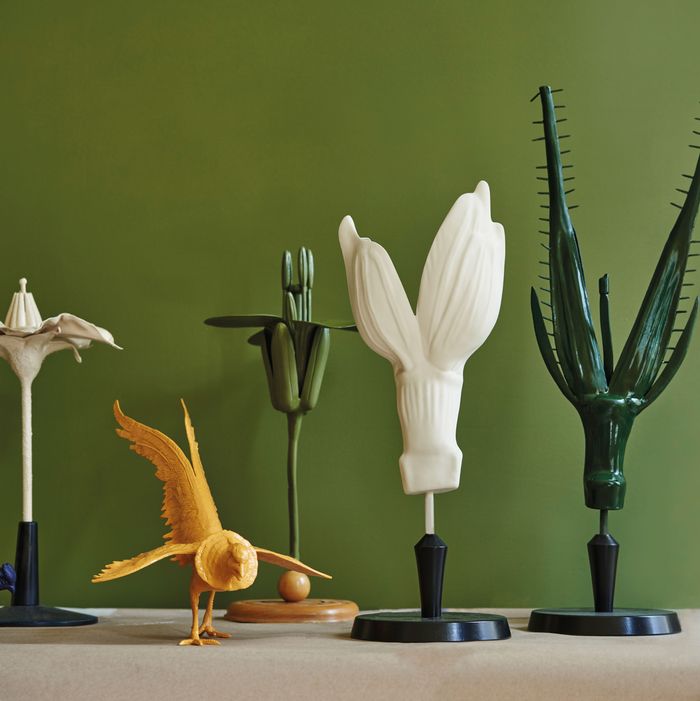 Scotch Blue, Orange Colored White, Dutch Orange, Sap Green, Snow White, and Duck Green bring new order to objects we thought we knew.
Photo: Adrian Gaut
The three museum cases near the windows of the Guild, the shop in Soho owned by the architects Robin Standefer and Stephen Alesch, are full of curiosities — objects depicting animals, vegetables, and minerals in various hues. Turns out they are not merely artful knickknacks, but inspired color samples of paint you can buy there.
Farrow & Ball, the notable purveyor of British heritage in paint colors, did something extra British recently: It launched "Colour by Nature," in collaboration with the Natural History Museum in London. The 16 new colors, which sell for $110 per gallon each, specifically reference a profoundly British thing: Werner's Nomenclature of Colours, first published in 1814. There are four greens alone: Duck, Emerald, Sap, and Verdigris, not to mention Scotch Blue. Back then, the book was such a breakthrough color guide that Charles Darwin used it on his five-year expedition on the HMS Beagle, recording the exotic plants and animals he observed.
Standefer and Alesch, whose architecture firm Roman & Williams was founded in 2002, were fans of the book. "The inception of the idea of doing this was to imagine how to tell a story," Standefer says, "in a sort of artistic installation about a commercial launch, but that is about something so fundamentally scientific and intellectual, and how do you bring those together, and make it modern, and make it historical, and not make it too precious."
Standefer, who looks like a cross between a Madonna and Morticia Addams, usually wears her curtain of long brown hair loose, with dresses that allude to Victorian modern. Alesch, her husband, and business creative partner, often wears three-piece suits. They are at the center of the contemporary design world, and they have grown their particular aesthetic in myriad ways. There are the restaurants: La Mercerie at the Guild, and Le Coucou where I want to stake out my own parlor space. Before that, they designed the Top of the Standard, Lafayette, Gilded Lily. They started out designing sets on the Paramount lot in Hollywood, which led to a clientele of movie stars, including Ben Stiller and Gwyneth Paltrow. They are design alchemists, creating their own unmistakable brew of enchantment layered with textures and a diverse assortment of tabletop and furnishings.
"We've collected books that categorize things for years," Alesch says, "and loved things that represented all these amazing techniques of creating color. And then we were in the rare-book library (at the Natural History Museum of Art in London) with the book!" (The first edition of the 1814 run.) At the mention of this, Standefer's eyes light up. As she is about to launch into a thought, Alesch continues, "Robin was in an interview and she was asked, 'What is your favorite color?' and she said, 'Twelve shades of white.'"
"I did." Standefer says, with a nod. "You know, we are always about colors that are in between. You can't put your finger on it."
Many of the objects in their cases are antiques that have been painted in some of the new shades, with names like Skimmed Milk White and Dutch Orange.
"We love painting antiques," Alesch says, "we always have, because in our own rebellious way we like to take history and maybe antiques and take them off the pedestal, bring them into your life, and one way to do that is by dipping them into some gorgeous, strange color. It turns that brown sacred, vintage antique into a living thing."
Next up for the designing duo: They have worked with the Metropolitan Museum of Art on the renovated galleries for British Decorative Arts and Design, opening March 2, 2020.