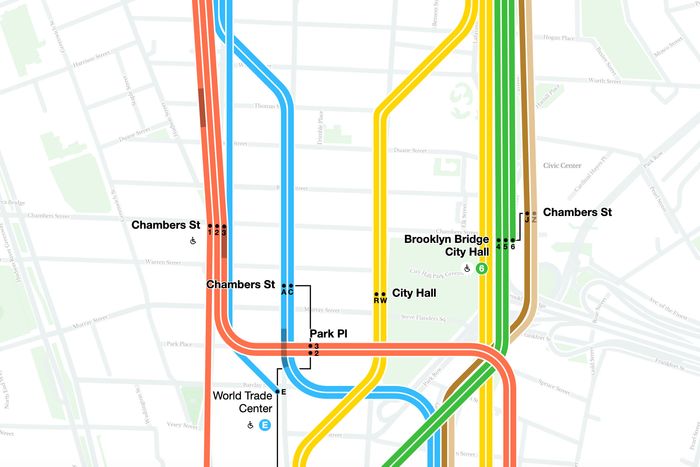 What you'll see in your browser, starting today. Those little gray bars—on the A between the Chambers and WTC stops, and on the 3 at Chambers—represent train locations.
Photo: Courtesy of the Metropolitan Transportation Authority
The date was April 20, 1978; the scene, the Great Hall of the Cooper Union for the Advancement of Science and Art on Astor Place. On the stage where Abraham Lincoln once spoke sat two men, the Italian modernist Massimo Vignelli and the cartographer John Tauranac, constituting two sides of the Great Subway Map Debate. Six years earlier, Vignelli's firm had reimagined the New York subway map into a groovy rainbowlike diagram, one that graphic designers loved and many riders found hard to navigate. Tauranac was the head of a committee that had engaged Michael Hertz Associates to re-re-draw it into the topographically grounded, graphically busy, and not particularly elegant map that — modest updates aside — is the one we all still use. Vignelli's diagram was a joy to look at and was nearly useless as an aboveground navigation tool. Hertz and Tauranac's map functioned pretty well as a map to getting around town but inspired comparatively little delight. Vignelli said the Hertz map made him "puke." Tauranac countered with paeans to real-world use. (The moderator for the evening was Peter Blake, New York's first architecture critic.) By the end of the Great Debate, the aesthetes sensed they were going to lose, and indeed they did. Hertz's practical problem-solving work replaced Vignelli's the following year, and the aesthetes have been rolling their eyes ever since. Jonathan Barnett, then a City College professor, summed up the evening by asking, "Why can't we have both maps?"
As of this morning, perhaps we do.
Today, the MTA is unveiling its new digital map, the first one that uses the agency's own data streams to update in real time. It supersedes the blizzard of paper service-change announcements that are taped all over your subway station's entrance. It's so thoroughly up-to-the-moment that you can watch individual trains move around the system on your phone. Pinch your fingers on the screen, and you can zoom out to see your whole line or borough, as the lines resolve into single strands. Drag your fingers apart, and you'll zoom in to see multiple routes in each tunnel springing out, widening into parallel bands — making visible individual service changes, closures and openings, and reroutings. Click on a station, and you can find out whether the elevators and escalators are working. At 34th Street–11th Avenue, as of press time, they're 18 for 20.
And the whole thing resolves the Great Subway Map Debate almost by accident along the way, because when you're zoomed-in it draws on the best parts of Vignelli's diagram — the completeness of its parallel, stranded routes and the swoopy aesthetics — and the zoomed-out version echoes the Hertz map's best features, its graspable consolidation of multiple lines into single ones and its representation of the physical world. (The new representation will replace the Weekender, the well-designed but not always up-to-date site that the MTA now uses to display Saturday and Sunday schedule changes.) In this dire year for New York City and its transit system, this digital launch is a rare moment of things looking up. "What they've managed to do," says Michael Bierut, the Pentagram partner and design-world eminence who started his career working for Vignelli himself, "is legitimately revolutionary."
"They" are a digital design firm, Work & Co., that began digging into the problem about 18 months ago at the behest of Sarah Meyer, New York City Transit's chief customer officer. Soon after Meyer started her job in 2018, Rachel Haot, who runs a public-private bridge called the Transit Innovation Partnership, asked her for a most-wanted list. "It was just after I had a meeting to review complaints that people couldn't understand our service changes," says Meyer. "I was really new to the organization, and I also couldn't understand the service changes! And I said, 'I need a map.'" Putting an electronic version of the paper map online, even one that was regularly updated, was not going to work for reasons both technical and practical. For starters, the print map uses one band of color to indicate several train lines that share a track (the 4-5-6 lines, for example, all occupy a single green stripe), and if just one of those lines is rerouted, it can't be singled out.
Making it happen all required far more behind-the-scenes technical work than most users can imagine. "I'd been told by IT and a couple of other departments that what I was asking for was impossible," Meyer says. In particular, service-change data was only beginning to become available in a way that could easily be flowed into a graphic. This project followed the re-engineering of that information stream that made its debut in the (quite good) MYmta app, which was introduced in 2018 and has a fairly modest 25,000 users a day right now. There were early versions of this new project that relied on static station-by-station slides instead of a true map.
Felipe Memoria, who led the project at Work & Co., explains that the small screen turned out to be a blessing rather than a constraint. "We had this realization — and it was kind of a hypothesis that eventually proved right — that if you have a smaller canvas, and you have the geography in the background, you can do the geometry on top of it." When you zoom out, the lines have to be thin, so you can't show any detail—but you also don't need that detail for street navigation, since that's the view where you're just looking at train routes, not landmarks. You only need the topography when you're close in. "So when you realize that, you're like, Oh, my God, I think we got it!" (Bierut also singled this distinction out, saying "the transformation of a geographical map into a circuit diagram — which is effectively what that kind of transit map is — there's something very deft about it, miraculous.") Memoria will dive even deeper than that into the byzantine details of wayfinding if you ask him (and I did, and he did, to the amusement of his colleague Rupal Parekh, who was joining our Zoom call). Among the quirks is that, unlike most similar digital products, this one is not built on the Google Maps platform — for the simple reason that the mobile-browser version of Google Maps does not allow you to adjust compass orientation. That means that Manhattan Island could not be reoriented to be straight up and down on your phone screen — a dealbreaker.
Midway through all of this product development, the MTA got a new interim chief — Sarah Feinberg, replacing the beloved Andy Byford — and immediately got clobbered with the immense challenge of COVID-19 and the attendant budget crisis. Feinberg more or less left the team alone to do its thing while she grappled with the big picture. "I asked a lot of questions," she says, "I said, 'the work you are doing is fabulous, beautiful, let me know what you need,' and got out of their way and let them run." She is super-enthusiastic about the new project, but is very quick to add, "This is not going to be a Sarah Feinberg victory lap — this is a Sarah Meyer and Work & Co. victory lap." That lap, perhaps unprecedentedly, will even include a film. Gary Hustwit, the filmmaker known for Helvetica, has shot a short documentary called The Map, which will be released online shortly. (Update, 1:22 p.m.: Here's the film.)
Because Work & Co. is a tech firm as well as a graphic-design house, the company was equipped not only to create the visuals of the map but also to write the code behind them. It had to be highly robust, because people come at these digital products from every imaginable direction. (Meyer describes a culture within the MTA that insists on serving every last rider to the nth degree, an approach that is broadly laudable but sometimes leads to, for example, packing every scrap of information onto every service-change poster lest it miss a single slice of the ridership, making it impenetrable to everyone.) There does remain a question of whether riders will begin to check their phones more and use other sources less; right now, most of the MTA's map activity comes from the desktop site, which is much more heavily used than MYmta is. That implies that, so far, people are more inclined to check for service changes before they leave home rather than en route.
The moving trains, rendered as little gray caterpillarlike creepers along the lines, were a late addition to the project. They are extras — useful but not strictly essential — and, Meyer admits, not quite as precisely located as they might be, particularly on the lettered train lines. "How real time is real time? You're still getting some train data a minute after it comes in," she explains. "It's not an exact science when you're dealing with the B division." (A gradual upgrade to computerized train control, known as CBTC, has begun and will eventually deliver much more precise location data.) But, Memoria adds, the moving trains perform an extremely useful visual function on this map, because they make users aware that it's a live feed. They remind you that reroutings will immediately make themselves visible here. You may also find yourself watching the little trains move around for an unexpectedly long time strictly out of pleasure, the way you'd stare down at car traffic from a high observation deck. "People are so bound up in the map as an object — people have very strong opinions about this document," says Memoria. "And I have to assume that it does some winning-over of them. It's one of those ideas — if you think about it, you don't really need it, but it makes people smile." Similarly, when the map switches to show nighttime service at 9 p.m., the background dims from white to black. (This happened to occur exactly when I was previewing the new map the other night, taking me by surprise.) The website is tagged "BETA" at the moment, and the likelihood is that it'll stay that way for a while, as subway riders put it through its paces and make discoveries about its strengths and weaknesses. There is no dedicated app for the new map yet; for now, you're meant to use it in your mobile browser.
There is one minor-key note in all this, a wonderful fact that is also a little dispiriting. The reason we have this project is that Work & Co. did it pro bono. (Not unlike Milton Glaser, who donated his I❤NY logo to New York State as a freebie.) "A gift to the city," Memoria says to me, and Meyer uses a similar phrase, with extreme gratitude, adding that she'd been told the MTA probably wouldn't have been able to commission such a thing at the going rate. ("Yeah, it's too expensive to build, but we did it" is how Memoria describes the cost to his firm.) Both groups get a win out of this, of course: The city gets a superior product, and the design firm gets the practical expertise to build similar maps, at full fare, for every other transit system in the world. But it's kind of a bummer that this very wealthy metropolis can't have nice things unless they're donated. Maybe the future revenue stream from congestion pricing will fund such projects, if the political will supports it.
What's next? The buses? "I'd love to do the bus maps," says Meyer, and through the phone, I can sense her pause as if gathering her strength. That map is more spaghettilike, I remark. "It's beyond spaghetti!" she says, bursting with a mix of enthusiasm, exasperation, and engagement. "It's hard to reference visually because of how many buses there are, and how the lines interact. Our bus lines are the closest in the world, and the network is too slow, and you don't need bus stops on every block, so it's really challenging …" She is off and running, happily digging into the plate of pasta.
*This article appears in the October 26, 2020, issue of New York Magazine. Subscribe Now!