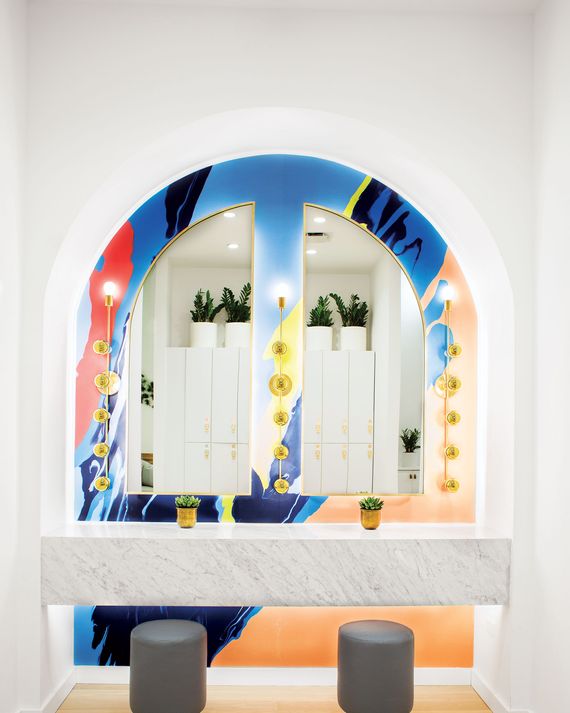 Marble counters and brass fixtures are among the stylings found in medical start-ups like the Flatiron District's WTHN acupuncture clinic.
Photo: Phoebe Cheong (WTHN)
On a stretch of 18th Street near Fifth Avenue, between a SoulCycle and an Athleta store, sits Trellis, a storefront fertility center that could easily pass for a monstera-plant-adorned, natural-light-filled recycled-sneaker start-up. Or a monstera-plant-adorned, natural-light-filled on-the-go facial bar. Or a monstera-plant-adorned, natural-light-filled kickboxing gym. Trellis is not the first clinic of its kind. Over the past year, quite a number of medical start-ups resembling wellness studios have sprung up in New York: concierge doctors' offices with white-oak floors instead of linoleum tiles, repackaged-for-2019 acupuncture clinics with vanity mirrors and bergamot spray in place of Buddha figurines and incense sticks, and a handful of places that serve as spa and doctor's office both. This is happening, in part, thanks to the ever-ballooning wellness industry. But it's also a direct result of New Yorkers' getting more comfortable with the idea of popping into CityMDs for a sore throat on their way to the grocery store, instead of making an appointment with their internist. These new clinics all advertise futuristic treatments, easy-to-book appointments, and, most strikingly, a shared, decidedly unfusty aesthetic: Flimsy paper smocks are goners (Turkish bathrobes are the thing), floor-to-ceiling windows are a must, and industrial exam-room tables have been traded for velvet sofas. The doctor's office, in other words, no longer looks much like a doctor's office at all.
*This article appears in the January 21, 2019, issue of New York Magazine. Subscribe Now!