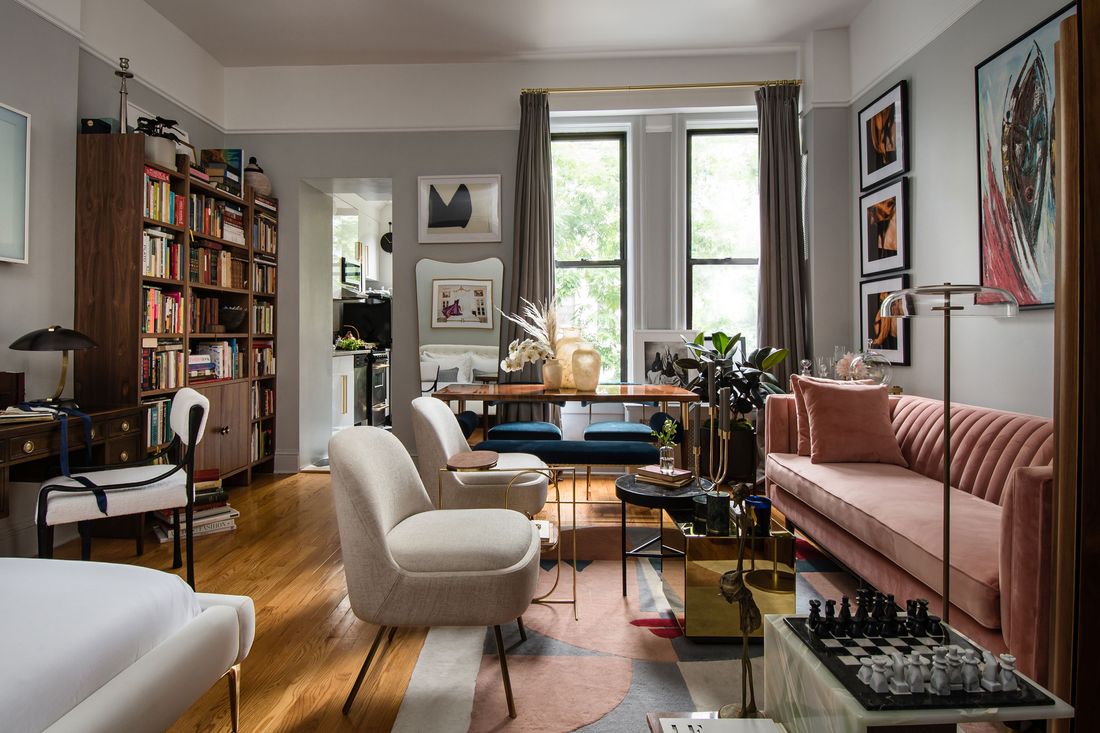 The living room and bedroom.
Photo: Nathaniel Johnston
Natasha Nyanin was about to put in an application for a perfectly serviceable Upper West Side apartment when her Realtor showed her a unit in the building next door. The second space's glorious northern light and separate kitchen with a window made it clear which of the two was the winner. After all of the papers were signed, she brought in her friend the interior designer Nina Blair to help decorate the place. Blair and Nyanin ultimately decided to do some light cosmetic renovations in the generic kitchen and (also generic) bathroom, and to repaint the living room/bedroom, seen above, in Seize the Gray, by Clare — a soothing neutral to complement the room's soft pastel palette. The white slipper chairs are from Interior Define, and the delicate two-level brass and Rosso Verona side table was made for Nyanin by jewelry designer Bia Daidone. The pink sofa is from Joybird.
"When we started out, I was very much in this wabi-sabi frame of mind," Nyanin says, referring to the Japanese aesthetic that embraces the imperfect, impermanent, and incomplete. But she quickly realized that her love of cooking and entertaining necessitated a real floor plan and furniture that could accommodate visitors. So she got a large rectangular table made of plywood covered in epoxy resin by Stone Coat Countertops with legs from the Swedish brand Prettypegs. Some dining chairs upholstered in sapphire velvet and a mid-century velvet bench add a luxurious flair. Nyanin saw the alabaster vases at the Marrakech hotel Jnane Tamsna and later ordered them from Maison Flaneur, a website that ships design pieces from restaurants and hotels around the world.
An Eames plywood folding screen, seen below, was brought in to create a barrier between the living-room area and the closet space. The dual-level acrylic side table is from the Danish brand Ferm Living, and Nyanin found the agate chessboard on the side of the road during a trip through the Atlas Mountains in Morocco. The living-room area is centered on a custom carpet designed by Nyanin and her friend Bradford Louryk; it was hand-tufted in India.
The kitchen renovation, which includes snappy new black-and-white vinyl floor tiles found on Amazon, illustrates Blair's go-bold approach. "Originally, the kitchen only had a sliver of counter space next to the stove," Nyanin says. So Blair created additional space atop a bank of base cabinets from Cabinets to Go and chose a marblelike finish created with Stone Coat Countertops epoxy. The final touches were the elongated, polished solid-brass custom cabinet pulls by Brooklyn-based design-and-furniture-production company De La Vega Designs. And Blair added open shelving with Signature Hardware's brass brackets for a fresher, more contemporary look. The ceiling light fixtures are from Lee Broom.
Nyanin felt the bed, seen above, should be situated in the corner facing the windows in order to make the room feel larger. The CB2 piece she chose acts as a daybed during working and entertaining hours. The Ashanti stool at its foot was found in a collector's storage facility in Accra. The pillowcases are made of traditional handwoven Bonwire kente and were sourced from Kumasi, Ghana.
Samsung's the Frame TV, seen above with a couple of drawings over the desk, displays an abstract design by the New York–based Belgium-born artist Marcel Ceuppens when it's turned off. The black aluminum Giac desk chair, inspired by Giacometti sculptures, was made by De La Vega Designs, and the seat and backrest are upholstered in Perennials Loop de Loop bouclé in Blanca.
Small changes made a major difference in the bathroom renovation. Blair had the walls repainted with Clare's Blackest and the existing subway tiles re-grouted in a dark gray. Nero Marquina herringbone floor tiles were installed, as were enamel-and-brass faucets from Rohl on the Kohler sink. A custom-sized teak floor mat from Teak Works 4 U inside the shower adds an exotic touch. The framed watercolor is by the illustrator Emeline May.
Nyanin, pictured here, grew up in Ghana in a large house filled with extended family and friends. Though her 350-square-foot studio is smaller than her childhood home, she finds it more than sufficient for dinner parties, at which she frequently hosts her loved ones for the rarest of New York treats: a seated home-cooked meal.