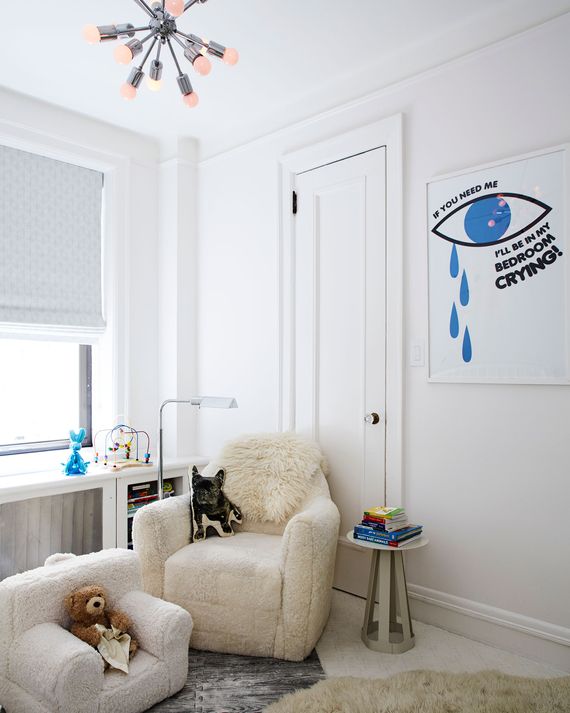 Who doesn't want to cuddle up in a shearling chair?
Photo: Genevieve Garruppo
For designer Zach Motl, the third time's the charm with clients Jordan Fox and Carly Tichner. Motl was initially asked by Fox to do his bachelor pad in the East Village after he saw Motl's own studio apartment featured in the New York Times "Home & Garden" section in 2010. Next up came the larger rental with his soon-to-be wife, Carly. And now the couple is settling down as homeowners with a new baby. Repeat clients are the dream for any decorator, and this relationship is particularly sweet, as Fox is happy to have Motl lead the charge to "push me aesthetically," he says. "He's bolder than I am and has exceptionally good taste. We've built that trust up over many years." No surprise, as Motl earned his chops working for the crème de la crème in his field — Miles Redd, Robert Couturier, and Ralph Lauren — and ultimately setting up his own shop in 2011. This time around there was also a sense of urgency: "They had a strict timeline — they were expecting their first child!" says Motl. The work started in October 2016, with a pause for new parents, then the project resumed and finished in the fall of 2017.
In the baby's room, above, there are two shearling chairs. The larger one is from Commune for West Elm, and the little one is from Pottery Barn Kids.