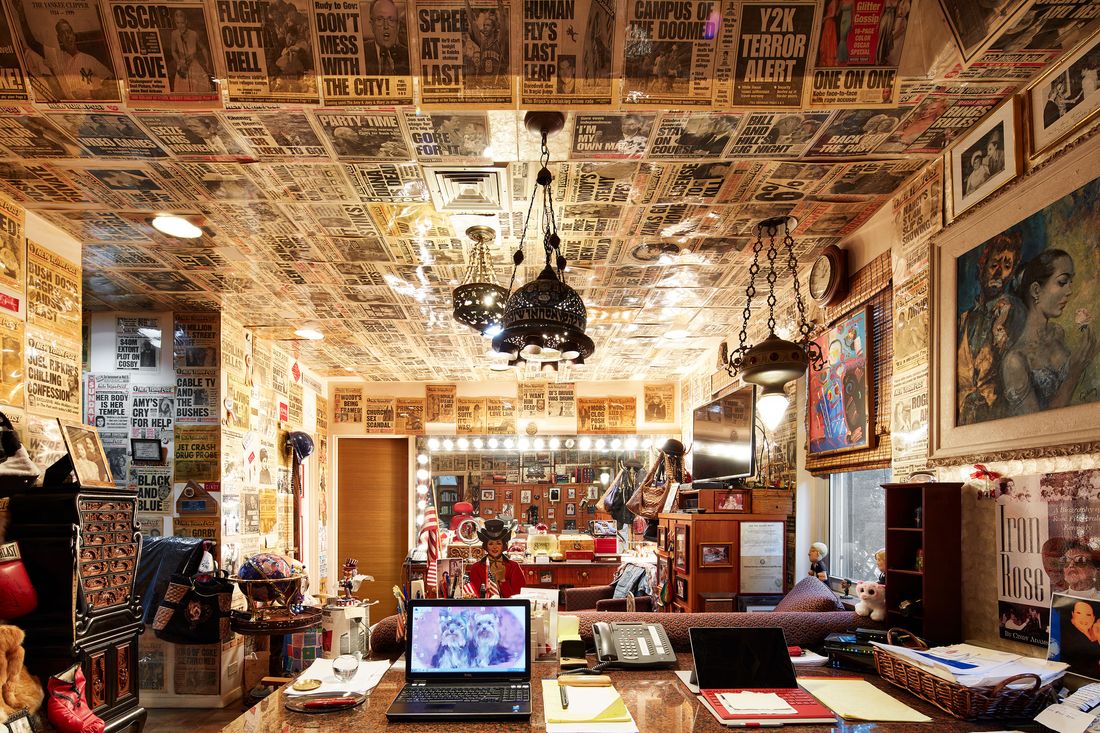 The Office
: Cindy Adams's war room, where the gossip still lands. The walls and ceiling have been plastered over time with her front-page scoops.
Photo: Stephen Kent Johnson
I thought if it was good enough for Doris Duke, it's good enough for me," Cindy Adams says, striding through the foyer of the Park Avenue penthouse she purchased in 1997 — with her own money, she wants you to know — and today shares with her 17-year-old Yorkshire terrier, Juicy. "Three and a half pounds of pure selfish," she calls her. (Translation: the most beloved thing in her life.)
They live in theatrical splendor, with the phone ringing off the hook as if it were the pre-texting era and people still knew that the best stories are whispered directly into an understanding ear. The apartment was once the home of billionaire tobacco heiress Doris Duke, who bought it in 1965 and hired Tony Duquette to decorate it. Adams left some of his most distinctive details — like the glossy black ceiling in the living room — in place even after she made the nine-room, 4,200-square-foot apartment her own. Today, it is an utterly personal monument to the triumph Cindy Adams has made of her life and what it took for her to get here.
"I don't know what she dropped," Adams says, pointing to the large crack in the travertine floor left over from Duke's tenure. It runs all the way to the living room, where light pours in through the floor-to-ceiling plateglass windows overlooking the terrace onto which she never goes (the better to preserve her astonishing complexion). They match the ones in the apartment next door, which Duke's neighbor, film producer Sam Spiegel, had put in. "We had to stop traffic on Park Avenue when those glass panes and some tables were craned in," Adams says. "It was illegal. Like I care."
She moved into the place with her husband, the comedian Joey Adams, at a time when he was ailing and having difficulty navigating their previous "much nicer" apartment on Fifth Avenue. Adams is a New York girl, born in 1930, who grew up on the Upper West Side. She dropped out of high school over a requirement that she take a sewing class, she says, and was working as a photographer's model when she met Joey on a radio program (they married in 1952). He was her mother's age. "I would have loved to have been a six-foot-tall blonde model and married a brainy man," Adams says. She was pretty and charismatic — a pageant queen, the onetime Miss Bagel — but six feet tall and blonde she was not.
Smart and ambitious she was. Joey may not have had a Ph.D., but he was talented, popular, and funny, and, as she writes in her best-selling book The Gift of Jazzy — named for her first Yorkie — "Joey loved me the way my mother did. Without reservation." Plus "Joey had a lifestyle," she says. He dressed beautifully, loved to live large with his pals (who included Frank Sinatra and Bob Hope), squired her to the Stork Club, and lived in the Waldorf Towers. His connections were the door to her journalism career, as she started interviewing his friends and writing articles for TV Guide. Then there was the life-changing four-month trip to Southeast Asia, which President Kennedy proposed that Joey, president of the American Guild of Variety Artists, take to entertain the troops. One of the people she interviewed on the trip was Sukarno, the president of Indonesia, who liked what she wrote so much that he asked her to return to write what became her first book, Sukarno: An Autobiography As Told to Cindy Adams, published in 1963. From there, she incarnated her role as the confidante of dictators, presidents, First Ladies, First Mistresses, charlatans, and basically the entire cast of shady, glitzy, and powerful characters the world loves to hate. As a gossip columnist, she plays by her own rules, but, she insists, she doesn't judge; she just reports gossip.
When the deposed Shah of Iran was dying in New York Hospital in 1979, Adams visited him at the request of the shah's sister, Princess Ashraf. They had become friends after Cindy and Joey made trips to Tehran in the '60s, including being guests at the shah's infamous three-day celebration of the 2,500th anniversary of the Persian empire at Persepolis in 1971. Adams's report of her hospital visit ended up being her first page-one exclusive story for the New York Post, with the byline "The Post's Own Cindy Adams." Since then, she has had some 500 front-page exclusives, many of which are now plastered on the walls and ceiling of her office, Duke's former boudoir, where her bathtub still resides, festooned with Duquette's silver lamé wrapping and full of old papers and magazines. "Nobody put it up thinking it was going to be a tremendous wall," Adams says. "It actually happened like Scotch tape by Scotch tape."
The apartment today is ruled by Juicy, who is usually in the arms of Nazalene, Adams's housekeeper, who cooks for the dog and her mistress. Adams couldn't have a dog with Joey, as he'd had a bad experience when he was young, but a week after his death, Jazzy landed in her lap, a gift from friends. "That's almost 20 years. I've been dog crazy ever since," says Adams, who is making her annual preparations for the Blessing of the Animals at Christ Church on Park Avenue and 60th Street, held on December 8. She started the event 11 years ago because "I just adore dogs, adore animals. It's a long story. I had a dog when I was a child, a black Scottie named Rufus, and the dog was run over by a car. I couldn't get over it for years."
After joking (I think) to our photographer that she'll ruin him if she doesn't like his picture of her, Adams has to go. The phone hasn't stopped ringing, and she has to get back to her office, surrounded by her front-page scoops.