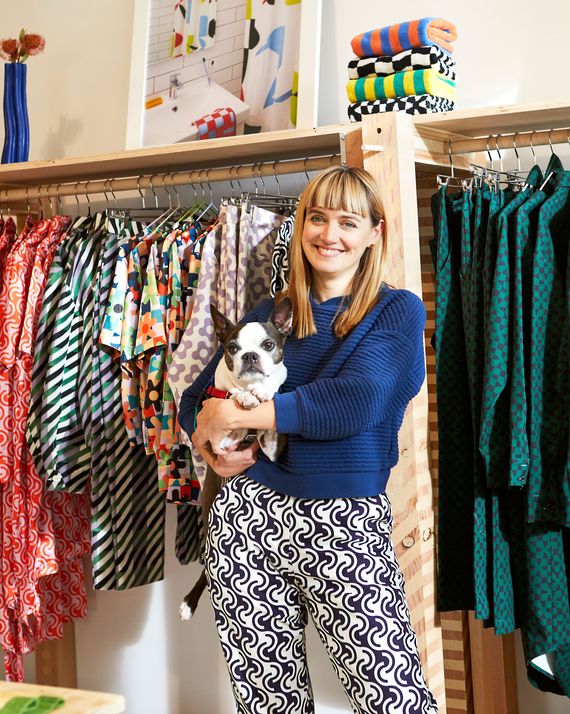 Ellen Van Dusen and her dog, Snips.
Photo: Kelly Marshall
Ellen Van Dusen's front door is the color of cartoon cheese. The founder of Dusen Dusen (pronounced due-sen due-sen) was going through a "yellow phase" when she bought her Bed-Stuy brownstone two years ago. Now, she says, she's partial to green (the last time I saw her she was wearing the color head to toe), but yellow will always be one of her "top dogs." This would explain the door, the yellow chair shaped vaguely like a rubber duck by her mosaic fireplace, the retro yellow oven in her kitchen, and the large yellow bookshelf in her living room, which was custom-built to reveal a hidden television inside.
It's safe to say that no other apartment in New York looks like Van Dusen's, but her home goods might look familiar. They can be found in the background of Broad City episodes, on Tavi Gevinson's couch, and Jessica Williams's bed. There are also Dusen Dusen–designed Arlo Skye suitcases, Keds sneakers, and Uniqlo shirts. The brand's clothing made an appearance on Girls, and has been featured in Lena Dunham's personal selfies. If I were to paint a picture of a millennial interior today, like Manet's Olympia in a Brooklyn one-bedroom, my subject would be sprawled across squiggly Dusen Dusen duvet cover, with a colorful geometric pillow under her arm.
Van Dusen founded her label in 2010, launched home goods in 2015, and opened a new, Saturdays-only store-studio in Fort Greene at the end of 2019. Her style has remained remarkably consistent throughout the last decade of changing design trends. You can spot a Dusen Dusen towel or dress for its bright colors and bold patterns. To outsiders, the aesthetic might seem goofy, or childlike, but the items are often things that only adults buy: throw pillows, duvet covers, Vanity Fair Oscar party outfits. (Greta Gerwig's friends did that.) Whatever anxiety there might be out there in the discourse about "adulting," Dusen doesn't seem to share it; she just puts a smiley face on a tissue box and moves on. Over the last decade, her customers have grown up along with her, establishing Dusen Dusen as a cult favorite, like Marimekko for the next generation.
Now, at 33, Van Dusen owns a successful business and an aspirational brownstone, which she shares with her two brothers. "Growing up" hasn't dampened her aesthetic. Her space is a fun house for adults; a Disneyland for Dusen Dusen–heads. "I love being home," she told me with a grin. Her whimsical taste has touched every inch of it, from the door knobs painted to look like eyeballs, to the kitchen cabinets engraved with squiggles. Anything she didn't design herself was furnished by friends like Katie Stout, a self-described "naïve pop" artist who made a custom chandelier that looks like Play-Doh. When I arrived, Van Dusen was installing custom staircase carpeting by her friends at Cold Picnic, a brand with a similar eye for blob-ular shapes.
Van Dusen's parents are both architects, and helped reel in some of her more out-there ideas. My personal favorite touches, though, are the collection of tiny, strange totems Van Dusen seemingly couldn't help but collect: a rock painted with a smiley face, a lamp made out of a resin-dipped croissant, oven mitts in the shape of bow-tie pasta. There's also a human-sized red tulip in the living room, which Van Dusen found at an antique store in Hudson. "I was nervous about fitting in my Prius," she said. "But it was fine."
"Fun" is not a word often used to describe adulthood, but Van Dusen's apartment — her whole aesthetic, really — is a challenge to all that. It's decorating that seems to come from the same impulse as eating dessert before dinner; it follows no rules and is designed entirely for self-pleasure. When it comes to interiors, sleek and modern is oftentimes a sign of status. Van Dusen can clearly play that game (she owns a classic leather Eames chair), but she's furnished a space that makes her alone happy. She's not trying to impress anyone. Take her downstairs bathroom tiles, for example, which correspond to the phone numbers of friends and family. White tiles are odd numbers and black even, but to everyone else it's just a normal downstairs bathroom.
"[Ellen] is shameless about her aesthetic, and I find that really inspirational," said Younger actress Molly Bernard, who often models Dusen Dusen products and has been a fan of both Van Dusen and the brand for years. (Their dogs are also friends.) "It radicalized my idea of interior design."
The year Dusen Dusen started producing home goods happened to be the year I moved out of my parents' house and into my first apartment. Her products were affordable and full of personality, and I was at a time in my life when I didn't really know what I liked. Together, they made my narrow, dark space feel lively and whole. "When you have a two-bedroom with three roommates and one bathroom, an easy way to perk up the bathroom is with some cute hand towels," said Fabiana Faria, co-founder of the New York–based furniture and gift shop Coming Soon. Van Dusen says her biggest demographic is ages 25–34, followed closely by 35–44, which suggests that customers are bringing her stuff into their second or third apartments as well.
Van Dusen got her start before Instagram made it easy to peer into other people's apartments, but it definitely doesn't hurt that her goods stand out in photos. Faria remembers trendy homes in 2010 as being more minimal: "very Brooklyn-crafty, like brown paper bags and feathers," she said with a laugh. "I think people were trying to fit in. They were a little more monotone and monochromatic. Now, "everyone wants to be different," she says. They want something with more impact than, say, a smooth, pale-pink Swedish chair. Dusen Dusen is like Scandi design on ecstasy. "It's an instant vibe," says my roommate.
If there were ever a criticism of Dusen Dusen designs, it might be that it's too extra. Too kinder-kitsch. "I've made a conscious effort to not do kids' stuff, because I feel like if I go that way, it would be really easy to read it that way forever," she says with a shrug on the subject. "But I don't think color and pattern just has to be for kids."
Actress Aidy Bryant — who owns Dusen Dusen towels, blankets, sheets, a robe, a dog bed, and a sweater that her dog sadly refuses to wear — thinks the brand elegantly toes the line. "[Ellen] makes things that are fun without being goofy, and that's hard to do," she says. "I love that there is personality, but it's all elevated; never cutesy." That said, the brand does lend itself to comedy. In November, Harry Styles wore a Dusen Dusen smiley face sweater on Saturday Night Live, in a skit where he played Bryant's lovable dog-slash-boyfriend, Doug, who wore a matching sweater as well.
In the end, Van Dusen's age agnosticism might be the reason she's managed to stick around for the past decade — a long time in the life of a brand, or a person, for that matter. In an era when no one is quite sure how to be an adult, her designs suggest the secret is just to have fun, to stop worrying about being sleek or cool or austere. As Molly Bernard says: "Bright and bold is the new neutral, so suck it."