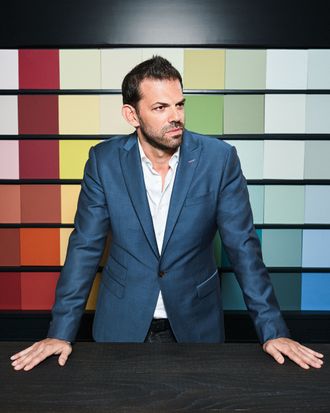 Martin Kesselman, the color expert.
Photo: Kyle Dorosz
In our Ask the Experts series, Design Hunting gets renovation and décor advice from professionals in disciplines from color consultancy to landscape design.
Martin Kesselman
Owner, INCOLOUR
How do you open up a small space using color?
A common misconception is that dark colors make a space look smaller. Sometimes I like to make small spaces dark and create a mood. When a low ceiling is a challenge, we use darks to create the illusion of height. I do lots of the same tonal colors in different sheens: one color on the walls and ceiling and a different finish on the trimmings. It's like infinite lines — you make things recede, which makes the space look bigger.
What about floors?
You have to find other ways to introduce color. In Europe, it's quite popular to paint the floors, whereas here we have them stained and polyurethaned. Think about gallery floors, gray with white walls — people are re-creating that in their homes more and more. Typically, you want a nondescript, mid-tone color — nothing too dark or too light — though I'm doing more white floors these days.
How about something for the even more adventurous?
I work closely with a company called America Painting, and they do a lot of one-off finishes. They did one in my showroom — it's infused with mica, so when you look down at your feet, you see gold, but when you look away, it disappears. The idea is to show people that you can create effects, beyond color, through textures and application.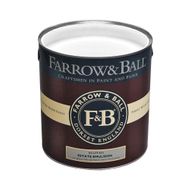 How often should people be repainting?
Less often than you think. It's more likely that your tastes will change before you need to repaint. From a practical standpoint, there's no need to paint more than once every ten years.
Is there a trend you really loathe? Millennial pink?
I'm an advocate of color, so I feel good about it! [Laughs.] Any color that evokes an emotional reaction, I'm with it. That said, I was never a big yellow guy. The whole "Yellow makes the space happy" thing? Eh. People think bright colors make the space brighter, but that's not necessarily the case. A lot of yellows cast green, which looks kind of ill.
How much of your job is talking people out of potential mistakes?
I just try to give people good, solid advice. Psychology is part of the job. I try to lead them down the right way, but at the end of the day, it's their space and it's only paint. I haven't found a way to reinvent the color wheel yet. I'll get to that at some point.
"Test a new color on the wall from the skirting to the cornice — all painted out. When you try a small tester on a primed wall, it's going to look a lot darker."
*This article appears in the Fall/Winter 2018 issue of New York Design Hunting.