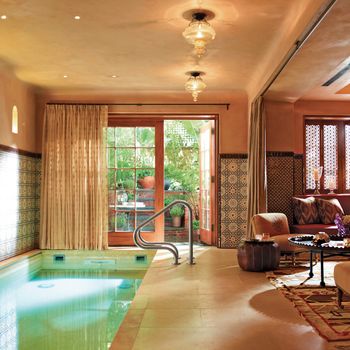 Where they come for the waters.
Photo: Eric Piasecki
"We did a total demolition," Brian Sawyer of Sawyer Berson says of the work that went into renovating this Village townhouse. The excavation underneath went so deep that it reached a primeval forest stream. To keep the basement dry, "we had to build a massive concrete bathtub to hold the foundation." So then, naturally, they promptly filled part of it up with water again.
The swimming pool you see here looks out on the house's lower-level garden. It's not on the lowest level; downstairs is yet another floor containing a study (with windows that look into the pool itself), a gym, a bar, and a wine room. This house is as self-sufficient as a medieval castle, and when you are taking a dip or resting at poolside, it would be easy to convince yourself that you are in a riad in the medina of a Moroccan city instead of doing your laps in the general direction of Union Square.
DD Allen, founding partner of Pierce Allen, decorated the house, including this over-the-top-yet-relaxed interior with mosaic-tiled walls and carved-wood screens covering windows that overlook a cozy banquette. The lighting was important, she says: "It had to be sexy and exotic. I wanted to create a place you want to settle in to." Even come high water.
Pictured above: The swimming pool, six and a half feet by 36, is used by the family year-round. When you're in the study below this floor, windows into the sides of the pool allow you to come face-to-face with anyone who's swimming. The tile on the walls is from Mosaic House. "It required precise calculations and many layouts," Allen says. The traditional tadelakt painted plasterwork was executed by Art in Construction. The curtain portières are Fortuny fabric; the ones on the French doors are Donghia fabric. The hanging lanterns are Ars Cenedese "Cesendello" lights. The Moroccan poufs are from Serena & Lily, the Berber rug is from F. J. Hakimian, and the pillows are covered in Oscar de la Renta fabric. The custom-made slipper chairs are covered in Stark fabric with Penn & Fletcher custom embroidery.
*This article appears in the Winter 2017 issue of New York Design Hunting.