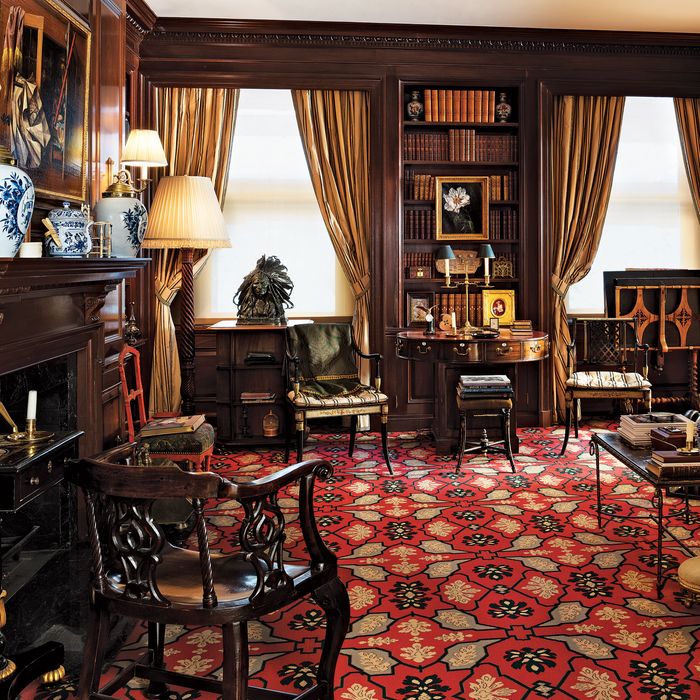 The Library
: The wall-to-wall carpet is from Stark, and the curtain fabric is from Christopher Norman. The two black chairs are 19th-century English Regency with quatrefoil backs and cane seats.
Photo: Annie Schlechter
Alexa Hampton takes a good look around the mahogany-paneled library of the four-bedroom Park Avenue apartment her late father, Mark Hampton, decorated for friends, an avid art-collecting family. "If I may be pretentious, I just read this Flaubert quote that was basically like, 'The role of the author is to be everywhere present but nowhere visible.' So I feel my father's presence here but not in an egregious, gross kind of way." Alexa worked with Mark before his death in 1998, after which she launched a new design company, Alexa Hampton, Inc., while keeping her decorating side of the business under Mark's name.
The oxblood entrance hall, with its over-the-door moldings, is classic Hampton. (The color was a favorite of his, as were neo-Georgian architectural details.) Alexa is quick to mention her father's collaboration with the clients. "They had everything to do with everything," she says. They loved going on shopping trips with Mark, and they brought in many pieces from their previous apartment (which Hampton had also decorated), including the spectacular inlaid dining table. As we make our way to the entrance hall, Alexa pauses in front of the 18th-century Adam table. "Keep in mind that I have total hero worship," she says, "but what I think my dad was so good at is creating something that feels unstudied, even though it is totally; everything here is intentional."
*This article appears in the September 3, 2018, issue of New York Magazine. Subscribe Now!