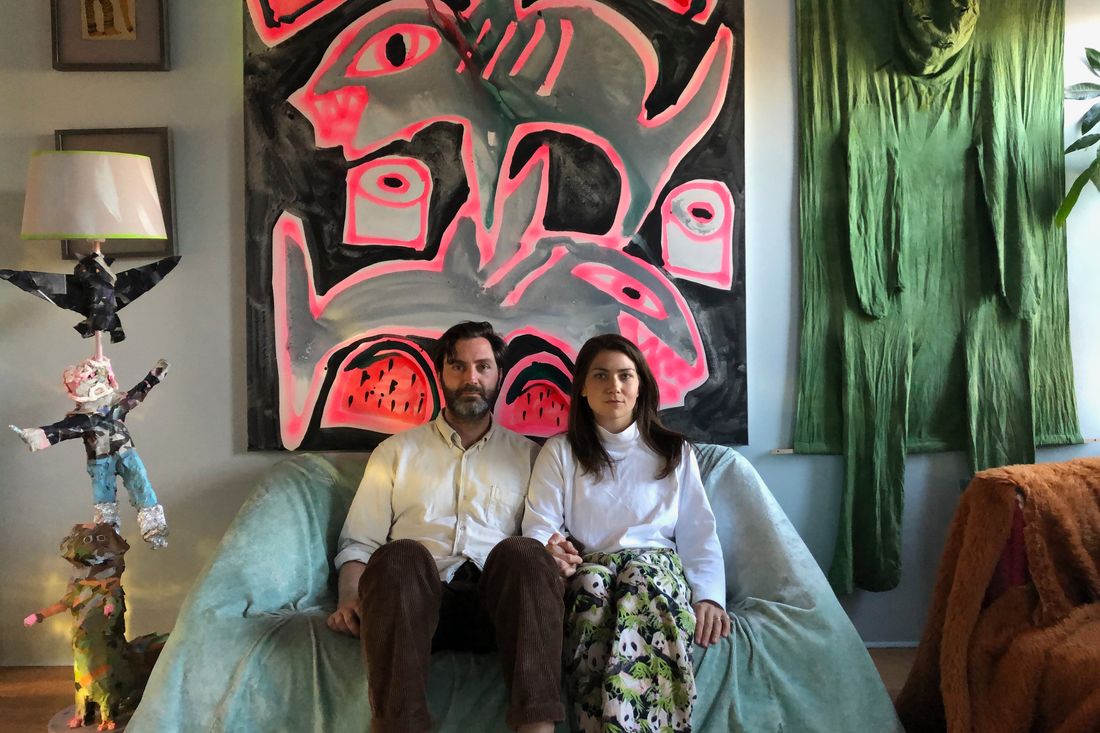 Katie Stout and Jeff Kinkle at home.
Photo: Katie Stout
Artist Katie Stout married Jeff Kinkle, a lawyer, just this past September. They chose as the location the romantic dilapidation of Jacob Riis Park in the Rockaways, and the ceremony somehow referenced the film The Warriors, a de Chirico painting, and the "pre-orgy scene in Eyes Wide Shut." Now they've settled into a Fort Greene rental that features, most prominently, a wedding gift from Stout's friend Misha Kahn, with whom she attended the Rhode Island School of Design, that looks like a nest or maybe the creature that lives in a nest. "Well, we've been calling it the hamster, the giant hamster," says Stout, laughing. "I love it. It's a cabinet" — though Kinkle, they later realized, is "allergic to it because it's basically a bale of hay in the apartment." (Stout took these pictures of their place herself on her iPhone for social-distancing reasons.)
Since graduating from RISD in 2012, Stout has taken the world of art and design by storm. Her "naïve pop" pieces are crossovers of forms that defy function, yet function adorably. It's hard not to be drawn into her world of joyful exuberance. (She's represented by Nina Johnson in Miami and R & Company in New York.) In their apartment, she and her husband (with some help from interior designer Becky Carter) have created a landscape populated by both her work and that of her friends. The art that isn't hers was mostly bartered, and every piece has a story. Her décor scheme doesn't follow a plotline. "Like, why bother?," she says, laughing. "I love when my space is filled with things by people I know … Everything is a trade, basically. Everything feels like a little friend, you know? So you never really feel lonely in the apartment." She's been reading The Overstory, and she quotes part of it to me on the phone: " 'There are no individuals. There aren't even separate species. Everything in the forest is the forest. Competition is not separable from endless flavors of cooperation.' It's a nice thing to think about in quarantine. Grace, humility, and humor go a long way."
Clockwise from top right:
The drawing of the nude by the kitchen is by Chloe Wise. "I made her a lamp of her and her cat and then she gave me this ink painting, and it has this custom frame with a pile of spaghetti on it [not seen]. Perfect for right now: Everyone's just eating pasta." The hanging "Amoeba" light fixture is by Jeff Zimmerman. The pink stool is by Visibility x Matter Made. The ceramic stool is by Chris Wolston, who also went to RISD. What looks like a bale of hay with eyes is actually used for storage. The painting above it is by the artist Bjarne Melgaard. Stout collaborated with him on furniture for what has been described as his "demonic fun house" for the 2014 Whitney Biennial and a show at Karma, "Psychopathological Notebook." "He gave me this as a trade." It's called Psycho Alone. "These two ladies looking at each other are by Patty Spyrakos. Fisher Parrish was hosting a 'got for cheap' art sale at their space in Bushwick where everything is $30. I couldn't make it, so Zoe Fisher picked this out for me. "The two hot-pink women [top left] are by Heather Benjamin; the piece is called I Touched a Dream."
*This article appears in the April 13, 2020, issue of New York Magazine. Subscribe Now!