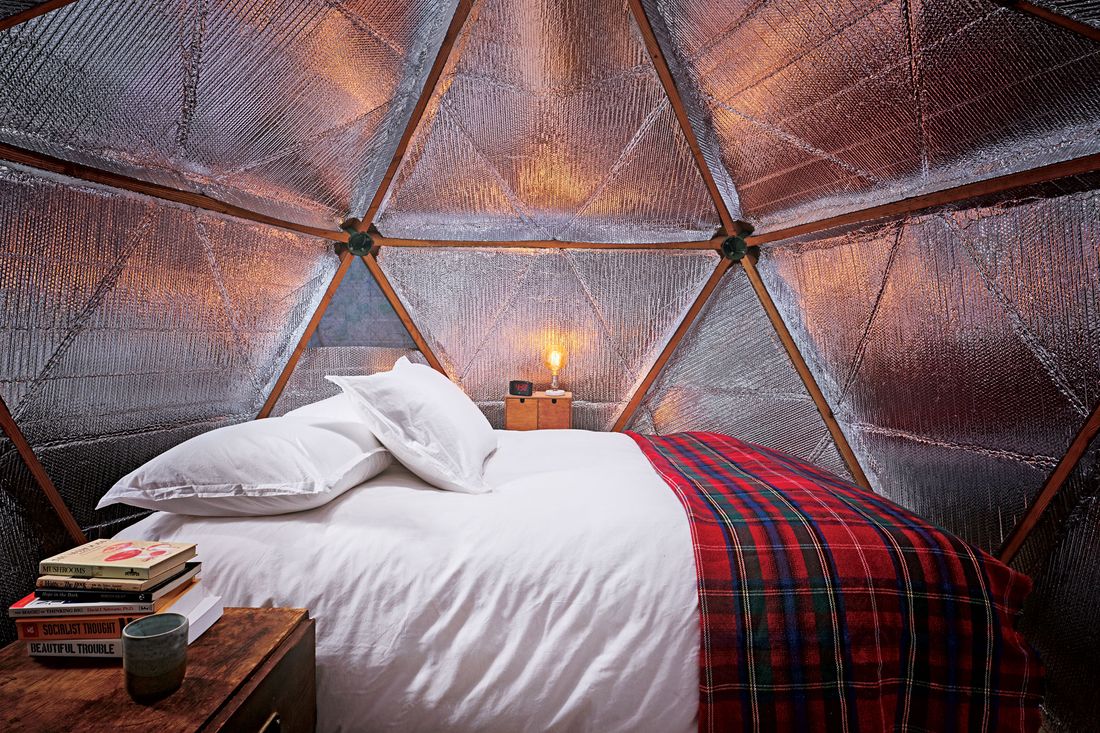 Inside
: The yurt is decked out with its wintertime insulation panels. There is electricity that powers a space heater when it's cold and a fan when it's hot. In the summer, a mosquito net is also necessary.
Photo: Claire Esparros
Kyle Depew moved to New York a decade ago from Philadelphia with friends "to see what I could make of myself here." After working with the Impossible Project, which sells Polaroid film, he started Brooklyn Film Camera, repairing and selling vintage cameras out of a Bushwick co-working space. (Every Saturday through May, Brooklyn Film Camera sets up shop in the Whitney Museum lobby, where visitors can get their eight-by-ten-inch Polaroid portrait made on a wooden field camera.) None of that pays well, so a low overhead is important. He once paid $250 a month to live in "ostensibly a large closet turned into a room" in Bushwick. Later, he helped found "an intentional community called Koz Collective" with eight housemates who occupied a Bed-Stuy brownstone; that lasted roughly six years. Depew helped forage for its food in restaurant and bodega dumpsters.
Meanwhile, in the building next door, Tim White, a projectionist and filmmaker, had been thinking about ways to free up space in his garden apartment to do his creative work. On a 2006 trip to Oregon, he'd stayed in a yurt; ten years later, after looking online, he ordered Lodge-Tech's smallest yurt. It cost about $2,000 and took a couple of months to figure out how to assemble. White slept in it for a while, then rented it to Depew (who pays $475 a month, which includes access to the indoor facilities). As for dating? "It's always something I mention early on. I guess I look at it as a bit of a vetting filter; anyone who would inherently feel uncomfortable with the yurt is probably someone I wouldn't be too compatible with anyway," Depew says. "I love having a connection to nature in a city where that is kind of difficult, and I mean that very literally. The last thing I do every night is walk through the open air. If it's raining, I'll feel the rain on my head, and if it's snowing, I'll tiptoe through the snow."
*This article appears in the December 23, 2019, issue of New York Magazine. Subscribe Now!