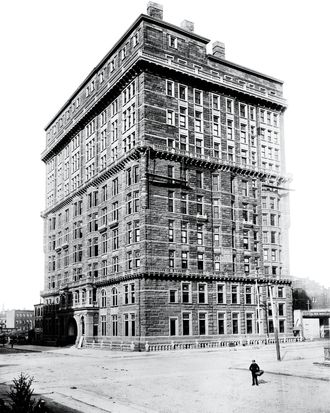 1886
| The brand-new Osborne Apartments stood 11 stories high, dwarfing everything around it.
Photo: New-York Historical Society
"Think of living on 57th Street!!!" Leo Lerman wrote to Diana Trilling on May 18, 1967. "I've never lived 'in town' before and never in an apartment house." Lerman, a top editor at Condé Nast, had been living with his partner, the artist Gray Foy, in a brownstone at 94th and Lexington that they wanted to buy — only to find that the owner wanted them out. Their consolation prize was apartment 6C in the Osborne, the great, ornate building across 57th Street from Carnegie Hall.
Foy and Lerman were not the first to think of the Osborne as a novelty. When it opened in 1885, high-rise living was a new experience for well-off urbanites, who were used to townhouses. Its apartments were expansive, with 14-foot ceilings and masses of mahogany paneling. (The image you see below comes from a 1910 brochure.)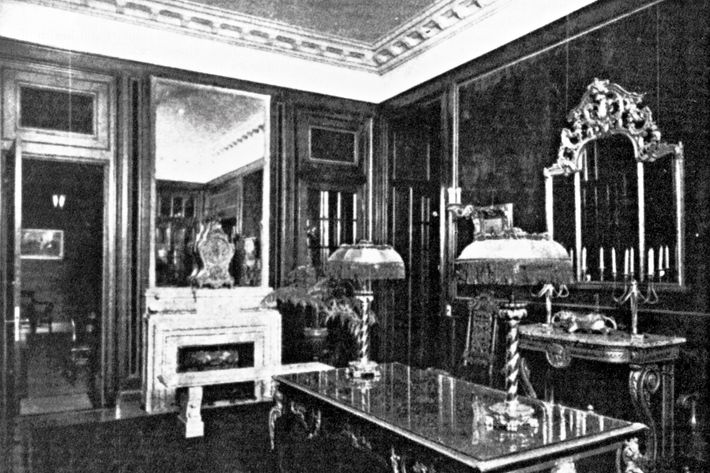 Lerman and Foy paid $40,000 for the apartment, a little more than a suburban split-level ranch cost at the time. For their money, they got ten rooms that they reconfigured into eight. Moving in was a monstrous job, mostly because they owned 15,000 books and an enormous volume of what was then out-of-style stuff: Tiffany lamps, Staffordshire cottage ornaments, silver and glass of all kinds.
The couple stayed in 6C for the rest of their lives (Lerman died in 1994, Foy in 2012), after which it was sold to its current owners. They reimagined 6C once again, working with the firm Fogarty Finger Architecture and the interior designer Laura Flam, of Reunion Goods & Services, to make it work for a family with two young children. (The clients, like Foy and Lerman 45 years earlier, had been expecting to buy a townhouse until they landed here.) They brought very little with them, and where Lerman and Foy's interiors were deeply layered and color-saturated, theirs are aired-out and modern. The silver bibelots that reflected candlelight and set the mood for constant entertaining (dinner guests included Jackie Onassis, Leonard and Felicia Bernstein, and Marlene Dietrich) are gone; the purple walls are now variously milk-white and wallpapered, and the extremely grown-up environment has given way to one where children race through.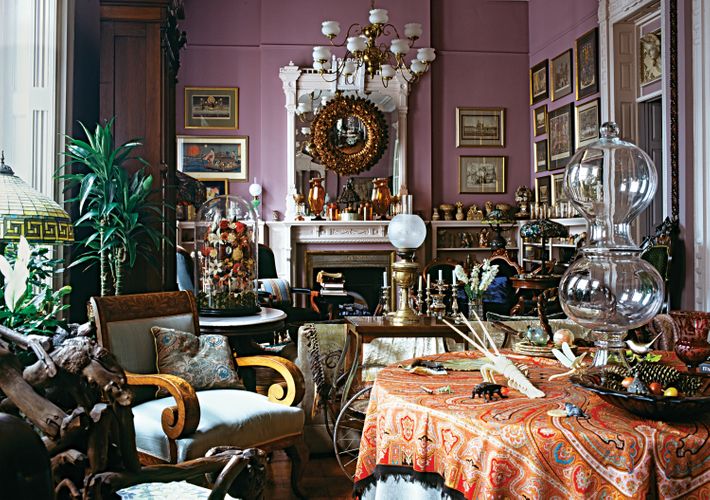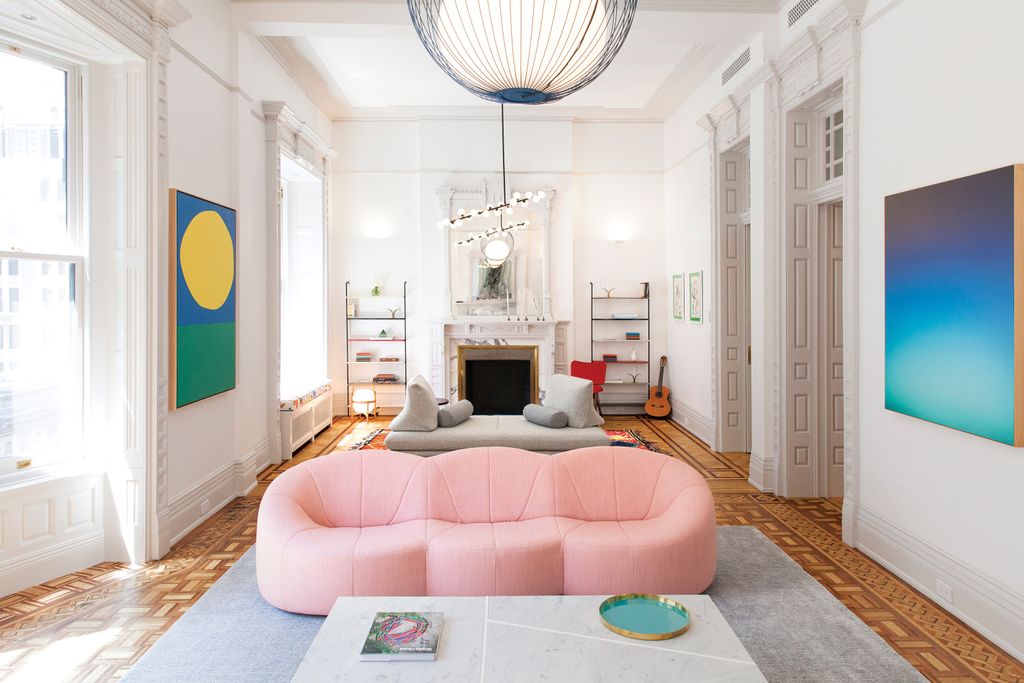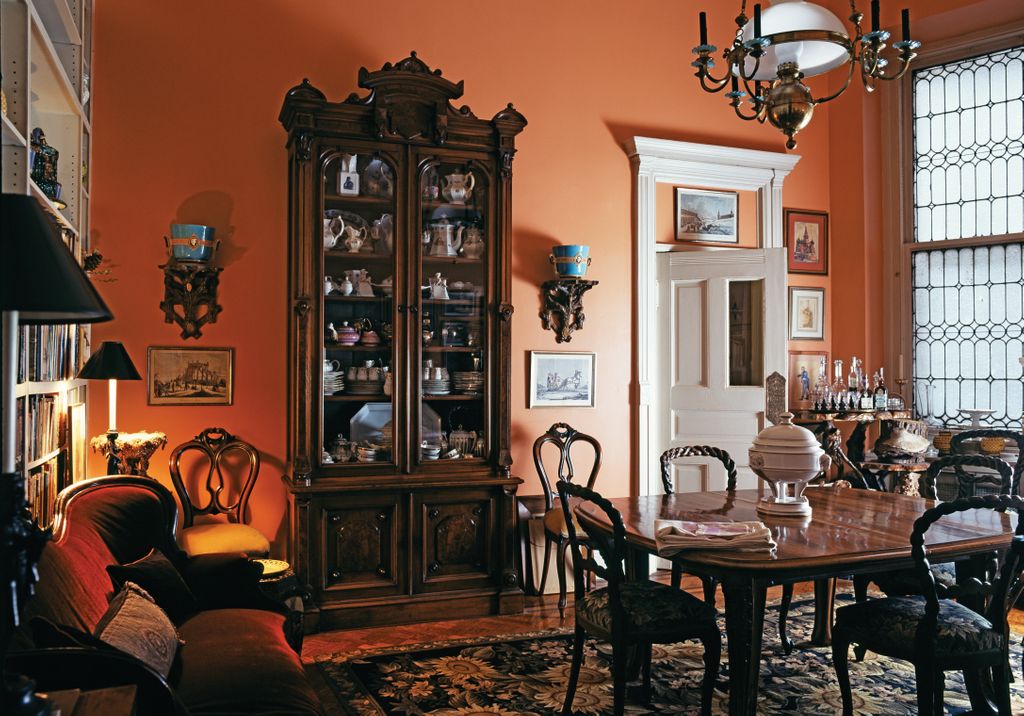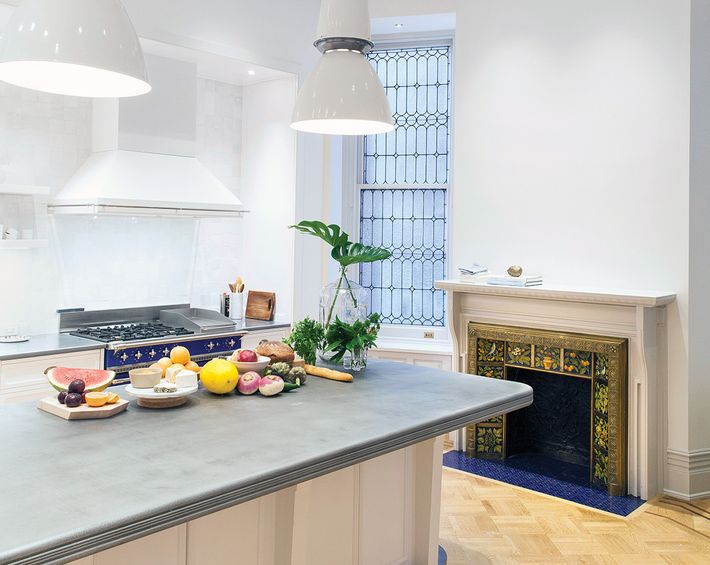 *This article appears in the October 16, 2017, issue of New York Magazine.