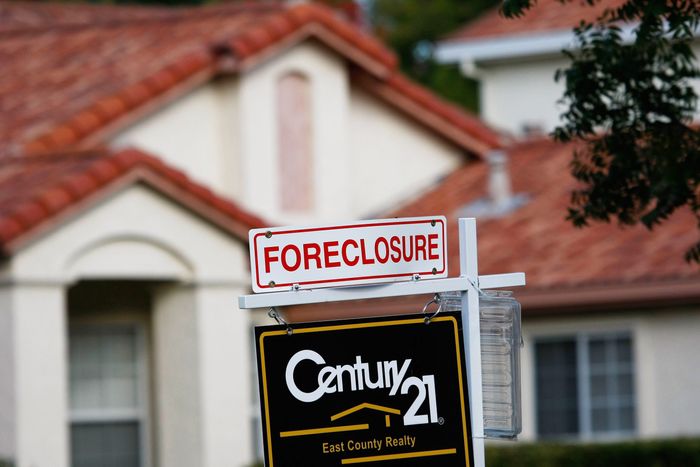 Photo: Justin Sullivan/Getty Images
After the financial crisis in 2008, deep-pocketed Wall Street groups, seeing an opportunity to profit from non-rich people's misfortune, bought single-family houses out of foreclosure in bulk from public entities at bargain prices, and then formed companies to rent them out. The resulting companies — Invitation Homes and American Homes 4 Rent being the largest — turned out to be terrible landlords. These companies have infamously skimped on maintenance, subjected tenants to non-negotiable annual rent hikes, and often create no-win legal situations for the people living in their homes without tenant protections. Now that the COVID-19 pandemic is threatening to bring about mass foreclosures yet again, advocates and nonprofits are trying to get ahead of the situation so it doesn't repeat itself.
Andrew Jakabovics, vice president for policy development at Enterprise Community Partners, cowrote a new paper about just that, hoping to jump start conversations about how to ensure affordable housing that passes through public hands stays affordable, instead of being a windfall for Wall Street.
"Getting folks who are oriented toward positive community outcomes is really at the heart of this," said Jakabovics. "We want to make sure they can be in line at the beginning, either actively competing for properties or being given access to properties ahead of time, as opposed to after the fact when they're either getting scraps or paying inflated prices for undervalued assets."
Jakabovics says a wide variety of nonprofits, including ECP, have been talking about how to keep unsubsidized affordable housing in the hands of people who will keep it affordable. The pandemic has accelerated those conversations and made them more urgent, as the need to buy rental units could be approaching sooner than anyone thinks.
A decade ago, Congress set up a program to buy homes out of foreclosure — the Neighborhood Stabilization Program. But it was underfunded and came with restrictions that slowed the program's ability to buy homes quickly. Seeing an opening, Blackstone, the private equity group that launched Invitation Homes, jumped in and purchased homes in the tens of thousands. The federal government's lumbering response allowed Wall Street to capitalize on a crisis at the expense of middle-class homeowners.
Jakabovics proposes launching a fund through the Community Development Financial Institution that would provide low- or no-cost loans to nonprofit or mission-based organizations that can purchase and manage rental properties, with an eye toward keeping them affordable, not maximizing returns for Wall Street.
There is a difference this time around: a single-family home foreclosure crisis looks less likely to occur. Homeowners on a mortgage backed by Freddie Mac, Fannie Mae, or the Federal Housing Administration — that's the vast majority — have been given a forbearance option during the pandemic that wasn't offered in 2008, and falling forbearance numbers suggest if there is one it won't be anything like 2008.
But things look more bleak for the small landlord of a multifamily building: 11.9 percent of units in buildings with five or more units are owned by individuals. Fewer of those mortgages are federally guaranteed, and the tenants who occupy those units and ultimately pay a landlord's mortgage have been given fewer protections — and as a group are more likely to be in precarious situations financially. The federal government's enhanced unemployment benefits have expired and Senate Republicans have refused to engage in talks over further stimulus. Barring immediate action from a potential Joe Biden presidency, including some form of systemic rent relief, it's hard to see how struggling renters get help in the near term, which in turn limits their landlord's ability to pay the mortgage. Some of them will soon go into default. Others will struggle to pay property taxes and operating costs. The prospect of purchasing apartment buildings at fire-sale prices surely has Wall Street's attention.
And there's precedent for such a crisis. In the aftermath of the savings and loan crisis in 1987, Wall Street players bought distressed commercial real estate in bulk from public entities at bargain prices after local banks went bankrupt and had to liquidate. Multifamily buildings were consolidated into large multifamily operators.
But affordable housing and the negative effects of eviction have taken center stage in the political arena. Biden's housing plan includes making Section 8 housing vouchers available to anyone who qualifies; currently, only about a quarter of those who qualify receive one because Congress doesn't fully fund it. That would be a game changer for struggling renters, and potentially stabilize the housing market so that 1987 and 2008 don't happen again.